Introducing the Creation Canticles
Pope Francis began the encyclical, "Laudato Si' On Care for Our Common Home" describing the human relationship with the earth through images from the hymn "Canticle of the Creatures" by St. Francis of Assisi.
In this hymn, St. Francis invites all his brother and sister creatures—whether minerals, plants or animals—to praise their Creator.
"Our common home is like a sister with whom we share our life and a beautiful mother who opens her arms to embrace us. Praise be to you, my Lord through our Sister Mother Earth, who sustains and governs us, and produces various fruit with colored flowers and herbs." ~ Pope Francis, 1 Laudato Si' Encyclical
This reference to the Canticles inspires us to eco-spirituality — a manifestation of the spiritual connection between human beings and the environment.
As we seek transformative eco-spiritual experiences, Grand Rapids Dominican Sisters and Associates began writing poems and reflections. "We start from the witness that ecological spirituality involves a firm inner conviction that God is the source of all creation which is held together by God's love," says Sister Mary Ann Barrett OP.
We hope others will enjoy these inspirational messages.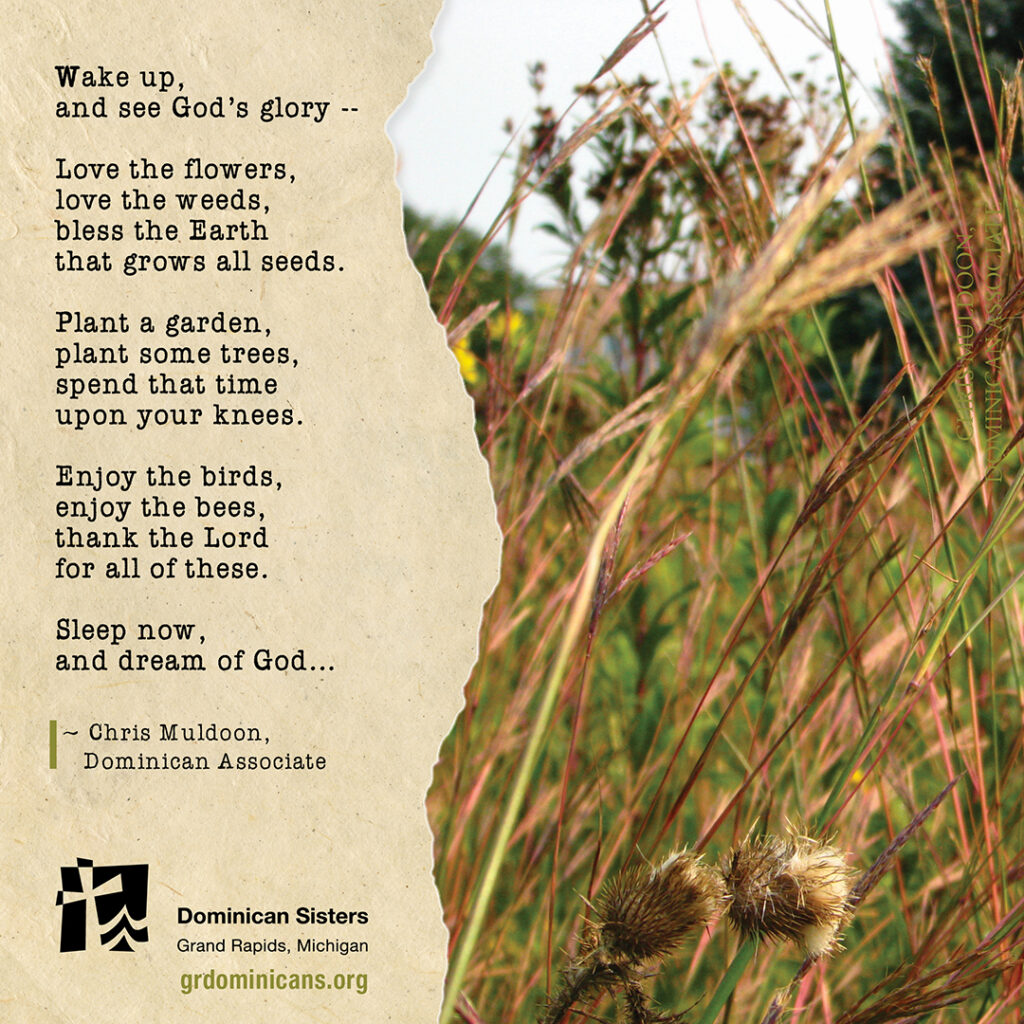 Wake up, and see God's glory —
Love the flowers,
love the weeds,
bless the Earth
that grows all seeds.
Plant a garden,
plant some trees,
spend that time
upon your knees.
Enjoy the birds,
enjoy the bees,
thank the Lord
for all of these.
Sleep now, and dream of God….
~ Chris Muldoon, Dominican Associate
"If we don't personally change our attitudes and lives, the solutions to our global ecological crisis will never really arrive. In fact, the Holy Father even uses traditional religious language to describe what's most needed: an ecological conversion (217)" ~ Pope Francis, Laudato Si' Encyclical
---
Laudato Si' On Care for Our Common Home
Pope Francis issued the encyclical letter Laudato Si, known in English as On Care for Our Common Home in 2015. For the fifth anniversary of the encyclical in 2020, the worldwide Laudato Si Action Platform was initiated with a coordinating Office in the Vatican. It calls all people of goodwill to work toward restoring the earth and healing relationships in our one human family by both developing and committing to a specific action plan with measurable outcomes. Groups as well as individuals are encouraged to be part of this worldwide plan.