Bear Heart's Prayer of Praise, Lamentation, and Hope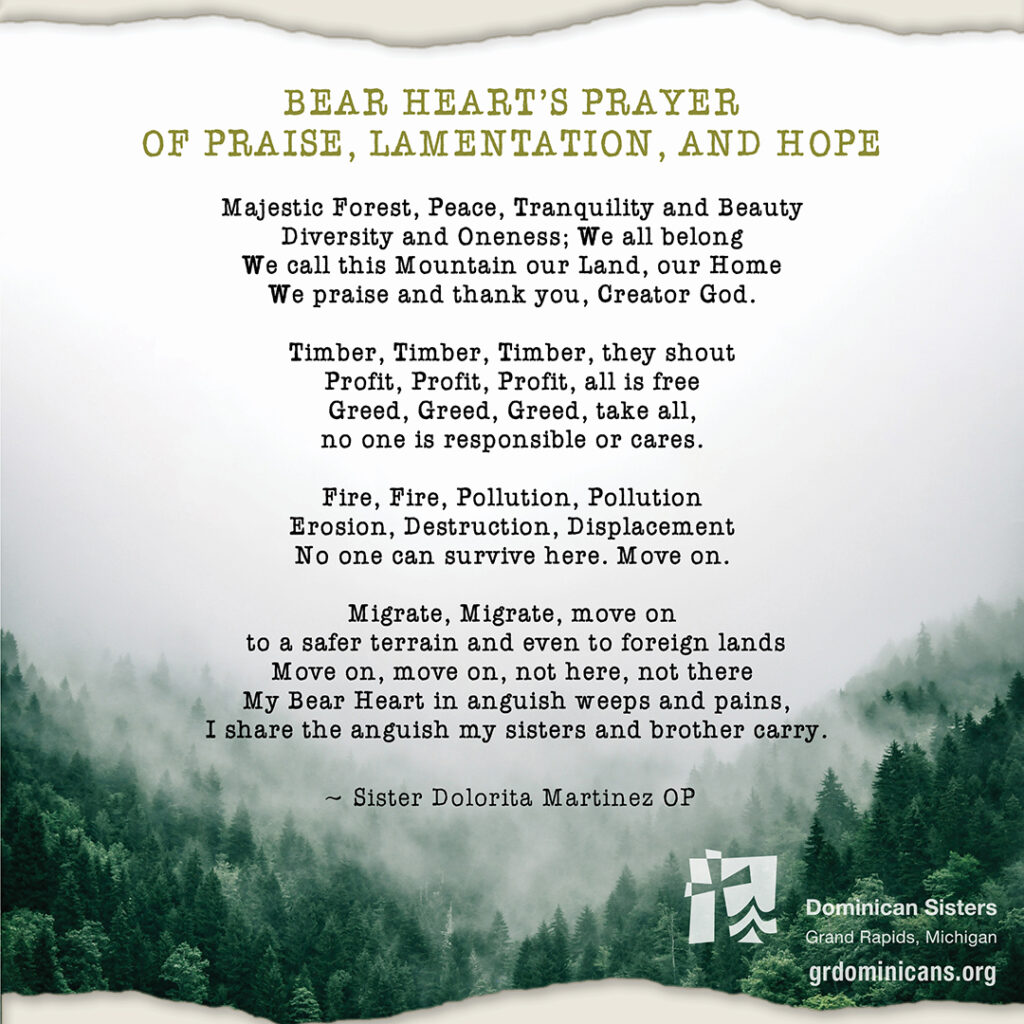 Majestic Forest, Peace, Tranquility and Beauty
Diversity and Oneness; We all belong
We call this Mountain our Land, our Home
We praise and thank you, Creator God.
Timber, Timber, Timber, they shout
Profit, Profit, Profit, all is free
Greed, Greed, Greed, take all,
no one is responsible or cares.
Fire, Fire, Pollution, Pollution
Erosion, Destruction, Displacement
No one can survive here. Move on.
Migrate, Migrate, move on
to a safer terrain and even to foreign lands
Move on, move on, not here, not there
My Bear Heart in anguish weeps and pains,
I share the anguish my sisters and brother carry.
Climate Change, Climate Change,
Why? Who is to blame?
Surely not you, Creator God;
You created all creatures great and small
You have given us life and all we need.
Forgive, forgive us all, deliver us from Greed
That makes us forget our sisters and brothers in need.
Open our ear and eyes to see and hear
The cries of those displaced, migrating in pain.
My Bear Heart unites as one with you, Creator God
May the anguish and pain we all share
Bring forth New Hope, New Life and a New Home.
~ Sister Dolorita Martinez OP
---
Creation Canticles: Reflections on the Natural World
Pope Francis began the encyclical, "Laudato Si' On Care for Our Common Home" describing the human relationship with the earth through images from the hymn "Canticle of the Creatures" by St. Francis of Assisi.
In this hymn, St. Francis invites all his brother and sister creatures—whether minerals, plants or animals—to praise their Creator.
"Our common home is like a sister with whom we share our life and a beautiful mother who opens her arms to embrace us. Praise be to you, my Lord through our Sister Mother Earth, who sustains and governs us, and produces various fruit with colored flowers and herbs." ~ Pope Francis, 1 Laudato Si' Encyclical
This reference to the Canticles inspires us to eco-spirituality — a manifestation of the spiritual connection between human beings and the environment.
As we seek transformative eco-spiritual experiences, Grand Rapids Dominican Sisters and Associates began writing poems and reflections. "We start from the witness that ecological spirituality involves a firm inner conviction that God is the source of all creation which is held together by God's love," says Sister Mary Ann Barrett OP.
We hope others will enjoy these inspirational messages.