In the early 1980s, Sister Angelina Abeyta's attention was on the turmoil in Central America.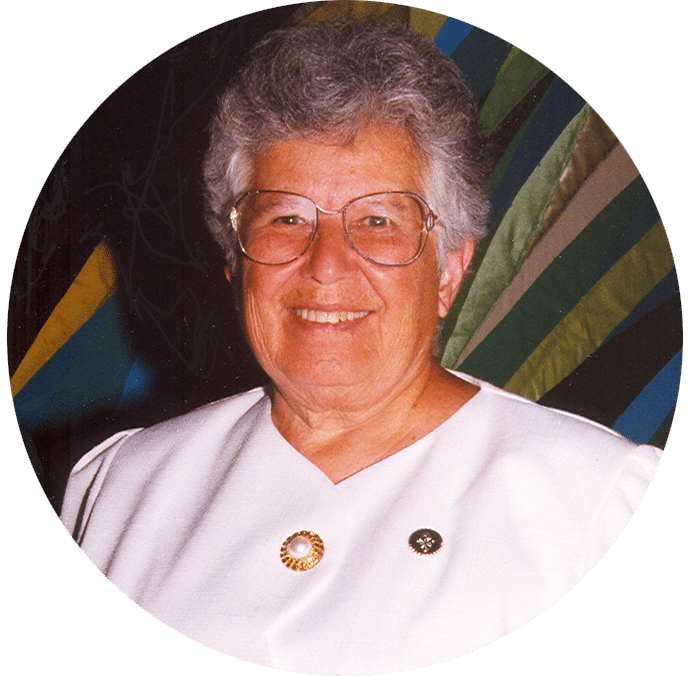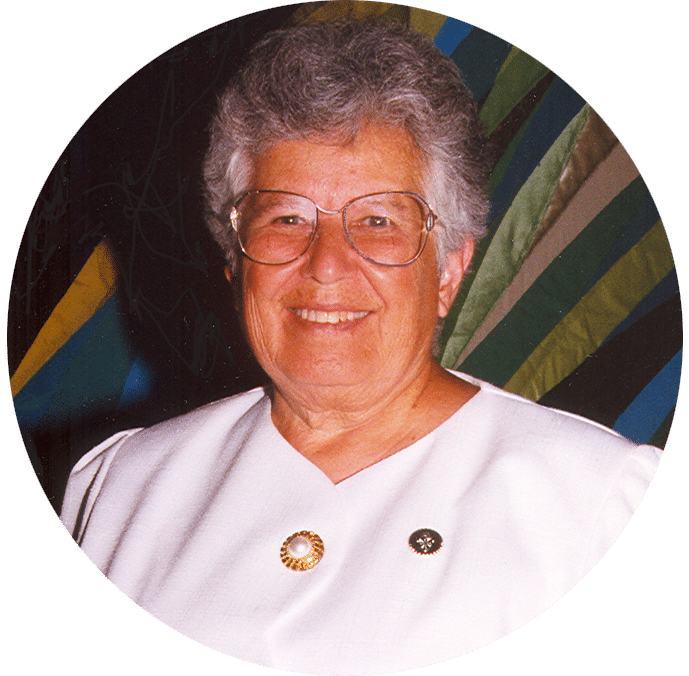 Grand Rapids Dominican Sister Angelina recalled: "A Sister of Charity Missionary shared first-hand experiences of the turmoil in the countries of El Salvador, Guatemala, and Honduras. She showed us graphic photos of mutilated bodies, the activity of death squads. It firmed up my commitment to advocate for justice in that part of the world."
Sister Angelina's early solidarity work in Albuquerque began with a new task force of vowed religious. After a year, the group became ecumenical and grew. "We began to invite the public to take part in conferences, vigils, and non-violent protests in front of federal buildings. We continued to meet weekly and gradually began to focus our activity on aiding refugees from Central America," she wrote in a ministry report.
She also aided refugees and learned first-hand of the many hardships and dangers faced by refugees from El Salvador, Guatemala, and Honduras. Her new-found knowledge connected her even more deeply with the impoverished peoples of the United States, as well as the plight of women and children crossing borders into the United States.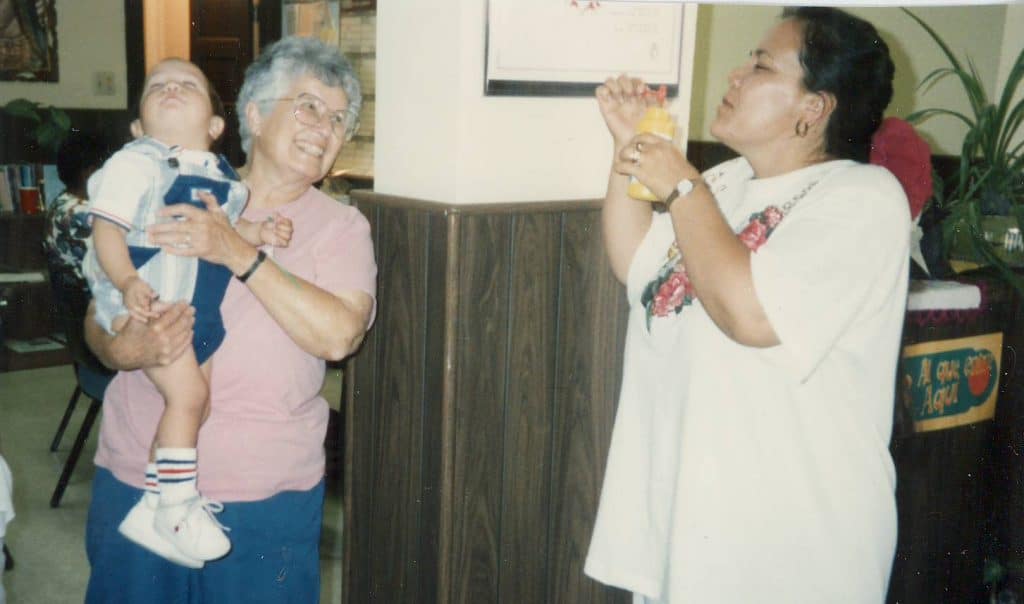 Sister Angelina's movement as activist and advocate in her ministry roles was informed by a Congregation direction statement. "As we take inventory of the condition of our world, we raise our voices to say that the people among us who are the most in need, who are most vulnerable, need to have our attention and they need to have supportive resources. We pledge to hold the needs and concerns of all in a contemplative space, in the heart of a loving and ever faithful God… and we pledge to continue to work together with all people of good will to build God's beloved community in this place we call home."
By 1990, Sister Angelina's passion was instrumental in establishing a center to assist women and children at the El Paso/Ciudad Juarez border. With the financial help of member congregations of the Leadership Conference of Women Religious, Centro Mujeres de la Esperanza opened in 1990. Sister Angelina and Adrian Dominican, Sister Donna Kustsch, were the first co-directors, pioneering an organized supportive presence at the border with underserved women and their children. The center envisioned by Sister Angelina Abeyta continues, 30 years later, to serve the needs of women at the border.
Sister Angelina went home to God on December 21, 2014. Yet, the purpose of Centro Mujeres de la Esperanza remains steadfast as the need is constant: to promote the development of women; to be in solidarity with women throughout the world seeking justice; to be a faith-based accompaniment of women who have been excluded at the El Paso/Ciudad Juarez border.
_____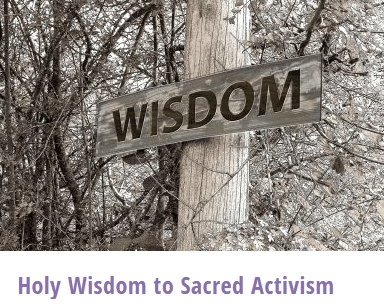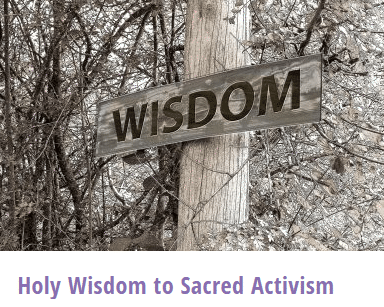 The sense of feeling called, being moved to think differently, to act differently in the face of suffering calls for one's most courageous self to come forward. Congregation friend Cami Mann speaks of holy wisdom and sacred activism in her work as a writer, spiritual director and apprentice at Dominican Center. Beginning Saturday, February 29, Cami will lead a series of five programs called Holy Wisdom to Sacred Activism. She invites quiet activists and public activists – and those who feel the suffering of the world deeply – to get in touch with and develop the sacred activist inside each person.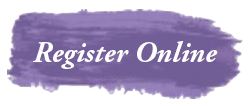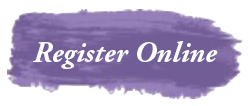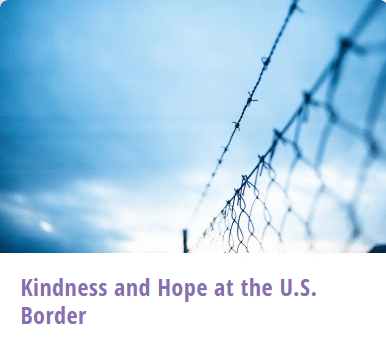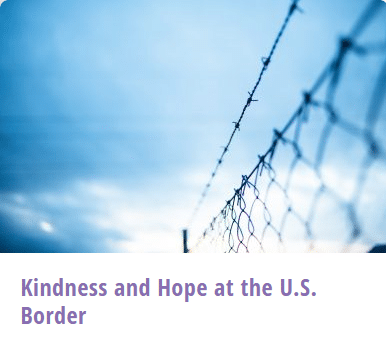 Learn more about the people who travel wearily, all seeking hope at the U.S. Border – and hear how vowed women religious around the country are responding to a call to serve in locations like the one Sr. Angelina helped build. Join us at Dominican Center at Marywood for the program Kindness and Hope at the U.S. Border on Saturday, May 2.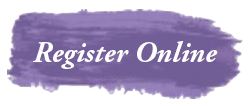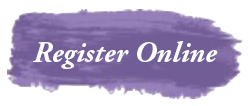 Visit dominicancenter.com to register for these and other programs designed to inspire and transform.