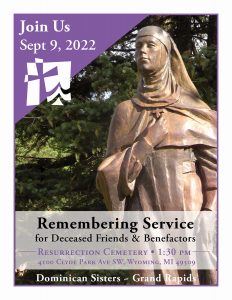 The Dominican Sisters~Grand Rapids will gather at Resurrection Cemetery on Friday, September 9, 2022 at 1:30 p.m. (weather permitting) to honor our deceased Sisters, Associates and Benefactors. The brief prayer service will include the blessing of the Sisters' gravesites. Resurrection Cemetery is located at 4100 Clyde Park SW, Wyoming, MI and our gravesites are in the northeast section of the cemetery.
Because of COVID-19, we have had to limit attendance at our beloved Sisters funerals so family members and friends may not have been able to attend. We would now like to welcome you to this simple remembering service in which we will remember our Sisters who passed away since September 2021. Even if you are not able to attend, please know that your loved one will be remembered in our prayer service. Feel free to pass this along to other family members or close friends in the area who might want to attend.
If the weather on September 9 is inclement, the prayer service will be cancelled. If in doubt, please call Yvonne Rackow at 616-514-3106 the morning of the service to confirm the location.
If you or others would like to attend, please RSVP to Yvonne Rackow at 616-514-3106 or yrackow@grdominicans.org by September 1, 2022.
Please know that we continue to hold our deceased Sisters, and you, in our prayers, now and always.