From Ashes to the Living Font
Lent is a time of grace, renewal, and conversion.
The summit of the Liturgical Year is the Easter Triduum—from the evening of Holy Thursday to the evening of Easter Sunday.
Though chronologically three days, they are liturgically one day unfolding for us the unity of Christ's Paschal Mystery.
The single celebration of the Triduum marks the end of the Lenten season, and leads to the Mass of the Resurrection of the Lord at the Easter Vigil.
The Dominican Sisters~Grand Rapids invite all to worship with us at Sunday Assembly in Dominican Chapel at Marywood. Our liturgical services include:    Worship Information
Liturgy of the Lord's Supper, Eucharist Adoration on Holy Thursday, April 18, 2019
Celebration of the Lord's Passion on Good Friday, April 19, 2019
Easter Vigil  on Saturday, April 20, 2019
Liturgy of the Light, Liturgy of the Word, Liturgy of Baptism, Liturgy of Eucharist, followed by a reception in the Dominican Center at Marywood Dining Room.
Morning Prayer and Eucharist on Easter Sunday, April 21, 2019 at Chapel of the Word at Marywood Health Center
These three reflections conclude our Lenten journey, a collaborative with the U.S. Dominican Sisters.
If you want to revisit or catch up on the Order of Preachers Lenten Journey, visit grdominicans.org
and search Lent to view the series of reflections in order.
Holy Thursday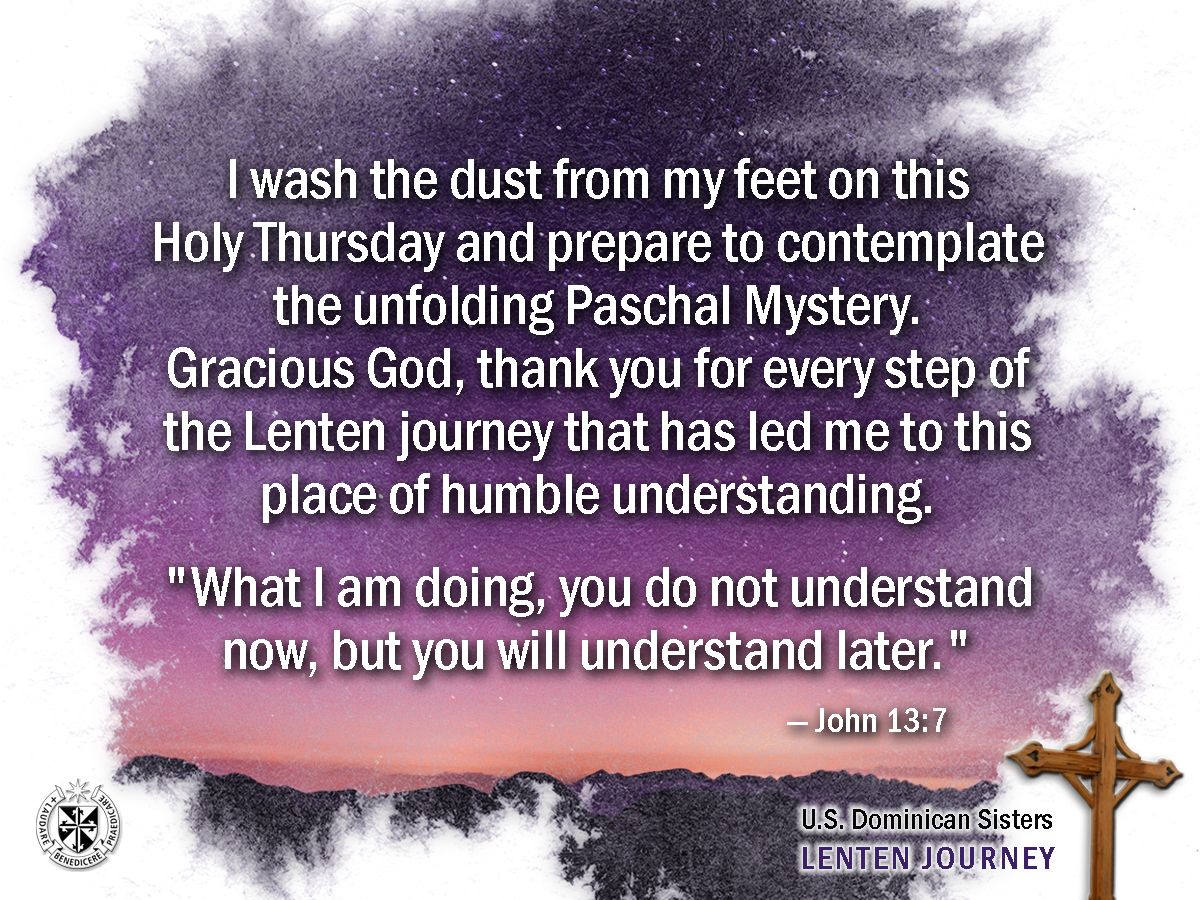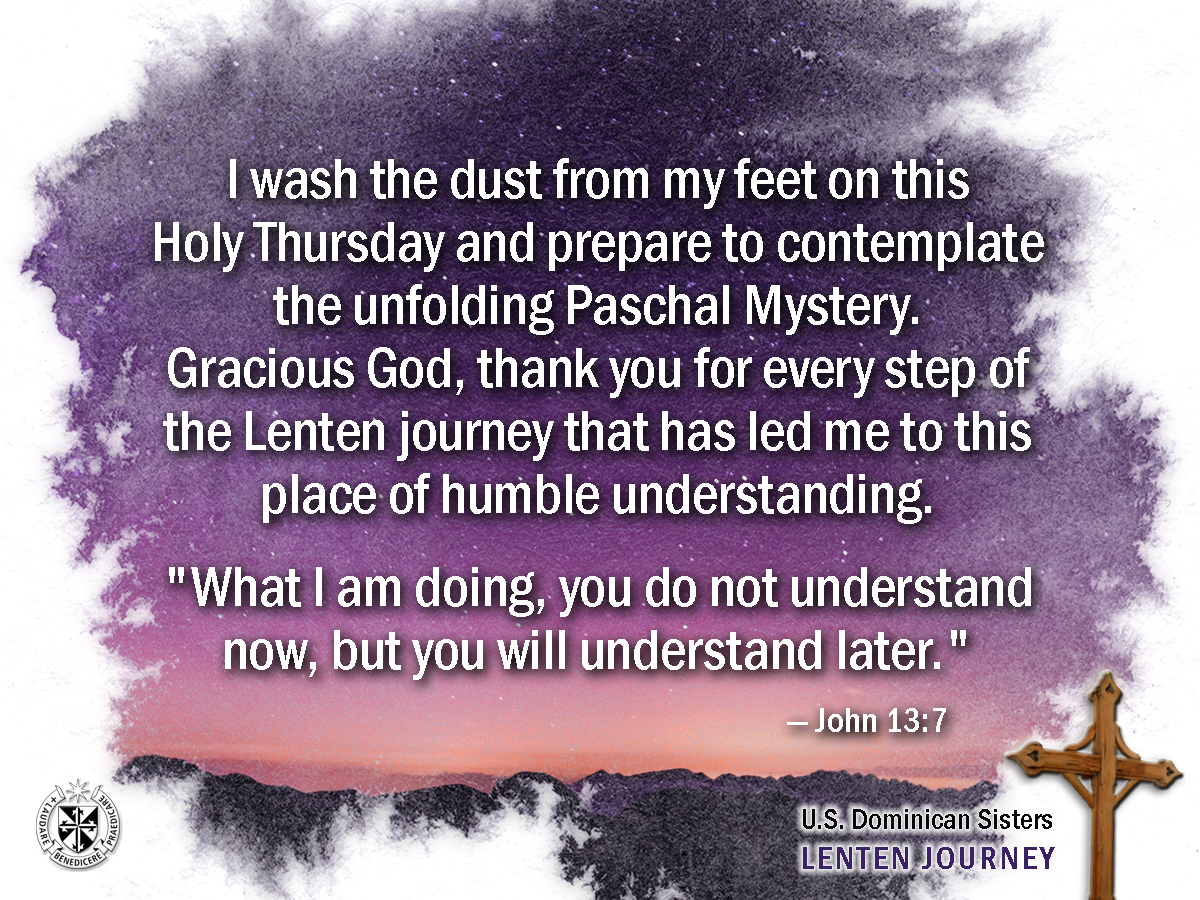 Holy Thursday REFLECTION
Several years ago, a dear friend was dying. I was at her bedside keeping vigil when another of her friends arrived. She offered to give Mary a foot rub. Mary agreed gratefully. As Joan began to soothe our friend, I quietly left the room. A week later, Mary died. That was in November. It wasn't until Holy Thursday of the following April that the full impact of that foot rub hit me. As I sat at Holy Thursday liturgy and watched the presider go from person to person washing their feet, the tears began to fall. Surely what I had witnessed at Mary's deathbed was what Jesus had in mind.
God, as we approach the Feast of Easter, I thank you for leading me to this place of humble understanding. — Eileen Ivory, OP, Caldwell Dominicans
Good Friday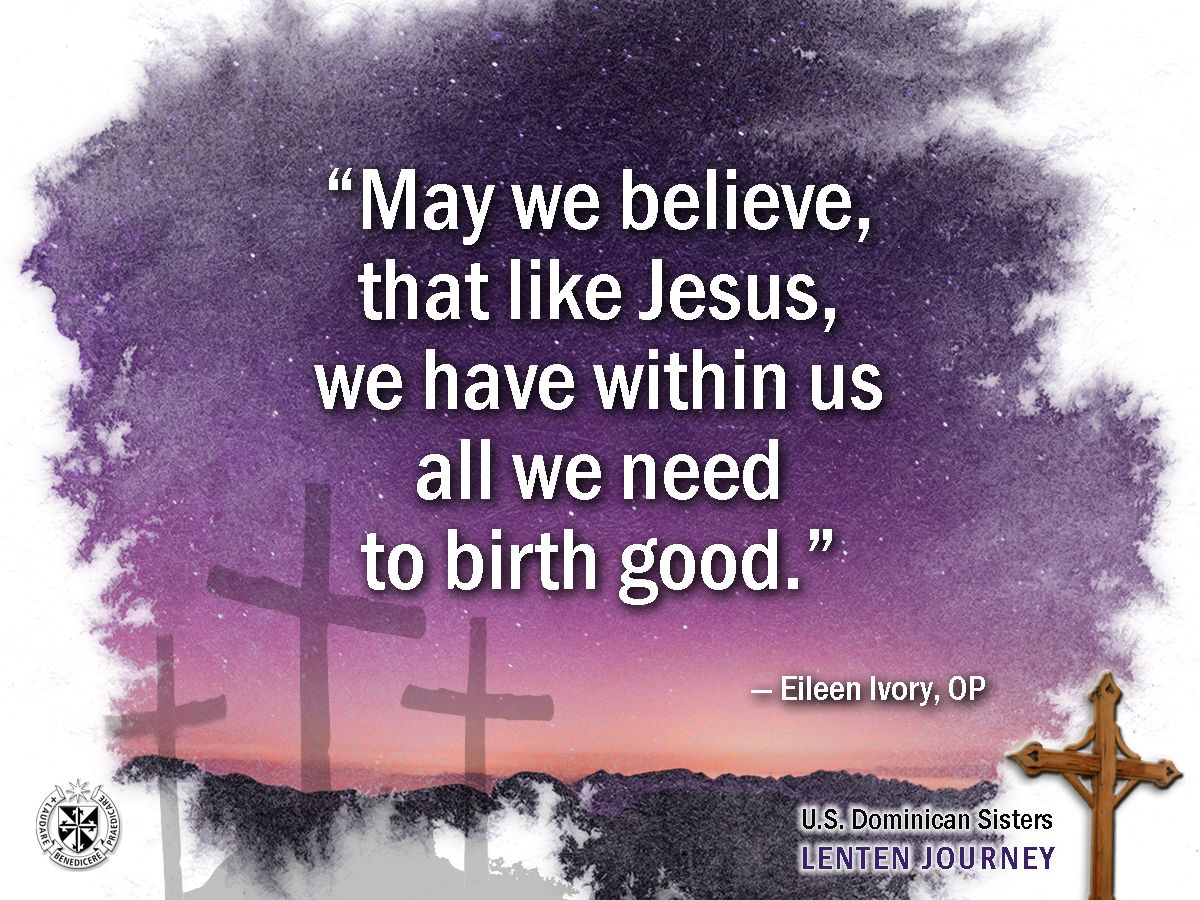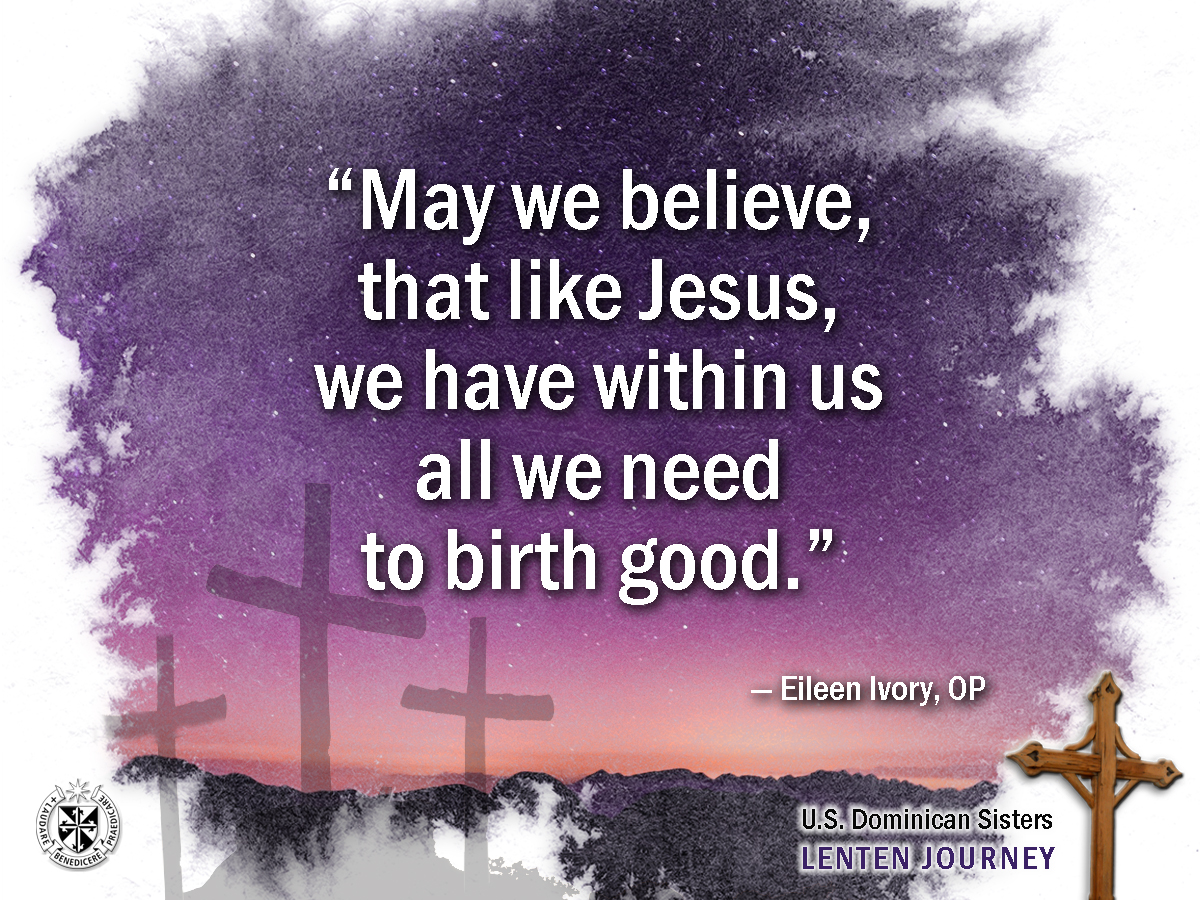 "This was his moment, his final moment. "`It is finished', he said into a vastness that led to an even greater vastness, and yet all of it within him. He contained it all.'" — from Mark Strand's "The Seven Last Words"
Good Friday Reflection: It is fairly easy to look around and relate the suffering of Jesus to all the suffering that surrounds us. It helps to be in relationship with a God who knows our pain because he has known pain. The "Good" part of Good Friday can be harder to embrace. Where is the good of struggling migrant families? What is positive in the destruction of our common home?
May we believe, that like Jesus, we have within us all we need to birth good. —Eileen Ivory, OP
Easter Vigil