"I pray for unemployed people." ~Jean Williams OP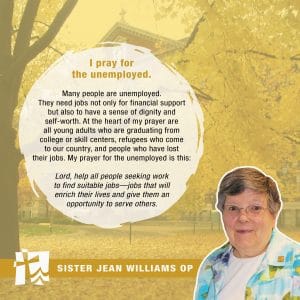 Many people are unemployed. They need jobs not only for financial support but also to have a sense of dignity and self-worth. At the heart of my prayer are all young adults who are graduating from college or skill centers, refugees who come to our country, and people who have lost their jobs. My prayer for the unemployed is this:
Lord, help all people seeking work find suitable jobs — jobs that will enrich their lives and give them an opportunity to serve others.