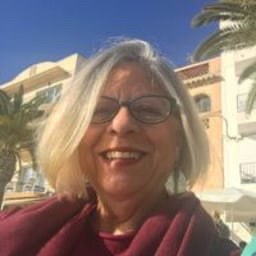 Dear Child of God, we keep you in our prayers.
Zulema Moret
April 13, 1950-January 29, 2023
Funeral Mass
Saturday, February 4, 2023 at 10:00 am
Cathedral of St. Andrew
Remembering Service
Thursday February 9, at 7:00 pm  (Zoom)
Dominican Associate Zulema E. Moret was born in Buenos Aires, Argentina. She became an Associate with the Dominican Sisters ~ Grand Rapids in August, 2010.
After Zulema arrived in the US, she started her service with the Hispanic community at the Cathedral of St. Andrews. It was important to her to attend Mass regularly and be part of a community. Later, she became connected with the parish of St. Joseph the Worker. She wrote that her deep process of conversion came when she started to study at the Dominican Center; first in the Spiritual Formation Program and then in the Spiritual Direction Program. She became an Associate to be with a community of believers with common values of faith, justice, prayer and service and to deepen her relationship with God. Zulema always prayed for men, women and children who are victims of violence and hunger.
As a Professor of Modern Languages and Literatures at Grand Valley State University, Zulema taught numerous Spanish courses with an emphasis on Latino/Hispanic Film, Culture, Poetry and Storytelling. She joined them in 2004 and created bridges between GVSU and the area Latino community. She arranged for numerous cultural speakers at the university and in the community and received an Outstanding Community Service Award in 2013. She has a PhD in Latin American Literature. She has published children's books, cultural and art critiques, and her collections of poetry and short stories. Her latest book of poetry is Of Altars and Nests (2021). Zulema was especially proud of her work with Plaza Comunitaria (a school for Spanish-speaking adults working on their high school diploma), Chiaroscuro (an annual International film series) and as a co-founder of the Grand Rapids Latin American Film Festival. She has participated in many Poetry Festivals, readings and women's writers conferences in Austria, Spain, Argentina, France, Germany, India Mexico and the US.
____
She loved life
She loved trees and flowers
She loved cats
And birds
She loved silence and music
She loved dancing
She loved films
And art
And beauty
She loved traveling
And walking cities
She loved writing Poetry
And Painting
She loved praying
She loved serving
The Joy of Serving
She loved
Intellectual debates
Conversation
She loved friendship
Hugs and laughing
Vibrant colors
She loved…
Zulema is survived by her sister Patricia Moret, her nephew Martin Soria, his wife Martine, and their children, Elena and Amalia whom she loved dearly. She is also survived by her faith communities: the Hispanic community at St. Joseph the Worker parish and throughout Grand Rapids; and her Dominican family – the Sisters and Associates at Marywood in Grand Rapids. The funeral mass will be Saturday, February 4, 2023, at 10 o'clock am at the Cathedral of St. Andrew, 215 Sheldon Blvd. SE, Grand Rapids, MI 49503.
A luncheon will follow at the Cathedral. As Zulema loved vibrant colors, please consider celebrating her life by wearing vibrantly colored clothes.