Sister Margaret Mary Birchmeier OP entered eternal life on April 14, 2023 at the age of 84 after 65 years of religious life.
We commend Sister Margaret Mary to your prayers.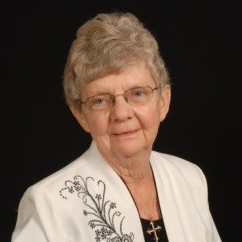 Evening Prayer with Remembering Service
Monday, April 17 at 7:00 pm
Chapel of the Word/Marywood
Funeral Mass
Tuesday, April 18 at 10:00 am
Chapel of the Word/Marywood
"The opportunity to be with and serve the people of Chimbote has been, for me, such an enriching experience that it is difficult to express in words, I enjoy life!" wrote Sister Margaret Mary Birchmeier.
Sister Margaret Mary had a deep love for liturgy which sustained her and those around her. She was constant in prayer and, through her witness, drew others to prayer. She brought a global perspective, a deep faith, and generous heart wherever she lived and served. We love her and grieve her passing even though we are grateful for having known her. Surely angels greeted her as she stepped over the threshold into Paradise.