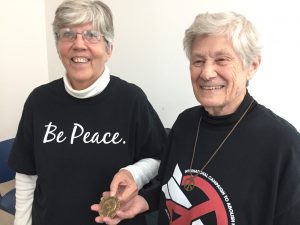 "We are one step closer to the elimination of nuclear weapons as the TPNW is entered into force on January 22, 2021. We always knew nuclear weapons were immoral and now they are illegal under international law," says Carol Gilbert OP, who worked tirelessly with Ardeth Platte OP, to raise awareness about the devastating human cost of nuclear warfare, and the outrageous economic machine that supports nuclear weapons in our world.
"We join with two thirds of the world as we celebrate the treaty's Entry Into Force. We look with hope to the day when the US will lay down its weapons and play its part for world peace."
Learn what will change…
#1: The treaty bans the development of new nuclear weapons systems
#2: The treaty bans assisting with developing nuclear weapons
#3: The treaty bans the hosting of nuclear weapons
#4: The treaty bans the manufacturing of nuclear weapons
#5: The treaty bans encouraging the use of nuclear weapons
One of the main problems with talking about nuclear weapons is that it often becomes abstract and hypothetical. Most people barely know which countries have nuclear weapons and do not know to what extent other actors are involved in maintaining and upholding nuclear weapons.
When the Treaty on the Prohibition of Nuclear Weapons (TPNW) enters into force January 22, 2021, that will need to change. While the treaty will only be legally binding in the countries that have ratified the treaty, it will still create a powerful norm and should lead to increased protests and outrage in countries that haven't joined the treaty, including the United States, that are behaving in contradiction of this new instrument of international law.
The entry into force of the TPNW is the perfect opportunity for all countries, companies, universities and other entities to re-evaluate their relationship to this new international legal standard. Countries producing or hosting nuclear weapons or participating in nuclear strike exercises, as well as the companies manufacturing them and universities helping to design them are acting against international law. All entities should end these illegal activities and join the international community in renouncing nuclear weapons entirely.
Source: https://www.icanw.org/here_are_five_examples_of_the_type_of_activities_that_will_be_illegal_under_international_law_on_22_january_2021
For those interested in more, Sr. Carol Gilbert recommends these two articles:
• Catholic advocates welcome treaty banning nuclear weapons coming into force", Dennis Sadowski, Catholic News Services – January 14
• Alicia Sanders-Zakre and Seth Shelden: "Why the Treaty on the Prohibition of Nuclear Weapons Impacts the United States, and Why the United States Must Embrace its Entry into Force", Journal of International Affairs, Columbia University – January 15