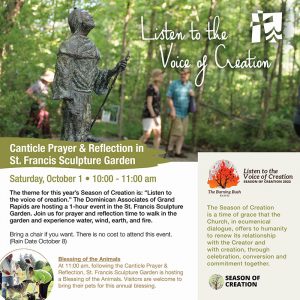 The Dominican Associates of Grand Rapids are hosting a 1-hour event in St. Francis Sculpture Garden in Grand Rapids, Michigan from 10:00 – 11:00 am. Begin your day with the running water, wind whispering in the leaves, feet on the earthen path. Put on you sandals or sneakers, bring a chair if you like, and let's commune with nature.
Canticle Prayer & Reflection in St. Francis Sculpture Garden
Saturday, Oct. 1 | 10:00 – 11:00am
Note: Bring a chair if you want. There is no cost to attend this event. (Rain Date Oct. 8)
St Francis Sculpture Garden is located on Marywood Campus. Vehicles can enter Marywood from the 2025 Fulton Street circle drive entrance; free parking is available in the west parking lot. We will begin the service at 10am sharp at the gazebo.
Blessing of Animals at St. Francis Sculpture Garden
Saturday, October 1 • 11 am ET | Sponsored by Saint Francis Sculpture Garden
Visitors are welcome to bring their pets for this annual blessing.
The Season of Creation is a time of grace that the Church, in ecumenical dialogue, offers to humanity to renew its relationship with the Creator and with creation, through celebration, conversion and commitment together. For this year, the theme for the Season of Creation is: "Listen to the voice of creation."