Personal History of Dedication to Art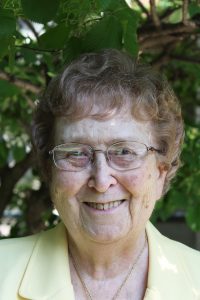 First and foremost, Sister Rena Ruddy grew up in a family of artists. As a child, her parents bought containers of paint for her to do water color paintings. For Christmas, they purchased books of pictures to paint. Drawing pictures was also something she did during her school days.
Sister Rena has been interested in art shows all her life, which has given her great enthusiasm for many kinds of art.
One summer after teaching for two years, she attended a six week art class at Calvin College on how to teach art such as water color, motion, ceramics, and several types of design which she used during her teaching days. There were no special art teachers in most of the schools where Sister Rena taught. Art was a part of the curriculum that the homeroom teacher was expected to teach.
On her sabbatical from 1997-1998, she had the great privilege of doing art as an extra enjoyment. Sister Rena completed many drawings with pencil, chalks, and paintings with water colors.
In September 2009 while working as a Director of Christian Service at St. Matthias parish, she began two years of acrylic painting classes from Mr. Angeline at the Senior Citizen Center in Sterling Heights, Michigan. This was the beginning of her deep interest in acrylic painting which she continues to this day.
Her interest in arranging silk flowers started when her partner at St. Anne School in Warren, Michigan worked at her brother's flower shop. She showed Sister Rena many tips for arranging silk flowers. Sister Rena began making arrangements for Christmas and birthday gifts twenty years ago. Sister Rena continues to arrange silk flowers which are displayed around Dominican Center to this day. She switches out bouquets to reflect seasonal changes and holidays.