"To Love God is the greatest romance. To Seek God is the greatest adventure. To Find God is the greatest achievement." ~ St. Augustine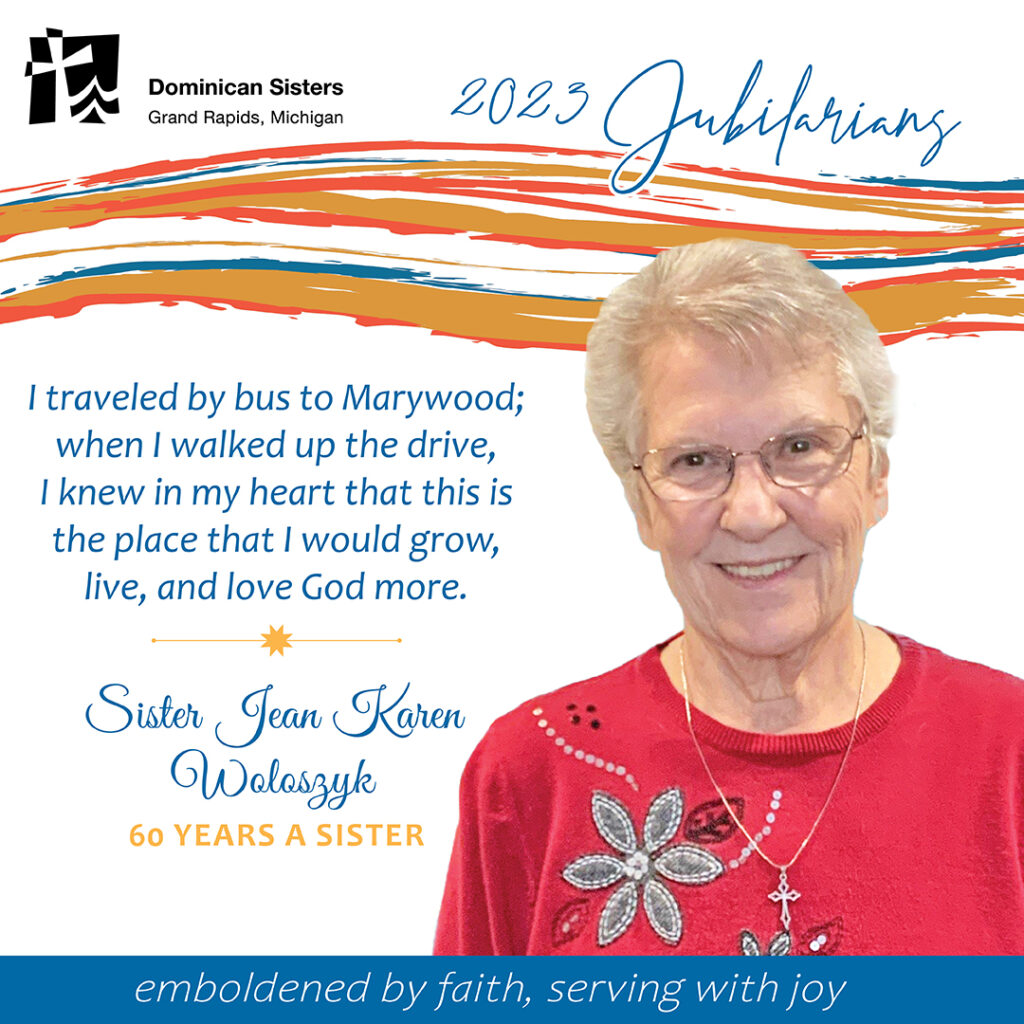 I am truly grateful for the many opportunities and blessings bestowed throughout my years as a Dominican Sister.
I was born on October 27, 1944 to Felix and Emily Woloszyk and given the name Karen Jean. I grew up in a Catholic family atmosphere with siblings, Donald, Judith, and my twin Kenneth and was instructed by the Grand Rapid Dominican Sisters at Saint Anne and Catholic Central High Schools in Alpena, Michigan. They demonstrated great compassion and challenged me academically and spiritually.
In my early years in Alpena, I was attracted to the joy, freedom, and friendly spirit of the Dominican Sisters, especially Sisters Marie Michael and Lisa Marie.
I traveled by bus to Marywood; when I walked up the drive, I knew in my heart that this is the place that I would grow, live, and love God more. I would not turn back on this romance! In 1962 I entered the Community and became Sister Jean Karen.
Though nervous, I felt I needed to talk with Mother Victor about a possibility to gain education to become a teacher. She graciously listened and said, "I'll give you one year." After a successful year, Mother greeted me with, "I have a place for you." From that point on, my love of teaching gave me confidence to be a teacher and an administrator for over 52 years.
My adventure took me to Taylor, Melvindale, Saginaw, Tawas, Grand Rapids in Michigan; Penasco, New Mexico; and a visit to Chimbote. I surprised myself many times on how God's hand was working in and through me.
Then my search to see God's work called me to serve the sick and elderly. After training for Hospital Chaplaincy, I served the combined parishes at Bay City Medical Center. Here again stories of patients and staff opened me to the work of God the Comforter.
Never did I dream that my life would take me on such delightful, rewarding adventures. I have been privileged to share my gifts of teaching, administration, and chaplaincy with culturally, economically, and spiritually diverse people. Opportunities to be part of people's lives have enriched my life. I have met with situations requiring me to rely on faith, prayer, and compassion to guide my decisions. There was never a day in which I didn't enjoy being in active ministry.
Presently, I assist Sisters at Aquinata Hall. It's a task I greet with delight, energy, and mutual smiles. God's Spirit has guided my path with joy to move at the right time to the right place.
Visit Sr. Jean Karen's Sister Page