I admittedly have always been skeptical of women religious. My own faith growing up, did not have women in leadership positions. Women were taught to be small, to not claim space. And while I knew of some of the activism surrounding the Dominican Sisters, I would have never imagined that we were more alike than different.
Marissa Ebels and Sister Helen Bueche, OP are walking together on an oral history project, SisterStory. It is an ongoing initiative of National Catholic Sisters Week, a campaign to broaden awareness of Catholic sisters. The following is an introduction to this project by Aquinas College Student Marissa Ebels.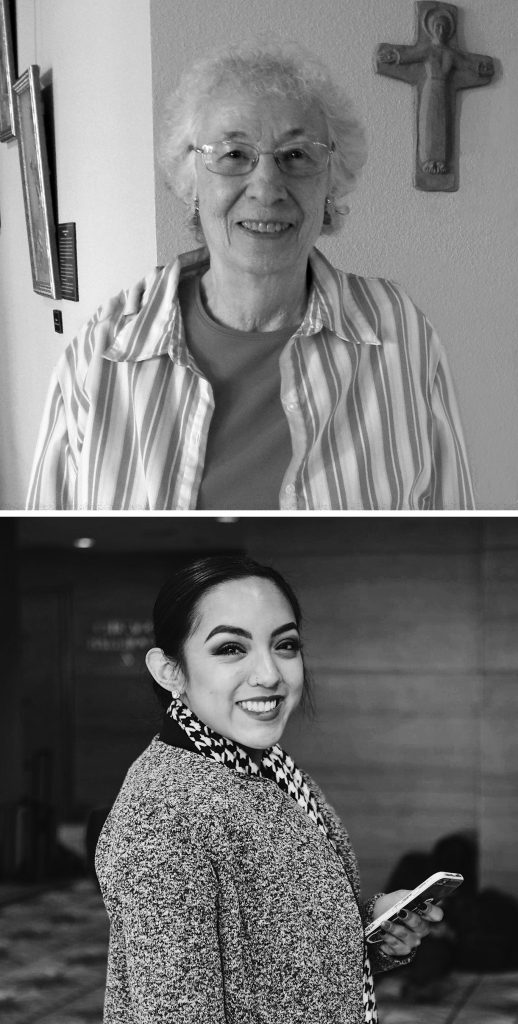 On January 24th, I was paired with Sister Helen Bueche. A Grand Rapids native, she joined the sisterhood in 1960, at the age of 25. Sister Helen taught for many years of her service, and worked within Native American Reservations. From Dearborn and Saginaw, Michigan, to Oklahoma and beyond she has taught in many different ministries over the years. In her retirement, Sister Helen enjoys swimming, keeping up with old friends, and looks forward to our weekly visits.
I could not be more blessed to have such a special and unique opportunity to cultivate such a unique relationship. Often times, Sister Helen and I's meetings are full of laughter, as we gleefully make connections to one another, and realize more and more every day, that we are a lot more alike than we could've imagined. My relationship with my Sister is special, and one that I cherish deeply. I am so lucky to have such an incredibly kind, and thoughtful woman to work with. More stories, with pictures to come! — from the writings of Marissa Ebels for the SisterStory project.
Read more about Sister Helen Bueche, Grand Rapids Dominican Sister and Aquinas College Alumna.
Marissa Ebels is a Junior at Aquinas College in Grand Rapids, Michigan, studying Political Science with a minor in Women's Studies. She was raised in the Southern Baptist and Christian Reformed traditions from birth and is now non-denominational. Working closely within various religious communities, she has become fascinated by the lives of women religious. Marissa is passionate about sexual assault advocacy, interfaith activities, activist work, and Middle East politics. During the Spring of 2018 she was paired up for SisterStory with Sister Helen Bueche, OP, a Grand Rapids Dominican Sister. Watch for more from Marissa Ebels and SisterStory, an ongoing initiative of National Catholic Sisters Week, a campaign to broaden awareness of Catholic sisters.