Please join us in prayer for a successful and positive outcome of the United Nations Climate Change Conference November 6 – 18.
Commonly referred to as COP27, this 2022 conference is being held in Egypt, in the city of Sharm El Sheikh, November 6 to 18.
"Sharm El Sheikh is Egyptian for the city of peace, an apt name for the international gathering to address the increasing urgency for climate crisis action. The city is located about 50 miles from Mt. Sinai, a site sacred to three major faith traditions, all of whom recognize the one Creator whose love encompasses the whole of life," writes Dusty Farnan OP, our Dominican NGO Representative at the United Nations in NY and International Justice Promoter for the Dominican Sisters Conference.
"This is a gathering of heads of State, ministers and negotiators, climate activists, mayors, civil society representatives, CEOs, and concerned citizens from many nations who come together to continue the on-going efforts to revitalize international cooperation on climate action. It is essential that they hear from as many voices as possible. We are all of us affected by the growing consequences of climate change."
The Dominican Sisters ~ Grand Rapids joins the Dominican Family in prayerful solidarity with Sr. Dusty and all people of good will who will be attending this gathering, in the hope that the integrity of Earth and all her inhabitants, both human and non-human, will be placed at the center of all deliberations.
Please join us in prayer for a successful and positive outcome of COP 27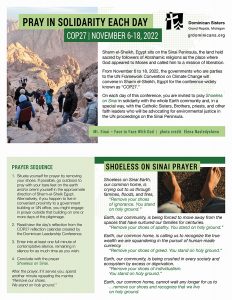 Visit this blog page each day to access the prayer. Here is the link to copy and paste into your own calendar each day. https://www.grdominicans.org/prayer-for-attendees-of-united-nations-climate-change-conference-cop27/
You can download the prayer card.  COP27 Prayer Card
Join the Digital Pilgrimage of Reflections and Prayers
An interactive PDF calendar has been provided by a team of Dominicans from North America and South Africa. These men and women have reached out to Dominicans across the world for reflections on the daily Scripture readings during Cop 27 and have asked Sisters and Associates to share videos of their commitment to mitigate climate change.
Click onto each day for the reflection in either English, Spanish or French. join us in COP as we try to bring about a just response to the urgency of climate change.
To view each day's reflection online, visit our blog at https://www.grdominicans.org/digital-pilgrimage-for-un-climate-conference-cop27/
Click here to access the Video reflections.