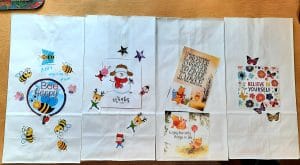 Sister Joan Pichette had been decorating bags for Kid's Food Basket (KFB) in community activities a few times a year for service projects and holidays. When the pandemic struck and normal activities ceased, Sister Joan began making more and more bags, working on them every night. Now, she has decorated thousands of them!
Leah Hansen, activities coordinator at Aquinata Hall, helps her to design and print out different themed pictures, which Sr. Joan then cuts out and pastes to the bags, and sometimes adds personal touches with markers.
The bags are dropped off at Kid's Food Basket by the boxful every few months. KFB then fills the bags with Sack Suppers. Sack Suppers are a free, well-balanced evening meal full of nutritious food delivered to children who might not have much to eat at home after school.
Sister Joan tells of being inspired to do this work by the story of a little girl who kept the decorated bags from her Sack Suppers as her "special collection", since she didn't have many things of her own. Sister Joan strives to make each bag worthy to become part of a child's "special collection."
Kid's Food Basket is always looking for people to get involved- packing Sack Suppers, fundraising, decorating bags, and spreading the news about their services. More information can be found at kidsfoodbasket.org