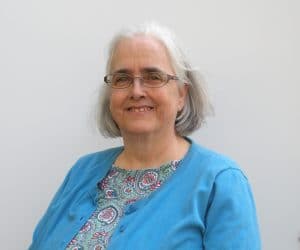 We congratulate Sr. Justine Kane, OP, Ph.D, who was recently awarded tenure by the Board of Trustees at Aquinas College! Tenure is granted by academic institutions only after a candidate demonstrates excellence in teaching, scholarship, and service to the profession and the institution. Tenure is a permanent post within the College, and it recognizes the current and future contributions of those who are awarded this status.
A 1981 alumna of Aquinas College, Sr. Justine taught in K-8 Catholic schools in Michigan and Illinois for 20 years before pursuing her PhD in Curriculum Studies at the University of Illinois at Chicago. She joined the School of Education at Aquinas College as an Associate Professor in 2016 after teaching several years at Wayne State University. In addition to her classes and committee work, she also serves as the director of the Literacy Program and Reading Clinic. Her work is centered around educating future teachers about the role of equity and justice in American schooling, especially as it relates to literacy education. Sr. Justine embodies the Dominican spirit in her teaching and preaching as she engages her students in their quest to become excellent teachers. https://www.aquinas.edu/people/justine-kane-op-phd-81
In reflecting on being awarded tenure, Sr. Justine commented, "I am immensely grateful for opportunities to study during my life as a member of this Congregation and am proud to be part of the on-going mission of Aquinas College. Every day I am reminded of our women who came before me and opened up this opportunity for me in various ways."
Congratulations, Sr. Justine, and thank you for carrying on the good work of our congregation at Aquinas College! We are so proud of you and your commitment to furthering the Dominican charism at Aquinas College and beyond through the ministry of education!