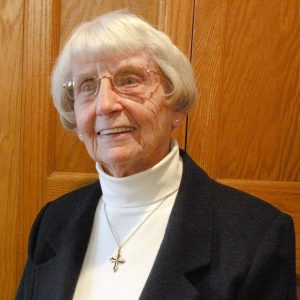 Reflecting on these seventy years as a Grand Rapids Dominican, I am filled with gratitude and happiness for my vocation. God has so enriched me with His love and abundant blessings over these years.
Dominican Sisters taught young Rosemary from first to 12th grade at St. Francis Catholic School in Traverse City, Michigan. Several of these teachers whom she admired and loved, along with her parish priest, helped prepare her for entrance into the postulancy.
The avid student, former cheerleader, usher at the Michigan Theater, and summer cherry picker left home for Marywood in Grand Rapids in 1947. She enrolled at Aquinas College to begin studies for a teaching career. By 1948, she was received as a novice. She graduated from Aquinas College with a BA and later with a Masters degree in Religious Studies. She would serve as teacher and principal during her career. Sister Mary Courtade found teaching children a source of energy and joy; she loved preparing her students for special liturgies and making them more meaningful. She taught in Muskegon Heights, Bay City, Tawas City, Douglas, Pewamo, West Branch, Wright, South Haven and Big Rapids. Her lengthiest ministry in education was at St. Basil in South Haven, near the shores of beautiful Lake Michigan.
In recent years, Sr. Mary is helping women and men learn to write, read, and speak English through the Dominican Sisters~Grand Rapids WORD ESL ministry.