National Day of Service Honors Life & Legacy of Rev. Dr. Martin Luther King, Jr.
How might you give of your time, talent, and treasure to
PRAYER, STUDY, SERVICE, COMMUNITY?
The Martin Luther King Jr. holiday on Jan. 16 is the 28th anniversary of the DAY OF SERVICE that celebrates the civil rights leader's life and legacy.
Observed each year on the third Monday in January as "a day on, not a day off."
This day is the only federal holiday designated as a national day of service to encourage all Americans to volunteer to improve their communities.
The Dominican Sisters~Grand Rapids are encouraging our Sisters, Associates, employees, and friends to commit to some form of prayer, service, study, or action this week.
Here are some ways you might give your time:
Calvin University's January Series (In Person)
"To Stick With Love: King's Vision for Today's Movement"
Monday, January 16 | 12:30 pm
Details https://calvin.edu/directory/series/gregory-thompson
Dr. Gregory Thompson is a pastor, scholar, writer, producer, and amateur cook whose work focuses on racial healing in America. He currently serves as the executive director of Voices Underground, an initiative to build a national memorial to the Underground Railroad in southeast Pennsylvania. Thompson is also a research fellow in African American Cultural Heritage at Lincoln University and the visiting theologian for mission at Grace Mosaic Church in Washington, D.C.
MLK at the Movies (In Person)
"Obama: In Pursuit of a More Perfect Union"
Free Screenings at Celebration Cinema Studio Park
TICKETS https://www.eventbrite.com/e/mlk-day-free-screening-of-obama-in-pursuit-of-a-more-perfect-union-tickets-24117915233
In honor of Martin Luther King Jr. Day, Celebration Cinema is partnering with the NAACP of Greater Grand Rapids to offer the community an opportunity to see a free screening of the documentary film "Obama: In Pursuit of a More Perfect Union," on Monday, Jan. 16 and Tuesday, Jan. 17, at Studio Park's Celebration Cinema, 123 Ionia Ave. SW.
Watch the Film: "King in the Wilderness" (Online)
Available for free viewing here: https://youtu.be/9eQXD_44Kso
King in the Wilderness chronicles the final chapters of Dr. Martin Luther King Jr.'s life, revealing a conflicted leader who faced an onslaught of criticism from both sides of the political spectrum. While the Black Power movement saw his nonviolence as weakness, and President Lyndon B. Johnson saw his anti-Vietnam War speeches as irresponsible, Dr. King's unyielding belief in peaceful protest became a testing point for a nation on the brink of chaos.
Dr. King's leadership during the bus boycotts, the sit-ins and the historic Selma to Montgomery marches is now legendary, but much of what happened afterward – during the last three years of his life – is rarely discussed. It's a time when Dr. King said his dream "turned into a nightmare." From the passage of the Voting Rights Act in 1965 to his assassination in 1968, King remained unshakably committed to nonviolence in the face of an increasingly unstable country.
The documentary debuted at the 2018 Sundance Film Festival and is directed by Peter Kunhardt (HBO's Emmy-winning Jim: The James Foley Story).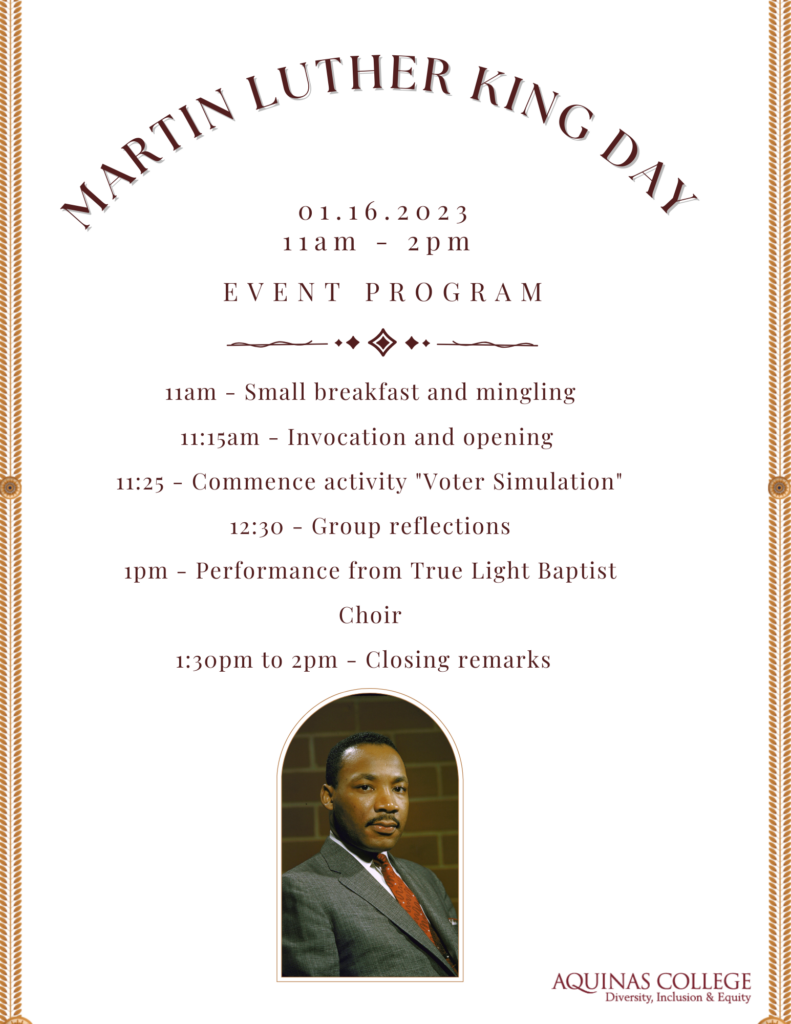 Aquinas College Events (In Person)
Honoring Dr. Martin Luther King Jr.
Monday, January 16
Aquinas College will begin the federal holiday honoring Rev. Dr. Martin Luther King Jr., with a welcome and blessing at 10 a.m. outside the Aquinas College Performing Arts Center entrance, 1703 Robinson Rd. SE. The campus silent march and a theatrical performance will follow.
There will also be a screening and discussion of the movie, "Just Mercy," at 6:00 pm Monday in the Wege Ballroom with complimentary beverages and Mosby's popcorn.
What is the African American Biblical Interpretation and Why Does the Whole Church Need It
Wednesday, January 25 | 12:30 pm
Dr. Esau McCaulley is an associate professor of the New Testament at Wheaton College and theologian in residence at Progressive Baptist Church, a historically black congregation in Chicago. He is a contributing opinion writer for The New York Times. His writings have also appeared in places such as The Atlantic, Washington Post, and Christianity Today. Learn more »
Read a Novel/Watch a Video to Expand Understanding
LYNCHING: Alex Cross's Trial by James Patterson. From his grandmother, Alex Cross has heard the story of his great uncle Abraham and his struggles for survival in the era of the Ku Klux Klan.
JOB DISCRIMINATION: Small Great Things by Jodi Picoult: With richly layered characters and a gripping moral dilemma that will lead readers to question everything they know about privilege, power, and race (NYT)
JIM CROW: The Green Book: The annual guidebook was first published in 1936 and helped African Americans safely navigate the roads of a segregated country (Video)
INTEGRATION: Hidden Figures: was truly a heroic novel about the women of NASA who went unrecognized for their tremendous efforts towards air exploration and travel. (video)
BIOGRAPHIES: Rev. Augustus Tolton Sr. Thea Bowman Nicolas Black Elk
SERVICE PROJECT
Spend an hour on with your art, knitting, crocheting, baking, etc. with the intention to "help somebody along the way."
COMMUNITY CONNECTION
Call a friend, write a letter, gather a "play" group, share a story, walk with someone.