In the Hispanic world and some other cultures, Jesus on the cross is very bloody. His suffering is very obvious from the blood running from the crown of thorns on his head to the blood running down his legs and his bloody feet. Jesus is clearly a suffering Jesus. In the western world the image of the crucified Jesus has been sanitized. On Most of the crosses depicting the crucifixion, there are a few drops of blood, perhaps to remind us of Jesus' humanity -but not really his suffering. We have sanitized even a manner of death that was clearly brutal, anguishing and bloody. Mel Gibson's movie, the Passion of the Christ, depicts the reality of that type of death. The scenes of the crucifixion are gruesome, showing the true agony of such a punishment and journey to death.
For most of us, we have likely never lived in a world that is so aware of sanitizing everything as we are today. We wash our hands constantly and use sanitizer when we can't wash. We are wiping every surface that can be touched. We are wearing face masks to help protect others in case we are carriers of this awful virus. We are trying to sanitize our environment, our world from this new suffering. That is all good and necessary.
Yet in the midst of today's sanitized world, there is still suffering. Wars continue. Children are still hungry. Leaders of nations still abuse their citizens. Poor counties aren't in ordinary circumstances able to care for their sick; today it is much worse. In some of those countries the dying cannot even be taken care of and are lying in the streets. In our country today, there is the suffering of medical and front line personnel fearing for their own families and that they may take this virus home to them. There is the suffering of families who aren't able to be with their loved ones as they lie dying in the hospital. And the suffering of not being able to be together at the times when families need to be. There is the suffering of not knowing when this will end – of the uncertainty – of not knowing when we can resume our lives, our normal lives.
Fortunately for us, the sufferings of Jesus were not in vain. Jesus passed through that suffering and moved on to enjoy the reign of God's glory, as did the good thief at his side. Even at the crucifixion, there were people who saw the reality of this man – truly God – and came to believe.
Just as the sufferings of Jesus have opened the gates of heaven for us, so the suffering of today will bring about a brighter side of life. We are seeing that families and households, while not being able to go places or be with others such as sports events or practice, are having to remain in household units, and are finding ways to be a family again.
They are finding activities that they can do together: music, art, science experiments, cooking and baking, and much more. We are seeing that we as a society are not staying locked in our own worlds – we are finding virtual ways to connect with others. We are finding ways to bring light to those who are in the midst of this fight against COVID-19. 19. Families and friends are using zoom, FaceTime, and other means to not only speak with friends and family but to see them. Musicians are making music across the miles of the world – each alone in their own home – joined together through the Internet. People are caring for each other in ways we could not imagine even a month ago. Food is being provided to families in need. Neighbors are calling upon their elderly neighbors and offering to go shopping for them. Some landlords are allowing their renters to skip a months rent. People are seeing the needs of those around them and stepping up to help.
Our Sisters here at Marywood and Aquinata are making masks, writing notes of gratitude to those on the frontlines, and of course, we continue to gather in prayer scattered about our Chapel, in our rooms here at Marywood, at Aquinata Hall and Marywood Health Center, in our apartments and our homes. Zoom and television are merely the tools that unite us. Our faith in God and the spirit of God within each of us and our life in community is what unites us to each other and to our world no matter how long we have to remain in physical isolation from each other and how far away we are from each other. I heard one news commentator say, we are not socially distancing. If anything we are finding ways to be together. We are just physically distanced.
Jesus' death on the cross was not in vain. Let us remember as we are in the midst of this pandemic, that after all our Good Fridays throughout life, comes Holy Saturday and Easter – we will rejoice in the resurrection. For Jesus' death on the cross is our salvation and WE are an Easter people.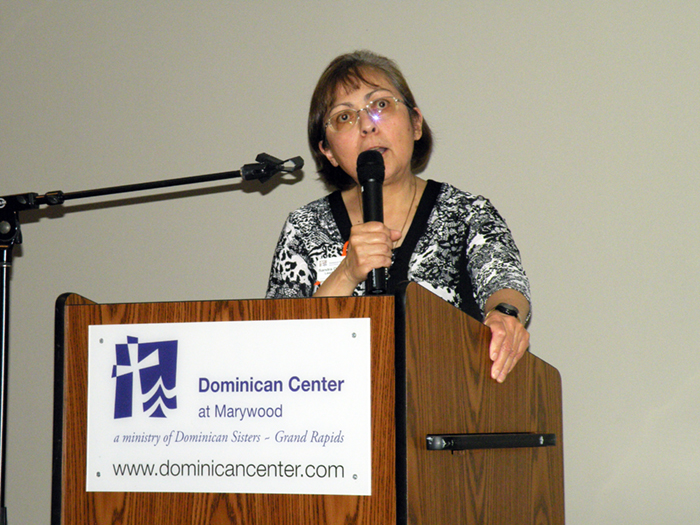 Note: This content was preached by Sister Sandra Delgado OP, on Good Friday April 10, 2020 and shared through our campus television with Sisters residing on campus and as a livestream with Sisters living afar.