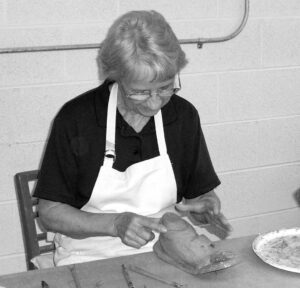 Sister Phyllis Mrozinski is best known for her three dimensional sculpture work, often carved stone or bronze. However, she worked in a variety of mediums ranging from drawing and painting to poetry, photography and printmaking.
At the age of fifty-five, Sister Phyllis requested and received permission to study art at Aquinas College, which by then had a four-year BFA program. Her sculpture instructor, Ron Pederson, recognized her natural talent in sculpture and advised her to make that her major. In her third and fourth years, she was his assistant. Then she accepted a commission to sculpt a life-size image of St. Thomas Aquinas, which she completed in 1989. This beautiful sculpture graces the entry of the main Academic Building on the Aquinas College campus.
In 1994 Sister Phyllis became a full-time artist in residence at Marywood. In her studio there she created art pieces in both stone and clay models for bronze casting. Some of these, including her sculpture of St. Dominic, can be viewed at Marywood and Dominican Center.
She served in a leadership position in the Dominican Institute for the Arts and created the bronze Fra Angelico Award for the organization which is still used today. This award was presented to Sister Phyllis in 2006.
She described her artistic impetus as a "drive from the core of her being." She remarked that "in transforming a piece of stone I also am transformed." Her quiet, secluded studio in the basement of Marywood was for her a sacred, contemplative space where she could indeed participate in that great handiwork of God, as both the beloved creation and the humble, heartfelt creator of good works.