In July 2020, the Dominican family was invited to join in solidarity with Ukraine to celebrate the Dominican Month of Peace. Fr. Gerard Timoner, the Master General, wrote:
Even in the midst of the escalation of the COVID-19 pandemic, the war with Russia and separatists still rages in the eastern Donbass region since April 2014. Yet people throughout the country feel the impacts of the war. Dominicans are very involved in several processes and projects that promote peace and accompaniment of victims of the conflict.
We responded with study, prayer, webinars, and donations ($10,000) to be part of the solidarity response to our Dominican Family in Ukraine.
On 24 February 2022, Russia invaded Ukraine in a major escalation of the Russo-Ukrainian War, which began in 2014. The invasion has caused tens of thousands of deaths on both sides and has instigated Europe's largest refugee crisis since World War II. About 8 million Ukrainians were displaced within their country by late May, and more than 7.9 million fled the country by January 3, 2023.
Almost immediately Fr. Jarosław Krawiec, OP, Provincial, began to send letters describing the conditions that had fallen upon the community. Children (including a 16-day old infant) were being transported from the war zones and received by the Friars and Sisters. There was an increased need for food, clothing, medical supplies, and other necessities. Travel was curtailed because of the bombings as well as the lack of fuel for the cars.
I recently returned from shopping – I managed to find an open market in the area, because generally in Kiev almost everything is closed, so I sit down to describe what is happening here. It promised to be a difficult and dangerous night in the Ukrainian capital. Fortunately, the warnings about possible mass bombings were not confirmed, although there was fighting in various parts of the city, both with heavy equipment and street shooting… Our monastery has two basements which are also pastoral rooms, so the standard is not bad. At the moment, one of the basements is for the women who are staying with us, and the other is for us and other men. This is because several people associated with us have asked to be able to stay with us temporarily because they live in dangerous areas of the city, either alone or in shabby buildings with no access to cellars or shelters. Our "war community" thus expanded radically.
These letters came regularly until June of 2022. They were circulated to our Sisters, Associates, and Friends. The last letter received this month states:
I had planned to send a thank-you note to our donors in December at the end of the year, but unfortunately the difficult situation in Ukraine made it impossible. There are only a few of us in the Vicariate of Ukraine and unfortunately we are not always able to do everything on time. Especially now, when, through the destruction of power grids and frequent power shortages, daily life in Ukraine has become more difficult. We are currently preparing a short report on our activities, which will describe a year of war. It started on 24 February 2022 and next month will be the sad anniversary. Together with Fr Misha Romaniv O.P. from Fastiv, director of the St Martin de Porres House, our Dominican Centre of Humanitarian Aid, we thought it would be more appropriate to summarize the year of war than simply a calendar year. I wish all the Sisters God's blessings in this new year. Please pray for peace in Ukraine and strength for our Dominican sisters and brothers.
A major response came from our Associate Jarek Kozal who began a fund for the care of the Ukrainian refugees in Poland. Services there were coordinated with his family and friends. This effort has been supported by our Sisters and Associates
Another form of response has been to join other groups in sign on letters such as the following received though the Interfaith Center for Corporate Responsibility:
Therefore, in line with our commitment to addressing human rights risks in our portfolios, and specifically those associated with the Russian invasion of Ukraine, we call on companies across all sectors with business activities or business relationships in Ukraine, Russia, and Belarus or other conflict-affected and high-risk areas (CAHRA) to take immediate steps to align their operations with the Guiding Principles and OECD Guidelines. (Source: Investor Statement on the Crisis in Ukraine 16 May 2022)
In November, the Dominican Sisters Conference called for signatures to ask the government to secure a Christmas Truce. Christmas Truce The request was sent to our Peace and Security Response Team.
As people of faith and conscience, believing in the sanctity of all life on this planet, we call for a Christmas Truce in Ukraine. In the spirit of the truce that occurred in 1914 during the First World War, we urge our government to take a leadership role in bringing the war in Ukraine to an end through supporting calls for a ceasefire and negotiated settlement, before the conflict results in a nuclear war that could devastate the world's ecosystems and annihilate all of God's creation.
As we near the anniversary of the invasion and mourn the deaths of its thousands of victims and acknowledge the sufferings of its refugees including the many victims of human trafficking, we continue to stand in solidarity in our prayers, study, and responsive ministry.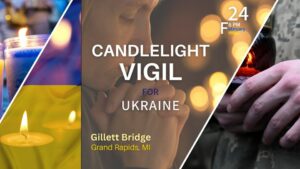 Candlelight Vigil for Ukraine
Friday, Feb. 24
6:00 pm ET
Downtown Grand Rapids, Gillette Bridge
Pray for Peace in solidarity with Ukraine as we approach this 1 year anniversary of the war Russia instigated. Dominican Sisters and Associates of Grand Rapids are invited to gather for vigils on Friday, Feb. 24. Vigils are also being planned at Marywood in Chapel of the Word, and St. Catherine of Siena Chapel and at the Bell Tower by Aquinata Hall. Watch for details to come.