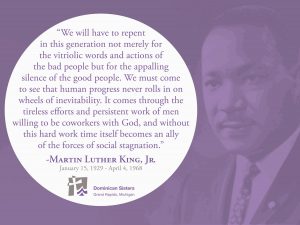 We lift our hearts recognizing the life and legacy of Rev. Dr. Martin Luther King Junior on Monday, January 17.
We, as Dominican Sisters ~ Grand Rapids, see first the common ground of our humanity, and allow our differences only to enrich, and not to disparage. In all of our undertakings, we will notice first and foremost the human person before us. (DSGR Statement Against Racism 1999).
As we contemplate the meaning of Monday's federally recognized holiday, we contemplate Dr. King's words: "We must come to see that human progress never rolls in on wheels of inevitability. It comes through the tireless efforts and persistent work of men willing to be coworkers with God."
What can you do in this time and place in our world to see the human before you?

Dominican Sisters ~ Grand Rapids Inclusion Team
The Dominican Sisters ~ Grand Rapids Inclusion Team exists to foster growth and transformation that creates, supports, and sustains a diverse, inclusive, and racially equitable culture on the Marywood campus.
We challenge ourselves to engage in the work of anti-racism. Periodically we'll share resources from our discussions and invite you to consider them for your personal reflection. Brigid Clingman OP offers today's reflection.
Terms and Phrases in Focus
by Brigid Clingman, OP
In recent years, most of which has been spent within the reality of C-19, we have been confronted with the systems of racism, oppression, and violence precipitated by the murder of George Floyd and the subsequent reactions. Perhaps, because we were in various stages of seclusion and quarantines, the call to respond did not fade so quickly from our consciousness this time.
Responding to that call, many terms and phrases have come into focus. All are related but with nuances around awareness, power, and violence. So, a few basic definitions:
White privilege: inherent advantages possessed by white persons based on their race in a society characterized by racial inequality and injustice.
Bias: prejudice in favor of or against one thing, person, or group compared with another, usually in a way considered to be unfair.
Racism: prejudice with power.
White nationalism: the existential, visceral conviction that this country – its public spaces, its history, its culture – belongs to white people in a way that it does not and should not belong to "others."
Systemic racism: a system in which public policies, institutional practices, cultural representations, and other norms work in various, often reinforcing ways to perpetuate racial group inequity.
White supremacy: the belief that white people are superior to those of other races and thus should dominate them.
These are basic ideas that require better understanding in our efforts to be anti-racist in our person, our community, our nation, and our church. It is indeed a call for us to learn our needed truths and preach them.
RESOURCES:
Watch highlights, breakout sessions from the 2021 Pax Christi USA National Conference

https://www.learningforjustice.org/magazine/fall-2018/what-is-white-privilege-really
https://www.ncronline.org/news/opinion/assumptions-white-privilege-and-what-we-can-do-about-it