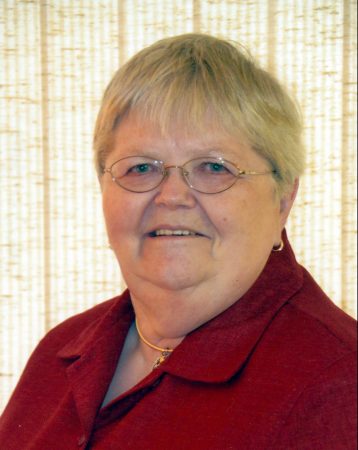 Sister
Marie Carla Moeggenborg
As I ponder 50 years of Dominican life I ask: What return can I give to the Lord for all He has done for me? I hear in my heart: All I ask of you is to remember me as loving you. I am grateful for my vocation and for all who have nurtured me on my journey.
I arrived in Bay City, MI on June 26, 1943, the third daughter of Carl and Agnes (Dickman) Moeggenborg. A few years later we moved to a farm near Shepherd, Michigan, where I spent my youth. Our family grew to include five boys and seven girls. My early education in a one-room country school was followed by attendance at Shepherd High School.
After graduation I attended CMU in hopes of becoming a teacher. MY plans were interrupted by HIS plans. After one year I entered the community. Many opportunities for study, prayer, community and service were afforded me as a member of the community. I have ministered in various places in Michigan as teacher, principal, youth minister, pastoral minister and vocation director. I now volunteer my time and talent at Sparrow Health System in Lansing, Michigan, and in a variety of services at Marywood.
Missioned to the serve as director of Vocation Services for the Dioceses of Lansing, I enjoyed working with children, teens, and adults. It called me to be with and listen to searchers and seekers as they pursued their life journeys. As a diocesan minister, I was committed to raising awareness about church programs and encouraging others to get involved. I developed brochures, posters, and more for parishes and schools. I supported men and women called to priesthood and religious life, and diacontate and ecclesial lay ministry — in their vocation discernment. I often pray the spiritual passage "many gifts but the same spirit" as I work with searchers who want to do God's will. Discernment helps us to realize that we are each uniquely called and loved by our God into the service of the people of God.
As I journey with others and listen to their stories, I am filled with a sense of wonder at the mysteries of God -- and all the ways my life has been enriched by family, students, parents, parishioners, and colleagues.