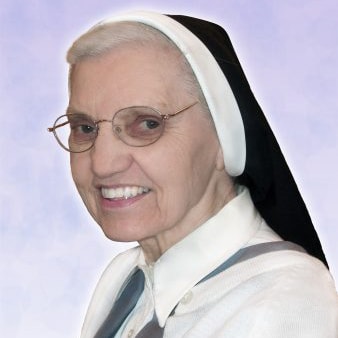 Sister
Thomasine Bugala
Life Story & Obituary
December 31, 1926 – May 11, 2010
"Fiat - be it done to me according to Thy word," was Sister Thomasine's favorite Scriptural text. And following God's will led to a lifetime of rich and varied experiences.
Born in Saginaw on the last day of 1926, Genevieve was the twelfth of thirteen children of Polish immigrant parents. Of these thirteen, five died before Genevieve was seven. In her childhood she was often provoked when her mother, in speaking of future events, added Wola Boga (if it be the will of God); but later this was to become Genevieve's own motivation.
Genevieve's elementary education was at St. Rita's School in Saginaw, where for several years she worked with the Sisters as a "church girl." At St. Joseph High School she was active in the Sodality. After graduating in 1944, she was employed for seven years in the accounting department of Michigan Bell.
One of Genevieve's sisters, Sister Beata, had joined the Grand Rapids Dominicans. When visiting her, Genevieve met Father Charles Wilson, OP, who helped her realize her own religious vocation. Through the influence of St. Louis de Montfort's True Devotion to the Blessed Virgin Mary, she dedicated her life to Our Lady on March 25, 1951. In the fall of the same year, she entered as a postulant at Marywood. At her reception she received the name of Sister Thomasine of the Blessed Sacrament. She made Final Profession in 1956.
From 1952 to 1964, Sister Thomasine was a first and second grade teacher at St. Alphonsus and Immaculate Heart of Mary schools in Grand Rapids, and at St. Norbert in Munger, delighting in the innocence and eagerness of her "little ones." While teaching primary grade students she completed her undergraduate studies at Aquinas College. "I majored in German because Sister Mildred asked me to. I went on to graduate school when Sister Aline asked me to consider it." She spent four years in graduate studies, including eleven months in Tubingen, Germany, with a visit to Regensburg (Ratisbon), the German "cradle" of the congregation. After receiving her master's degree from Tufts University, Medford, Massachusetts in 1966, she did additional graduate work at Michigan State, University of Wisconsin, and University of New Hampshire.
Sister Thomasine joined the language faculty of Aquinas in 1968 to teach German and to train students as teachers of English as a second language. Then Maryknoll Father Graham McDonnell interested her in working on his program, the Good Shepherd Movement in Kyoto, Japan. She regarded the invitation as Wola Boga-God's will. For over twenty years, Sister Thomasine spent summers in Japan, tutoring, training teachers, and writing texts. Her previous experience in teaching primary grades and college students qualified her to write language texts for both children and adults.
In 1990, Sister Thomasine retired from college teaching and took a sabbatical year, part of it in Ratisbon, Germany. Returning to Marywood, she was the Catholic Telecommunications Network of America (CTNA) program coordinator, and a tutor in outreach ministries. She was soon teaching again full time on the other side of the world. She spent two years at the minor seminary in Papua New Guinea, teaching English, religion, and history. She again returned to Marywood where she conducted a course to prepare others to teach English as a second language to Hispanics. But her travels had not yet ended. When Sister Lucianne Siers asked for volunteers to Eastern European countries after the fall of the iron curtain, Sister Thomasine was interested. In 1996 she was invited to Novosibirsk in the Russian Federation by Bishop Joseph Werth, again God's will. With little luggage, but a large gift for language and a generous heart, Sister was off to Russia at the age of 70 to bring hope and healing to another land. Of all the gifts of Dominican life, Sister Thomasine had many, but she excelled in the gifts of itinerancy and study.
Sister Thomasine was even-tempered, organized, efficient, and generous. She was ready for any new venture – Wola Boga – if it be the will of God. Sister mastered the art of living simply, but relished the richness of community life, singing of morning and evening prayers, participating in the Eucharist, and enjoying conversations at mealtimes. Her hobbies and interests included photography, card-making, knitting and other crafts, reading, and keeping up a prolific correspondence.
A life lived to the fullest! A Fiat for every Wola Boga! She said her final Yes, when Jesus called her home. There she was surely greeted by many Dominicans, by people of several nations and friends and relatives too numerous to count.
---
Sister Thomasine is survived by her sister, Sister Rosella Bugala, SFCC of Midland, nieces, nephews, friends and Sisters in her Dominican Community.