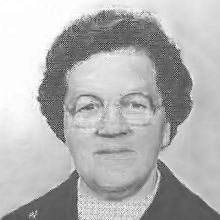 Sister
Stella Jozwiak
Life Story & Obituary
February 13, 1928 – June 23, 1995
"It was not you who chose me, it was I who chose you" - John 15:16.
This scriptural quotation, which was one of Sister Stella's favorites, served as a frequent reminder to her that God was ever at the helm. On June 23, 1995 God's predilection was again manifested. Sister Stella was chosen for endless time to be with God, the giver of all love and goodness. It was now her privilege to live God's injunction: "Live on in me, as I do in you!" (Jn 15:4).
Sister Stella, whose whole intent was to follow God's call, was born in Bay City, Michigan on February 13, 1928 to Walter and Stella Zielinski Jozwiak. She was very proud of her Polish roots. Sister Stella was the fifth of nine children, seven boys and two girls. On February 19, 1928 she received the sacred waters of Baptism at St. Stanislaus, Bay City and the name of Dolores Henrietta. The day of her First Holy Communion on May 17, 1937 was a happy memory for her. Bishop William Murphy confirmed her two years later.
Her elementary education was at St. Stanislaus, Bay City where the Felician Sisters were her beloved teachers. Her last three years of high school were at St. John, Essexville where she met and learned to respect and love our Dominican Sisters. After her graduation in 1946, Dolores worked for a year as a billing clerk, but she knew she wanted much more from life. She was especially grateful to Sister Rose Gonzaga Szydlowski, from whom she received guidance even when not attending St. John. A retreat in 1946 gave her ample opportunity to do some serious reflecting. She attended three Receptions at Marywood, and was deeply impressed by the caliber and happiness of the women. She became convinced that she wanted the peaceful life of a religious.
She became a member of a large class of postulants on September 7, 1947 with Sister Leonora Gallagher as her postulant mistress. As novices they were directed by Sister Frances Ann Tatreau, and then Sister Gerald Grace. On March 11, 1948 she received the Dominican habit and the name of Sister Stella of the Immaculate Heart of Mary. Mother Euphrasia Sullivan was Prioress General. She made her First Profession on March 15, 1949 and her Final Profession on August 15, 1952, both to Mother Victor Flannery.
For thirty-one years Sister Stella's apostolate was that of an elementary teacher. She was always very happy and proud of the fact that for half of those years she taught the first grade. She was a much loved and competent teacher. She brought a gentleness, peace, happiness, and understanding to all with whom she associated. It was a delight to live with her. She was most conscientious and hard working, and was ever ready to be of help to anyone. Not only did Sister Stella do regular classroom teaching, but because of her musical competence, she was generally the choir director and organist. She had a beautiful rich voice, and loved to sing. She became involved in CCD work as coordinator and director. Her years of teaching took her to the following missions: St. Casimir and St. Josaphat, Saginaw; North Dorr; Alma; Merrill; St. Joseph, Bay City, and Our Lady of Grace, Dearborn Heights.
Much as she loved teaching, in 1980 for reasons of health, she changed her apostolate for less strenuous work. For the next seven years she was the Administrative Secretary in the Office of Personnel Services at Marywood. She was a real asset in this position. After that she spent one year in secretarial work at St. Mary School, Jackson, Michigan. Considerable sickness in her own family made Sister Stella realize she should be nearer to her home. She became the secretary and receptionist for the Ministries Institute Office of the Diocese of Saginaw.
Sister Stella had to cope with serious health problems. After surgery for cancer in 1992, she was able to continue her work for the diocese. At this time she lived at Sacred Heart Convent, Merrill.
One of the heaviest crosses Sister Stella experienced was the selling of her family home in December 1990, but as in all her trials, her beautiful strong faith and her fervent prayer life were her strength and comfort.
Sister Stella always took time to live and her presence was enriching for others. Then, too, she had diversions: listening to music; singing; playing the piano, organ, and recorder; sewing; knitting; and crocheting. She was a marvelous cook, and had the ability to provide tasteful meals.
Sister Stella has enriched our lives by the manner in which she lived hers. Now she lives a fuller life with the God of all creation, for the servants of God "shall see God face to face and bear God's name on their foreheads. The night shall be no more. They will need no light from
lamps or the sun, for the Lord God shall give them light, and they shall reign forever."
Rv 22:4-5.
"THIS IS THE DAY THE LORD HAS MADE; LET US REJOICE AND BE GLAD." Psalm 118:24
---
Sister Stella is survived by her brothers Eugene and Richard of Bay City; her sisters Maureen (Mrs. John Yagiela) and Geraldine (Mrs. George Wilcox) of Essexville; nieces, nephews, cousins and many friends.