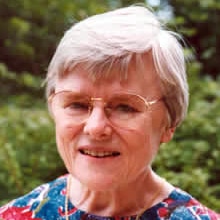 Sister
Mary Ann Otway
Life Story & Obituary
November 3, 1926 – January 28, 2004
Joseph Otway and Sarah Dean Otway welcomed their fifth child into the family on November 3, 1926 and named her Mary Ann after her paternal grandmother. They lived on a farm about fifteen miles from Midland, Michigan and were members of St. Patrick's parish in Ryan. There Mary Ann was baptized and received Eucharist. As for prayer, Sarah gathered the children (11 in all) each evening for the rosary. Sarah chose St. Jude as her favorite saint who helped to sustain her for what was to come.
Life on a farm is never easy, but it provided the essentials for this growing family as they were living through the depression. Discovering oil on the farm helped Joseph survive the hard times. There was also lots of fun to be had: ball games, sleigh rides and a once-in-a-while dance in the front room. Joseph always had a pony for the children to ride, and he took the family to movies and on trips.
Mary Ann attended a small country school for two years and later went to Sacred Heart School in Merrill, which was run by Dominican Sisters from Grand Rapids. The Sisters were influential in helping to form vocations to religious life. Sr. Norbert (Marjorie) Vangsness directed many skits with a vocation theme. God's call to Mary Ann came one evening during devotions to Our Lady of Perpetual Help. Ten days after graduation in 1944 she made her way to Marywood to join the Dominican Sisters. She received the name Sr. Gregory Ann of the Blessed Sacrament. She eventually made First Vows to Mother Euphrasia Sullivan on May 14, 1946 and Final Vows to Mother Victor Flannery on August 15, 1949.
Before this the Otway family had experienced two deaths. In the thirties a baby brother died after living only three weeks. In the forties Joseph was killed in an accident on the highway. Mary Ann had been very close to her Dad, even helping him in the fields during haying time. Driving a tractor was her coveted task. She missed her Dad at this crucial time in her growth. Sarah, a woman of faith, assumed full responsibility for the large family.
At Marywood there were many adjustments to be made as Mary Ann began her studies and the formation program. Sister Leonora Gallagher, the Mistress of Postulants, had a firm way about her, which was coupled with a sense of humor. She was a good lady. Sister Frances Ann Tatreau, the novice mistress, was a storyteller and a lover of animals. Sister Gregory Ann, as she was then known, asked to be a nurse, but Sister Marie Celeste Stang, who put the finishing touches on her formation, asked her to
teach the little ones. During World War II the deaths of two brothers who were in the Air Force brought sorrow once again into her life. Two other brothers returned home safely.
After two years of study at Aquinas College Sister Gregory Ann began life on the missions at St. Alfred's School in Taylor. The Sisters lived at the time in a Quonset hut and taught classes of children numbering in the forties and fifties. The rigors of life were offset by the group of Sisters living there. Sisters Vincent Ferrer Rasch, Emmerica Ziegler, Frances Clare Alvesteffer, Michaela Schrems and Gregory Ann worked hard and also played hard, so life was in good balance.
Sister Gregory Ann continued studies at Aquinas College during the summer months and evening courses during the year. She received her BA and later her MA in Religious Education. While busy with classroom teaching she always took time for the religious instruction of children in the public school. It was also essential to attend workshops to keep updated on the many changes the Church was undergoing.
The teaching ministry lasted forty years, ten each in the dioceses of Grand Rapids, Detroit, Saginaw, and Gaylord. Mary Ann (she accepted the opportunity to return to her baptismal name) loved children; yet working with adults in the RCIA and Stephen Ministry was very rewarding. She felt these two ministries gave new life to the Church and it was exciting to see them grow. She began the RCIA process at St. Joseph's, West Branch.
A significant happening in the early seventies was the beginning of the Charismatic Renewal. Mary Ann was attracted to this experience as it deepened her awareness of the presence of the work of the Holy Spirit in her life. She said at the time of her "baptism in the Spirit" that it made her life an "alleluia song." Her participation in the renewal enabled her to help others in a new way.
In the early seventies Mary Ann had a personal experience that she journeyed with the rest of her life. She developed cancer and had bilateral mastectomies, but ten years apart. In 1993 the cancer metastasized in the bone. At this time she began parish ministry, visiting shut-ins and later ministering at a nursing home. She enjoyed this ministry and felt that she brought joy and peace to the residents because that is what she received from them. This was also a chance to experience ecumenism at this level by inviting ministers of other denominations to hold services at the nursing home. In her later years at Marywood she volunteered in the beauty salon and showed gracious hospitality at Dominican Center. Even at Aquinata she ministered through her outreach and support for cancer patients.
Mary Ann's interests included biking, cards, music, poetry and "a few crafts." She is remembered for her gentleness and her smile. "I love the way Marywood Dominicans celebrate their joy," she once said, and she delighted in contributing to joy. Her family always played an important part in her life. They were there for her in good times and in the difficult ones were supportive and encouraging.
In her journey through life Mary Ann had a special image of Christ that drew her inward and onward. This was the image of the Good Shepherd—an appropriate devotion as the family history showed that some of her ancestors were sheep growers. She had a final celebration when on January 28, 2004 the Good Shepherd picked her up on his shoulder to present her to God and reunite her to her family.
Sr. Mary Ann is survived by her sisters Donna Polmanteer (Keith) of Lady Lake, Florida; Pat Poulos of Midland, Michigan; Gladys (Duane) Sherman of Grawn, Michigan; Peg Postma of Sacramento, California; her brother Robert (Joanne) Otway of Granite Bay, California; her sister-in-law Margaret Otway of St. Charles, Michigan; and brother-in-law Elten Mayer of Lady Lake, Florida; nieces, nephews, many friends and a loving Community.