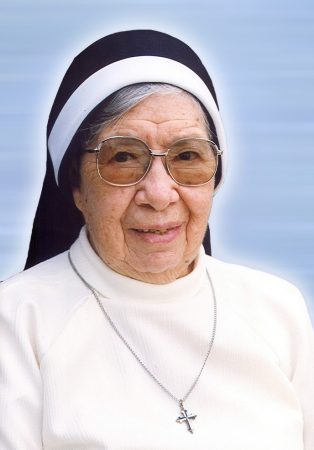 Sister
Josephita Griego
Life Story & Obituary
May 18, 1911 – February 24, 2008
How better to describe the span of her life than with her favorite prayer: "Jesus, I leave my past to your infinite pity, my present in your almighty hands, and my future in your heart which is all love."
The flu epidemic following World War I had hit the mountain town of Penasco, New Mexico, and Fidel Griego's family had not been spared, except for himself and seven-year-old Ida. Together they set out each day with a big kettle of soup to visit the helpless neighbors. "Be sure to smile and give them plenty to eat," Fidel said to his daughter. Ida always remembered how proud she was to "play nurse." So was sown the seed of service, nurtured in faith and family and reaching up through long years of life as a Dominican.
Ida Griego, born May 18, 1911, was the eldest of six children belonging to Fidel and Nieves Trujillo Griego. Ida was baptized four days later in the church of St. Anthony. As was the custom of the time, she was confirmed as an infant. After her First Communion in 1920, Ida immersed herself in the colorful parish fiestas that characterize the strong, warm culture of Spanish faith. Moved by the devotion the local priest, Father Kuppers, held for St. Therese of Lisieux, the Little Flower; Ida secretly cherished a desire to become a Carmelite nun. This suddenly changed in 1926 with the arrival of the Grand Rapids Dominican Sisters. On that glad day, Ida in a white dress and veil proudly joined the welcoming procession that included village representatives, tribal chiefs in full regalia, Penitentes and parish societies. Father Kuppers drove up with the pioneer Sisters. "We thought they were angels from heaven in their beautiful white habits," Sister Josefita remembered. After the Sisters took over the teaching in the public high school, Ida knew with whom she would share her life and service of God.
In 1928, Ida left for Marywood and Michigan, with a dream of someday returning to her sunny home state. In 1929, she received the religious habit from Mother Eveline Mackey and the name Sister Josefita of the Holy Family. On September 1, 1931, Josefita made her First Profession and in 1937, she took Final Vows.
With strong determination, Sister Josefita met climate and convent adjustments as they came. The earliest and most threatening was the clamor of the rising bell at 5:00 a.m. Her biological clock said it was only 3:00 a.m. in New Mexico. It was no wonder she found herself falling out of bed.
Several years later, Josefita's indomitable will beat back the death-gripping winter cold of Beaver Island, the true test of her assignments in Michigan. Weakened by days of relentless fevers, she was not expected to recover. In fact, her superior had already notified Mother Eveline of Josefita's probable death. The island had only one telephone, which was in the pastor's house and the priest brought back instructions to the Sisters that in the event of Josefita's death, her body should be kept in the Island ice house, a grim block building serving double purpose. When the pastor's voice rose with the scant heat through the ceiling register to the patient's ears above, Sister Josefita later recalled saying, "No way was I going to be stored in that ice house! I got better."
Sister Josefita's vocation found expression throughout her apostolate in a variety of assignments in Michigan and later in her beloved New Mexico, mostly providing homemaking and food service for her fellow Sisters. Eventually her ministry grew and she provided services to the Dominican Fathers, care for the orphans at St. John's Home, catechetical work, home visiting among the San Juan Pueblo Indians, executive housekeeper, sacristy and spiritual ministry at Nazareth Hospital in Albuquerque. In semi-retirement Sister Josefita became involved in ministry at Kent Community Hospital. The little girl who "played nurse" had grown to full stature in the care of God's people.
Like foretastes of heaven, Sister Josefita found ever-new delights in God's creation. Everyday she was surprised by God's goodness. She especially enjoyed any opportunity to travel. Among her most memorable travels was a gift trip to Mexico City that included close-up encounters with Pope John Paul II. At the Church of St. Dominic in Puebla, a kind traveler loaned her some binoculars to view a gold statue of the patron saint located near the ceiling. "I looked him right in the eye, and I prayed for our community." Josie was in seventh heaven!
Dominican and community-minded to the end, Sister spent her golden years within the serenity of Marywood and later in the Marywood Health Center.
Sister is survived by her sister, Mrs. Margaret Kirkpatrick of Albuquerque, NM; her brother-in-law, Michael Samec of San Leandro, CA; many nieces, nephews, devoted friends and Sisters in our Dominican Community.