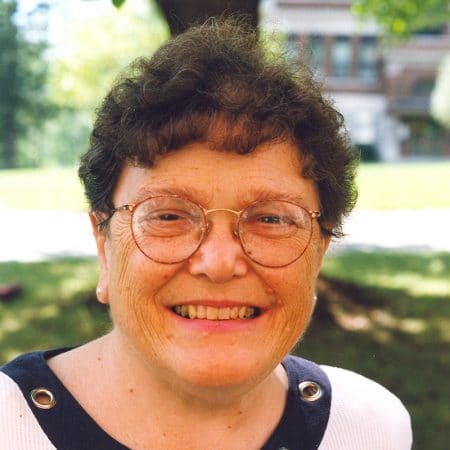 Sister
Joan Lehman
Life Story & Obituary
February 1, 1941 – May 5, 2003
"Live out a life worthy of the calling you have received with perfect humility, meekness, and patience, bearing with one another lovingly." These words of St. Paul described the ideal to which Sister Joan Lehman aspired and which she manifested in her living.
Joan Margaret Lehman was born February 1, 1941 in West Branch, the second daughter of George and Lauretta Smith Lehman. Her parents were devoted members of St. Joseph Parish, serving on committees and helping in ways like organizing food showers for the Sisters. Her father, township clerk for 38 years and trustee for four years, played a significant role in the history and development of the township. Joan felt truly blessed with a loving and supportive family, including two sisters and two brothers.
On the family farm Joan liked to help her father, but her diminutive stature limited her to hoeing, picking potatoes, and bringing the cows back to the barn. She was more in her element helping her mother in the kitchen.
Joan's education at St. Joseph elementary and high school was under the Grand Rapids Dominicans, whose interest in her influenced her to join the Congregation. Her parents supported her decision, although her father feared that she would be sent to far-off New Mexico. She entered at Marywood the September after graduation. At her reception as a novice she took the name of Sister Lois Ann, by which she was known until 1967, when she resumed her baptismal name.
That same year she gained her Bachelor of Arts degree from Aquinas, toward which she had been working during summers. Four years later she received her Master of Arts in Religious Education. "Ever since entering the Dominican Order," she wrote, "I have found myself challenged and stretched down so many paths, each one so different and exciting." The first of these paths, teaching in elementary schools, led her to Saginaw, Santa Cruz and San Juan Pueblo, New Mexico, back to Merrill, Dearborn, and Grand Rapids. When her father's fears about her going to far-off New Mexico were realized, she suggested that they drive down there sometime for a visit. And before Christmas of the first year the family—all six of them—piled into the car and spent the holidays with her. The hospitality they received assured them that Joan was in a loving community.
Joan found her years of teaching rewarding. She was loved by her pupils, respected by their parents, and recognized by her colleagues as an out-standing first-grade teacher. "Then suddenly I felt drawn down another path, that of nursing, which has truly broadened my life through a variety of experiences." After studying for a year at Grand Rapids Community College, she became a certified LPN. As a staff nurse at Kent Community Hospital and Holland Home, she wrote, "I learned to appreciate the healing power of Jesus as I minister to His sick and elderly." Her own physical ailments made her especially sensitive to the pains of others. Her silent presence alone could bring relief to the sick.
The path turned back to West Branch in 1989 when she returned to be near her elderly parents. (Her father died in 1997.) Joan first taught and later became a pastoral minister there. This ministry came to a painful end in 1999, when a new pastor took over. Disappointed and suffering from physical exhaustion, she was ready for a sabbatical. In October she made a 30-day retreat at the Jesuit Manresa House in Bloomfield Hills. In November she flew with her mother to Arizona and returned to Marywood just before Christmas. Her plans were to attend the General Chapter as an observer and in January to go to Rockhaven in House Springs, Missouri for a renewal program. When the General Chapter opened she attended the first day, although she was not feeling well. Then suddenly her life was threatened. While taking a shower in the evening, she fell unconscious, was discovered later and taken to the hospital. The diagnosis was toxic poisoning and loss of kidney function with only a slim chance of recovery. Sisters, Fr. Paul Colloton, and family members stayed with her and prayers went up from Marywood. By late afternoon the doctor announced that a little miracle had occurred. The kidney condition had improved enough for dialysis and by the next morning it was back to normal. Her condition, resulting from a stroke, was still serious, however. She spent a month at Aquinata Hall and gradually regained strength. The program at Rockhaven was postponed until fall and never materialized. Joan spent the next three years at Aquinata.
Diminutive in build, Joan was quiet, sensitive, fun-loving, giving of herself, faithful to her many friends, and grateful and loyal to her Congregation. Marywood residents recall how she brightened their mornings by coming early to breakfast and regaling them with the joke of the day. Her hobbies and interests included reading, walking, bicycling, arts and crafts and card games. She loved music and played her omnichord with a group of parish musicians. With her sister Lois she traveled to most of the United States and parts of Canada, taking along each time a niece or nephew who had reached the age of 9 or 10. To celebrate her 25th jubilee, Lois took her on a 17-day trip to England and Continental Europe.
During her final years of illness Joan continued to live a life worthy of her calling. She endured suffering courageously and participated in community prayers and other exercises as much as her failing strength permitted. She even composed a book for children, Douglie the Caterpillar, which she dictated to Sister Marguerite Cool, who provided the illustrations. Sisters Marguerite and Jean Kramer were her faithful friends to the end. In her last week she attended a movie and a bingo game. She died surrounded by her Lehman and Dominican families.
Sister Joan is survived by her mother, Mrs. (George) Lauretta Lehman of West Branch; her sisters Lois (Don) Jandernoa of Grand Rapids; Carol (Ron) Zakaras of Homewood, Illinois; and her brothers Donald and Wayne (Sue) Lehman of West Branch; nieces, nephews, aunts, uncles, cousins, many friends and a loving Community.