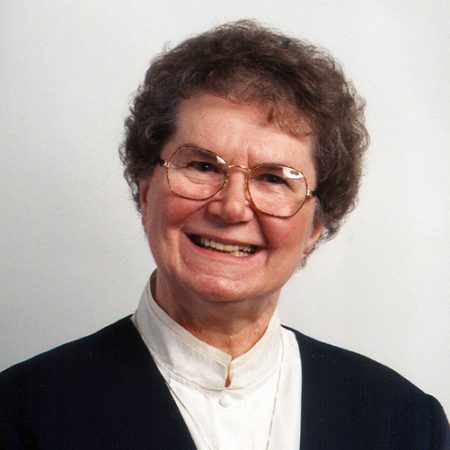 Sister
Helen Miller
Life Story & Obituary
1929 – August 6, 2006
"Joy is the infallible sign of the presence of God."
The circumstances of Helen's birth in Myslava, Czechoslovakia (in 1929) were unusual. Her mother (Anna Kelbel) was born in Petoskey, Michigan. Her family moved back to Czechoslovakia when Anna was a child. There Anna grew up, met and married John Muller and gave birth to her first daughter, Helen. When Helen was five months old, this young family set out for America. There four more children were born: two girls and two boys.
Their home was first in Petoskey, next in Muskegon Heights and then in Scranton, Pennsylvania. During the Great Depression the immigrant father supported his family by working in coal mines and foundries. In Scranton, Helen began her education at John Adams School and received First Communion and Confirmation. She was bilingual, speaking Slovak at home and English elsewhere.
When the Mullers returned to Muskegon Heights, Helen attended grade seven at Sacred Heart School, taught by Grand Rapids Dominicans. In her freshman year she enrolled at Marywood as an aspirant but since her mother needed her at home she returned to her home for her sophomore year and then finished grades 11 and 12 as an aspirant. Before entering the congregation she had varied work experiences: at an ice cream and dairy store and part-time manager of the milkmen at the dairy.
It was no surprise that she was attracted to the Dominican order for in addition to knowing Dominicans as teachers, Helen had an aunt and a great aunt who were Dominican religious in Czechoslovakia. And so it was that on September 7, 1947 Helen became a postulant and the following March a novice with the name of Sister Thomas Ann of the Infant Jesus of Prague. She made her first profession on March 15, 1949.
Sister Helen's involvement in Catholic education took her to St. Joseph, Bay City; St. John, Essexville; St. Alphonsus, Grand Rapids; Hannah; Carson City; Sacred Heart, Mt. Pleasant; and St. Francis, Traverse City. Her 33 years in education included ten on the elementary and twenty-three on the secondary level. In some of these years she also served in convent and school administration.
In 1966 she was elected the Secretary General of the Grand Rapids Congregation. Cognizant of her many competencies, those electing her were unaware of a rather important one that she lacked. That summer she had to learn typing and secretarial skills! She succeeded so well in the position that she was reelected in 1972. In her position as Secretary General, she was a much-loved and competent person, a good listener, and always approachable. She served also as secretary of the boards of trustees of Aquinas College and Nazareth Hospital and on several community committees.
In 1976 Sister Helen completed her work as Secretary General and began a new career. She attended the University of Detroit and earned a Master's degree in Counseling. The next year she became the high school counselor and guidance director at Sacred Heart Academy, Mt. Pleasant. There she worked untiringly to help all the students develop to their fullest potential and was unremitting in efforts to obtain scholarships for them. Sister Helen was a nationally certified counselor, a board member of the Mount Pleasant Family Counseling Service and the Saginaw Catholic Family Service. During summers she studied at St. Norbert College, DePere, Wisconsin and earned a certificate in theology in 1982. In 1990 she completed a two-year certification in Spiritual Direction.
Sister Helen had a pleasant, buoyant, joyful disposition and could always see the positive side of situations. She had many interests and diversions: listening to music; reading; enjoying and exploring the out-of-doors; watching sunsets; traveling; enjoying people; trying new things; pursuing guidance and counseling theories and methods. Above all, she was a deeply spiritual person and a most loyal community member who was ever ready to be of help to others.
One quality that stands out was her great love for her parents and family. Her father's death in 1981 was a great loss to her. She admired his prayer life, his strong faith, and his hard work to support his family. A precious memory for her was his calling each member of the family to his death bed, addressing each by name, and saying in Slovak, "Go with God. Farewell." Until her mother died in 1996 Sister Helen wrote frequent letters to her in Slovak and phoned her each Sunday.
On April 20, 1993 Sister Helen's ministry in Mt. Pleasant ended abruptly when she suffered a severe heart attack. After months of recuperating at Aquinata Hall, she generously gave her services there in the office and later in the bookstore at Dominican Center. During her residency at Marywood she earned a Healing Touch Certificate. For the last several years she had ministered at Aquinata Hall/Marywood Health Center, visiting the Sisters, praying with them and assisting where she was able.
In July Sister Helen attended an enrichment class at Loyola in Chicago but was not feeling her usual self and so saw her doctor upon her return. The following day she was hospitalized and after many tests, it was discovered that the cancer for which she had surgery in February had spread to the liver and treatment was not an option.
On August 6 as the Community was assembling to celebrate the Feast of the Transfiguration, Sister Helen quietly left us for her own personal transfiguration.
"Joy is the infallible sign of the presence of God." Sister had used this quote in an autobiographical sketch and it truly typified her life. May she now be enjoying the presence of her God.
---
Sister Helen is survived by her siblings: John (Mary) Muller of Green Bay, Ann (Earl) McCabe of Muskegon, Tom (Donna) Muller of Coopersville and Vicky (Frank) Solcz of New York, many nieces, nephews, friends and a loving Dominican Community.