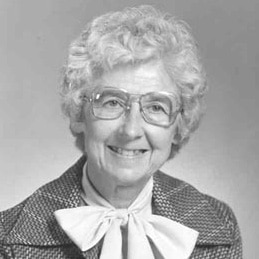 Sister
Elizabeth A. Eardley
Life Story & Obituary
July 23, 1921 – October 26, 1997
Being a Latin scholar, it is not surprising that a Latin prayer would be Sister Elizabeth's favorite, "Doce me, Domine, facere voluntatem tuam quia Deus meus es Tu." ("Teach me, Lord, to do Your will because You are my God").
Both in life and death, Sister Elizabeth knew doing God's will was the foundation of all wisdom. May her "final fiat" enable her to see God face to face for all eternity.
It was at the Eardley homestead in Cascade Township on July 23, 1921 that the fifth of their nine children, six girls and three boys, was born to Thomas and Margaret Josephine (Keefer) Eardley. She was baptized by Father E. Racette at St. Mary Church, Cascade (later absorbed into Holy Family Parish, Caledonia) and was given the name of Elizabeth Ann.
Her lovely Hebrew name signifying "House of Bread" receded into the background when her paternal great uncle, Father Thomas L. Whalen said, "Call her Betty! There aren't any Elizabeth's these days." His expressed wish could not be disregarded for Betty was his in a very special way. At the age of two, a congenital dislocation of the left hip was reduced which left a shortened left leg influencing but never limiting her lifestyle. Because she needed special care and trips to a Detroit doctor, she lived with her maternal grandparents in Caledonia until seven years of age when Betty returned to her family in Wyoming, Michigan where they had moved after a fire destroyed the Cascade home.
She received her First Holy Communion in grade two at Holy Name Parish Wyoming, and she was confirmed at the same church on October 23, 1932 by Bishop J.G. Pinten.
Her early education was at the French Street School, Dutton, and she then attended Holy Name School for grades two through eight. Catholic Central, Catholic Junior College (the forerunner of Aquinas), and then Aquinas College were her next educational pursuits. In her home she learned lessons in Christian living that were so important. For example, her family raised Mary Glumis Burns from St. John's Home. Our first Sister Clarence Hansen also made her home with the Eardley's.
It was Father Thomas who had assumed responsibility for her orthopedic care and personally arranged for bloodless surgery with a Doctor Blodgett in Detroit. Father Tom, as she lovingly called him, died when Betty was only three, but his prayers must have followed from beyond the grave and assisted her to ring the Marywood doorbell in 1939. The Prioress General, Mother Euphrasia Sullivan, met her with recognition. "Why this is the little girl Father Tom took me to see in the hospital!"
There were ample seeds of religious vocation for Sister Elizabeth: a beautiful religious family; the Depression years; two uncles priests; four aunts in religious life; the Sodality movement under Father Lord. She was impressed by Father E. Alt at Catholic Central and by Sisters Honorata Evans, Honora McGarry, Irma Gamache, Mildred Hawkins, and especially Sister Loyola Finn her Latin teacher for whom she had a special admiration. It was Sister Maurice Mavelle who made arrangements for Elizabeth to spend a weekend "Live-In" at Marywood. Following this, Sister decided to become a religious, and she never wavered.
Father James Flannery, a brother to our three Flannery Sisters, wrote her letter of recommendation to become a Grand Rapids Dominican, and Elizabeth entered the postulate on September 8, 1939 under Sister Leonora Gallagher's guidance. Sister Fabian MacDonald was her novice mistress and on August 17, 1940 she received the white habit of St. Dominic and name of Sister Thomas Kyran of the Child Jesus, a name by which she was known until she returned to her baptismal name in 1967. Her First Profession of Vows was made to Mother Euphrasia Sullivan on August 18, 1941. Final Vows were also made to Mother Euphrasia on August 18, 1944.
Sister's apostolate in the teaching profession began in 1942 at Sacred Heart, Muskegon Heights, followed by assignments to Alpena; Alpine; and St. Francis, Traverse City. Some of those years she was involved not only in teaching but also in convent and school administration. For one year she was Mistress of the Aspirants and teacher at Marywood Academy.
The beginning of her many involvements at Aquinas College began in 1962: Director of Residence at Regina Hall; Director of Testing; Education Department; Coordinator of Faculty; Director of Emeritus Center. In 1965 she had the privilege of adding to her already rich educational background by studying at Fordham University.
The years 1976-1980 were special years in Sister Elizabeth's life as she was elected to the office of Vicaress of our Community and her special work was Councilor for Apostolates. Since she was always a supportive person of both Community life and the educational apostolate, this gave her a splendid opportunity to exercise her leadership in these two categories.
In 1986 she tendered her resignation at Aquinas College and was asked to assume an entirely new role—Job Developer for the elderly members of the Grand Rapids Dominican Sisters, a position in which she was wholeheartedly interested. She continued in this position until 1992. She then did volunteer ministry in the Resource Office. In 1993 she had to cope with serious health problems.
Sister Elizabeth had many wonderful gifts, talents, and qualities. Sister was intellectually gifted; always approachable; a good listener; a conscientious worker; practical; excellent administrator and teacher; kind and thoughtful of others; generous and cheerful. She projected a fine Community image. Above all, Sister was faithful to prayer and had the ability to suffer and to accept her crosses with patience and resignation.
She had several hobbies and interests: golf, swimming; sewing; cooking; and travel. She had the privilege of travel to Canada, Mexico, Ireland, Chimbote, Peru, and several USA states. She continued to enrich herself educationally, for example, by attendance at Elderhostels and Emeritus College classes.
Sister Elizabeth was most grateful for her Dominican vocation which she stated enabled her to belong to the Marywood Congregation which "provided good friends, yearly retreats, meaningful celebrations, a first-class education, fabulous opportunities for ministry, for travel, and for personal and professional enrichment."
For fifty years Sister served our Dominican Community, Aquinas College, and the Church with much dedication and generosity. In her autobiography Sister Elizabeth mentioned that her First Profession was her only "Mt. Thabor" experience. May she who so faithfully pursued the good things of the Lord now know and experience for eternity, "How deep are the riches and the wisdom and the knowledge of God!" (Rom 11:33).
Sister Elizabeth is survived by her sisters Agnes and Catherine Eardley of Grandville, MI; Eileen (William J.) Hillebrand of Hudsonville, MI; her brothers Thomas K. (Eileen), Kyran C. (Millie) of Wyoming, MI; a brother-in-law Elmer Nickels of Hudsonville; 27 nieces and nephews, 55 grandnieces and nephews, cousins, and many friends.