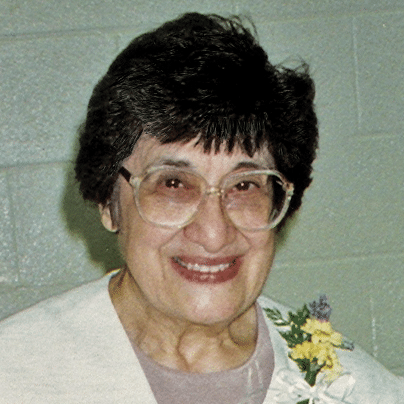 Sister
Dorothy Giglio
Life Story & Obituary
January 8, 1923 – October 25, 2008
"When I entered I took the motto: 'I can do all things with God's help.' It is this which has sustained me in all I have done and still do." That all includes many years of teaching and art work.
Born January 8, 1923, in Pontiac, Michigan, Sister Dorothy was baptized Pasqualina Dorothy Giglio, but was known by her middle name. Her parents, Peter and Josephine Belsito Giglio, had come to the United States from Cosenza, Italy. She was the third of eleven children. The last-born were twins, Arlene and Angela. "I was thirteen at the time and I think I helped spoil them."
The family moved to Greenville when Dorothy was 6. She attended public schools and graduated from Greenville High School. After that she was employed for five years in housework, as a clerk in a grocery store, as a teletype operator in a news office, and as a drill operator in a factory.
There were no religious sisters in Greenville at the time Dorothy became interested in a vocation to religious life. When she confided in her pastor, Fr. Walter Grill, he took her to Grand Rapids to meet all the communities represented there. She decided on the Dominicans and entered in February 1946 at the age of 23. At reception she was given the name Sister Mary Cabrini of the Sacred Heart, which she retained for many years. After profession on August 21, 1950, her life followed the prevailing pattern of study during summers and teaching during the year.
Her first missions included St. Alphonsus, Grand Rapids; St. Anne, Alpena; St. Basil, South Haven; and St. John, Essexville. Between 1955 and 1960 she was in New Mexico, teaching at St. Francis, Ranchos de Taos and, after a semester of illness, at San Ignacio, Albuquerque. Back in Michigan she taught at St. Gregory, Hart; SS. Peter & Paul and St. Josaphat, Saginaw; St. Peter, Douglas; St. Boniface, Bay City; Sacred Heart, Mt. Pleasant; St. Joseph, Pewamo; St. Joseph, Beal City; and her home parish, St. Charles in Greenville.
During summer study, Dorothy earned a B.A. from Aquinas College; an M.A. in the Teaching of Art from Western Michigan University; and a certificate in liturgy and music from Aquinas. While missioned in Mt. Pleasant, she served on the Liturgy Commission, which she considered "the most vital commission of all." After retiring from teaching, she volunteered her services in her home parish and in family ministry.
Art in many forms was her principal interest: oil painting, water color, stained glass, and needle crafts. She was also an expert seamstress.
At the time of her golden jubilee in 1996 Dorothy wrote. "The Lord who is kind and merciful called me to this Order. . . . Since I had never known Sisters before entering the convent, I realized what great women they are. They gave me their support, counsel and many prayers."
Sister Dorothy will be remembered as an excellent teacher, gifted in art and generous in all she did. In her later years, at the Marywood Health Center, she was known for her infectious smile, readiness to try new things and friendly manner toward everyone. She will be missed by family, friends and community. Her confidence in God's help, strong faith and generous heart sustained her to the end of her days.
Sister Dorothy is survived by her sisters: Angela Giglio and Arlene Giglio of Greenville; Mary Giglio of Traverse City; her brother Frank Giglio of Greenville; and her sister-in-law Elaine Ryan Giglio of Comstock Park; many nieces, nephews, many friends and Sisters in our Dominican Community.