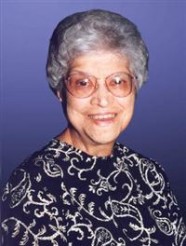 Sister
Consuelo Chavez
Life Story & Obituary
December 25, 1912 – March 30, 2003
At the time of her Diamond Jubilee in 1987, Sister wrote, "I feel a deep sense of gratitude and appreciation to my family, our Community, and parishioners who have shown me so much loving and supportive care all through the years. Blessings one hundredfold have been my portion . . . Praised be the Lord from whom all good things come."
Sister Consuelo had the wonderful privilege of being born on Christmas Day, 1912, making this Christmas for her parents and two brothers very special. Her birth was at Abiquiu, New Mexico. At her birth she became the third oldest child and first girl born to Daniel and Geronima (Quintana) Chavez. There were to be eight children in the family, four boys and four girls. The rich Spanish culture permeated the Chavez home and this was to prove beneficial in so many aspects of Sister Consuelo's life.
Her Baptism was at St. John Church at El Rito, New Mexico on January 5, 1913, at which time she was given the name of Francisca Emiliana, but went by her second name. On October 3, 1915, she was confirmed by Archbishop J. B. Pitaval, at El Rito. Infant Confirmation was then the general norm in New Mexico. El Rito held many happy memories for Emiliana. It was here that she attended grammar school and high school, later attending the Loretto Academy at Bernalillo for high school.
Sister has a very lovely description of her home life that depicts her role in her family: "As the oldest girl in a family of eight siblings, many jobs and activities were my responsibilities. Those that gave me a grown-up feeling include: teaching prayers to the younger ones, ironing and folding clothes properly, cleaning house, and re-arranging furniture. All this gave me a strong confidence in myself so that I felt competent later in discharging my duties in Community life and the teaching profession."
Regarding her interest in Sisters, she wrote, "At sixteen, my knowledge of Sisters consisted of the realization that there was a variety, but I didn't know why the difference. I had attended Loretto Academy, had an aunt as a Blessed Sacrament Sister and knew about the Franciscans. My cousin joined the Mercy Order. In 1928, a new group of Sisters, who dressed in white, came to teach at Santa Cruz, thirty miles from El Rito, my hometown. When I mentioned to my mother my wish to be a Sister, she mentioned talking to 'the Sisters who came to Santa Cruz.' So, we did, and in February of 1929 I entered the Convent at Marywood." The date was February 22 and Sister Jerome Smithers was then in charge of the novitiate. On August 29, 1929, she received the Holy Habit of St. Dominic and the name of Sister Consuelo of Our Lady of Guadalupe. Two years later on September 1, 1931, she made her First Profession of Vows to Mother Eveline Mackey.
In reviewing the missions to which Sister Consuelo was assigned, one can readily conclude she was imbued with a special missionary zeal as she was in some very poor and difficult places. The first forty years of her Community apostolate were spent in elementary and high school teaching at the following places: Weare (Hart); North Dorr; Mt. Carmel, Saginaw (two different times); St. Alphonsus, Grand Rapids; St. Mary Magdalen, Melvindale; St. Boniface, Bay City; and Catholic Central, Grand Rapids, all in Michigan. Interspersed were many years in New Mexico at Santa Cruz; St. Ignacio and Our Lady of Fatima, Albuquerque; Penasco; Belen; and Alameda.
Sister Consuelo was a very dedicated and excellent teacher who was dearly loved by her pupils. Her knowledge of Spanish was a great asset in many of the situations. Teaching Spanish at Catholic Central was her speciality. At one time, she taught a TV course to elementary students. She herself received a N.D.E.A. grant to study advanced Spanish in Salamanca, Spain. In the 1960s, she chaperoned 30 third and fourth-year Spanish students to study in Toluca, Mexico. These experiences and preparing children for the Sacraments were highlights in Sister's teaching journey. She was always an energetic, enthusiastic, and indefatigable worker, who was most willing to give of herself and time.
Two missions at which Sister worked are of special interest: Melvindale, where she spent five years in the '40s, was a suburban community that in the early days was characterized by wonderful people who, for the most part, were struggling "to make it." During these years, the Sisters had a large garden and chickens to supply their needs. In 1949, Sister Emmerica Ziegler and Sister Consuelo were assigned to San Ignacio Parish in Albuquerque. They lived in very poor, cramped conditions and their school, too, left much to be desired. But the pupils came! They started with an enrollment of 69 students and when they both left in 1955, there were 210 pupils. Permission was given by the archdiocese to build a new school and convent. Archbishop Byrne confirmed 200 babies in 1951; 285 in 1952. The Sisters took these conditions in stride though they likely would have outwitted the patience of Job! God's blessings were so evident.
From 1971 until Marywood became Sister Consuelo's home in 1992, she had many interesting and varied experiences. A medical course at Bernalillo County Medical Center and the earning of a CPE certificate from St. Joseph Hospital in Albuquerque, enriched her ability to become involved in many new experiences: hospital aide; pastoral care in Seattle, Washington; ministry to the sick and elderly in the home and in hospitals. These ten years took her to the following places for varying time spans: St. Edward Parish, Seattle, Washington; San Juan, New Mexico; St. Mary Hospital, Grand Junction, Colorado; Aquinata Hall, Our Lady of Fatima, and St. Joseph Hospital, Albuquerque. Wherever she labored, she brought much comfort and joy. When she returned to Marywood, she was most willing to respond to home calls and other needs that surfaced. Of special interest to her was the outreach volunteer work she did at God's Kitchen and providing hospitality for Dominican Center at Marywood.
Excellent health was one of her great blessings. Sister was a people person, and she once remarked about her principle of activity, which she said was, "In seeing others, we see Christ." Now that her many devoted and dedicated years of faithful and fruitful service are entirely in God's hands, may she have the privilege of seeing Christ face to face for life's eternal boundless future. May she rest in God's peace, love, and joy. This is the day the Lord has made; let us rejoice and be glad!
Sister Consuelo is survived by her sister-in-law, Lucy Chavez of Ojo Caliente, New Mexico; nieces, nephews, cousins, many friends and a loving Community.