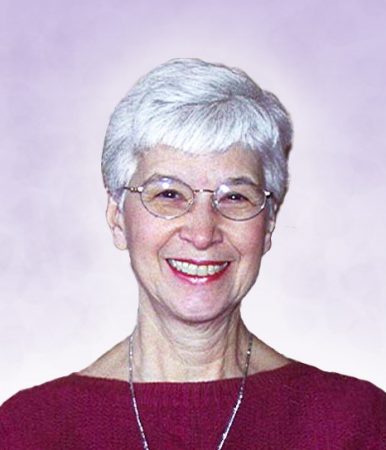 Sister
Beverly Pety
Life Story & Obituary
August 2, 1934 – December 11, 2007
Beverly recalls: "The Lord literally swept me off my feet and brought me into the Grand Rapids Dominicans."
Beverly Pety was attracted to religious life at an early age, even though she was far from a quiet, retiring child. Her high school days were filled with boyfriends, movies, and socializing with friends. After her junior year in high school, she announced to her mother that she wanted to join the convent. Her mother suggested that she wait until graduation. "That's how vocations are lost," replied the determined young girl. And perhaps she was right. The joys and pleasures of life might have proved too tempting to this lively teenager; but she longed to be a "bride of Christ." And so it was that before her senior year of high school, she entered the Grand Rapids Dominicans. Although sociable and apostolic by nature, she became more and more contemplative over the years as she grew in prayer, pastoral service, wisdom and grace.
Beverly was born August 2, 1934 in Mt. Pleasant, the first of ten children of Maurice and Marjorie (Turnbull) Pety. She took part time jobs while in high school to help pay for clothes and school materials. Later when Sisters began to wear modern clothing rather than the habit, Beverly enjoyed the self-expression that had always been one of her favorites – clothes, feminine dresses in becoming colors and fabrics.
As a school girl at Sacred Heart Academy in Mount Pleasant, Beverly was taught by Grand Rapids Dominicans from Grade 1-11. She admired her teachers and one of them, Sister Helen Louise Brogger, discovered that she was attracted to religious life. On May 5, 1951 the two had a talk. She entered on June 18th, finishing the requirements for her high school diploma during that summer at Marywood.
As a postulant Beverly began study toward her degree at Aquinas College, which continued over the summers until she received it. She entered the novitiate as Sister David Paul (the name of one of her brothers). After profession she began her teaching ministry at St. Thomas, Grand Rapids with 54 fourth and fifth graders. For 23 years Sister Beverly was an upper elementary teacher and often principal in elementary schools. She served at St. Norbert, Munger; St. Mary, Muskegon; St. Joseph, Pewamo; St. Peter, Douglas; St. Alfred, Taylor; and St. Paul the Apostle, Grand Rapids. Whenever she lived on a small mission she loved to cook and enjoyed sharing daily life with the group. At Taylor, MI she served as regional advisor for the high school CCY Program.
Study was an important part of her Dominican life. In 1969 Sister Beverly earned her M.A. degree in Theology from Aquinas and in 1980 her M.A. in Spirituality from Creighton University. Then in 1991 she received a certificate in spiritual direction from Dominican Center for Religious Development in Detroit. She attended various workshops and conventions on administration and educational methods.
Beginning in 1980 Beverly's apostolate took the form of pastoral ministry, first at St. John Vianney Parish, Wyoming; then St. Mary's, Kingsley; Director of Pastoral Care at Aquinata Hall; and St. Mary Magdalen, Grand Rapids.
Described as "always a lady", Beverly was known for her gracious and thoughtful ways. There was nothing she loved better than sipping coffee (preferably from a pretty cup) and chatting with a friend, neighbor or stranger, sharing life experiences. She enjoyed cooking a special meal and curling up with a good book and a bowl of popcorn. Her special interest was on-going education, especially in spirituality and scripture studies.
Life was not always tea cups and lace, however. One of Beverly's favorite places in Michigan was MorningStar Adventures in Leroy, MI. This eco-spirituality retreat center for women, nestled in the woods, was a rustic respite from modern life. Here Beverly served on the Board of Trustees and relished the opportunity to be warmed by a wood-burning stove and to read by a kerosene lamp. Here she found the quiet, soul-nurturing gift of nature at her best. Here too she found the joys of hiking with friends and even using an outhouse!
When illness took her from ministry in a parish, Beverly continued to serve the spiritual needs of her fellow patients at Aquinata Hall. Later when Alzheimer's disease ravaged her memory, she continued to be a pastoral presence to everyone she met. Her kindness and genteel spirit were in the very marrow of her bones. No illness could dilute it. No memory loss could impede her loving response to those in sorrow.
She wrote: "The Dominican way of following Jesus Christ is a constant source of challenge to become, as fully as I can, a reflection of the WORD who is truth living in LOVE. A favorite WORD . . . 'Do not let your hearts be troubled. Have faith in God and faith in Me' . . . a WORD that calls me to grow."
Beverly lived these words from first until last when she quietly and without fuss, joined her God of Love face-to-face.
Sister Beverly is survived by her sisters Anne (Jack) Kopson of New Haven, IN; Sister Mary Bernadette Pety of Ada, MI; Irene Turk of Chicago, IL; Lucy (Chris) Haas of Dallas, TX; Mary (Jim) Hicks of Alma, MI and Evelyn (Herb) Lance of Florida; and her brothers Eugene Pety (Joyce Reihl); David (Mart) Pety and James (Christine) Pety of Mt. Pleasant, MI; nieces, nephews, many friends and Sisters in our Dominican Community.