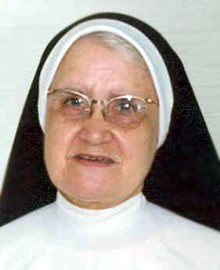 Sister
Bertille Tithof
Life Story & Obituary
December 1, 1903 – May 23, 1991
God commanded the Israelites, "Honor your father and mother that you may have a long life in the land which the Lord, your God, is giving you." Exodus 20: 12
Since the Gospel is eternally new and eternally true, those words were actualized for Sister Bertille on Thursday, May 23, when she quietly and peacefully entered the new heavenly Jerusalem for life everlasting. Sister Bertille gave much deference to her parents and their needs as she did to all with whom she lived.
It was on December 1, 1903 that Sister Bertille, Frank and Barbara Tithof's first daughter, was born on a farm five miles from the small town of Chesaning. A brother had already blessed the Tithof home. There were to be eleven children in the family – seven boys and four girls. The Tithof family were parishioners of St. Michael Church, Maple Grove which was three miles from their home, and this is where their new daughter was baptized the day after her birth and was given the name of Hilda. It was at this church that Hilda was privileged to make her First Holy Communion June 12, 1912, to be confirmed October 6, 1914.
Hilda began school at St. Michael School when she was seven years old, and she was taught by the Grand Rapids Dominican Sisters. When Hilda was in the first grade and had Sister Carmelita Dutmers as her teacher she was first attracted to the religious life. She found Sister Carmelita to be a beautiful person, and she became Hilda's ideal throughout the years. In her autobiography, Hilda recalled the day of her First Communion, especially so, as the day she desired to be a Sister.
During Hilda's grade school years, her school work was often interrupted due to her mother's constant illness. Her services at home were needed for several years, therefore, Hilda was nearing twenty-two when she entered Marywood on September 7, 1925. She joined a large class of postulants under Sister Loyola Finn's guidance. The memorable day that Hilda received the Holy Habit of St. Dominic from Mother Benedicta O'Rourke and the name of Sister Bertille of St. Joseph was August 24, 1926. She made her First Profession of Vows to Mother Eveline Mackey August 28, 1928.
Sister Bertille's first mission assignment was to St. Norbert Convent in Munger where she was a food service minister for her Sisters. In her autobiography she recalled this first experience: "It was indeed a very happy place where peace and joy prevailed despite the hardships and inconveniences involved. Drinking water had to be carried from two blocks away. The convent was heated with two stoves. The only heat in the bedroom was from a jug of hot water which warmed the bed at night. In the morning during the winter weather our basins were covered with ice."
The years following her Munger experience Sister Bertille ministered at St. Joseph Seminary; Catholic Junior College; St. John Home; St. Mary, Muskegon; and Holy Trinity, Alpine. The Sisters have vivid memories of her delicious meals and, especially, the feast days and jubilee celebrations that Sister Bertille joyfully prepared.
During her thirty-two years on the missions, Sister Bertille was never strong and suffered from a heart condition which required frequent hospitalizations. From 1960 to 1967 she was assigned to Marywood with reduced responsibility. When Aquinata Hall opened in 1967, she was assigned there to do general household tasks, and sewing for the Sisters. This was her assignment for eleven years until March 1978 when it became necessary for Sister Bertille to be a patient and to receive the loving care and interest of the nursing staff. However, she did continue minimal activity until 1984 when her apostolate became one of prayer.
Those who knew Sister Bertille know that she was a powerhouse of prayer. Always a gracious, quiet and an appreciative person, these characteristics seemed to become more pronounced in her physical inactivity. She was always happy and pleased to have visitors, and she made each person feel very welcome. Unless she was totally incapacitated, she was present in the Chapel for Holy Mass and the Liturgy of the Hours. When Sister Bertille left home for the convent, she left a very closely knit family, and she continued her prayers for them and their welfare throughout her vowed life.
Sister Bertille was most appreciative of her religious vocation, but at the same time she was happy in the thought that she had remained at home to help her parents, and, especially so, that she had not left her dear mother alone in her laboring and suffering. At the time of her diamond jubilee in 1986 she wrote, "I praise and thank God for the many graces and blessings God has given me throughout my years in the religious life. During my years of illness I have been blessed with the love and support of a devoted community. For you, I am grateful."
We, too, are grateful for Sister Bertille and her years in the Congregation. We thank God for the love, suffering, and service she shared with us. May her "new land" overflow with the milk and honey of God's eternal love, peace, and happiness.
Sister Bertille is survived by her sister, Mrs. Irene Nietling, her brother and his wife, Walter and Marcella Tithof; sister-in-law, Callista Tithof; brother-in-law, August Amman all of Chesaning; her sister-in-law, Evalene Tithof, of Saginaw; and many nieces, nephews, and friends.