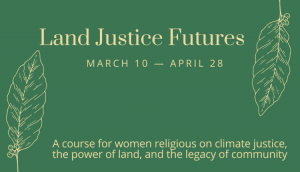 Nuns & Nones announce courses focused on land justice
The alliance Nuns & Nones has announced two online courses focused on environmental justice issues. Both courses are part of the alliance's Land Justice Project, which "works to expand the options available to religious communities about their land legacy."
One course, entitled Land Justice Futures, uncovers new models for congregational land transitions "while still caring for communities' real needs," a course announcement said.
The course will draw on "land-based collaborations for climate and racial justice; wide-ranging financial and legal options; and the deep and ongoing spiritual work of decolonization and solidarity."
The five-part course, to be held on Zoom, is scheduled for March 10, March 24, April 7, April 21, and April 28. All courses run 4-5:30 p.m. EST.
A second course focuses on reading and discussing the book "Healing Haunted Histories: A Settler Discipleship of Decolonization" by Elaine Enns and Ched Myers. The book was published in 2021.
Nuns and Nones' learning coordinator, Eric Anglada, will lead a four-part discussion of the book 3-4:30 p.m. CST, Feb. 14, Feb. 28, March 14 and March 28.
The book examines how personal and communal histories and landscapes are haunted by continuing dispossession of indigenous communities, and asks how people can "transform our colonizing self-perceptions, lifeways and structures, and how might we practice restorative solidarity with Indigenous communities today?"
Information about both courses are available here.
Nuns & Nones is an interfaith, intergenerational movement that unites spiritually curious millennials and Catholic sisters in conversations regarding community, social justice and contemplation.