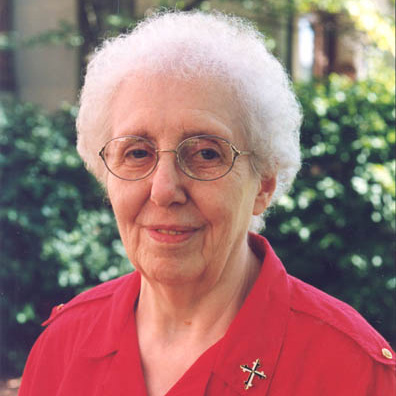 Sister
Villana Van Mullekom
Life Story & Obituary
April 1, 1926 – March 12, 2003
"Eye has not seen, ear has not heard . . . what God has prepared for those who love." 1 Corinthians 2:9
This favorite passage of Sister Villana's hints at the happiness, which this loving woman now shares.
Bernadine Regina Van Mullekom was born on April 1, 1926 in Flint and baptized ten days later. Her parents, John and Mary, soon moved to Essexville and her earliest memories are of farm life there, with simple living and hard work enriched by a strong faith life. She credits her family and the priests and Sisters of St. John's, Essexville for nurturing her vocation.
On September 6, 1943 Bernadine entered Marywood as a postulant in a small wartime class and was welcomed by Sister Leonora as mistress. She had entered after completing eleventh grade. Sister Leonora taught her political science to complete the credits for high school graduation. When the diploma arrived from St. John's, it was an occasion for a party in the postulate. She received the habit on March 10, 1944 and the name Sister Mary Villana of the Sacred Heart of Jesus. She made first profession on March 13 a year later, remaining in the novitiate with Sister Frances Ann until she went out in September 1946.
Sister Villana gradually acquired several degrees: a Bachelor of Arts in History and a Certificate in Theology from Aquinas and a Masters Degree in Elementary Education at the University of New Mexico. Equally influential were her studies done at Xavier University, New Orleans, and the University of Detroit in Workshop Way®, in which she became a skilled practitioner.
Her first mission was at Sacred Heart School, Merrill, where she began her long service to primary students. She also taught at St. Charles; St. Anthony's, Grand Rapids; Beaver Island; Weare, and Albuquerque, but is probably most connected with Holy Rosary, Bay City, where she was assigned from 1970 to 1986.
A listing of the places where Sister Villana taught does not begin to describe what she brought to those forty years of working with primary pupils. In an article from the Bay City Times when she was leaving Holy Rosary, her last principal said of her, "Sister Villana is a very generous and loving woman. She has concern and a motherly touch for each of the students . . ." Classroom discipline was maintained not by domineering tactics but by use of the "thinking chair" and the occasional injunction, "Let's use our quiet voices." In the same article Sister Villana expressed her own philosophy of teaching: "I believe in children and love them. . . . My hope is that I have helped my students to believe in themselves and to strive to accept themselves as they are and to make right choices in life."
In 1986 Sister Villana left full-time teaching to divide her time between grade school tutoring and serving as parish secretary at SS. Peter and Paul Parish, Ionia. By 1988 she was full-time secretary and to this also she brought her special gifts. Father Charles Hall said of her, "She is the very model of what a receptionist should be: faultlessly friendly, courteous, and kind." Sister Gretchen Sills, who lived with her in Ionia, notes how she supplemented her formal duties with cozy visits in the convent kitchen where she always provided fresh coffee, a jar of homemade cookies, and a sympathetic ear.
Sister Villana was an extremely quiet and private person. Those who observed her casually would see one who chose the background but who pitched in whole-heartedly to any work or cleaning job that had to be done. Those who took time to make a friend of her found that she was a wonderful listener, a strong support, and a model of patience and cheerfulness. She was a strong support for her family, enjoying family celebrations and get-togethers and praying for those in sickness and difficulties. She was, as well, a great companion who delighted in making fudge and cookies and in taking any challenge for a walk. She also liked to travel and had visited Florida, Washington D. C., England, and, most of all, the American West. Crocheting was another creative outlet for her.
Sister Villana's health had always been good and her end came suddenly. She was still in active ministry in 2002 but before Christmas she felt ill. In January she moved to Aquinata but never regained her strength. Until the end she retained her serenity. She invited friends to come and pray with and for her. In particular Sr. Julia Mae Groulx and Sr. Evelyn Schoenborn cared for her needs.
The deepest longing of Sister Villana's heart was to feel the presence of the Lord. That longing has now been fulfilled as she experiences the loving embrace of her God for all eternity.
Sister Villana is survived by her sister Elsie Krause and her brother Jim and Audrey VanMullekom of Essexville; nieces, nephews, cousins, many friends and a loving Community.