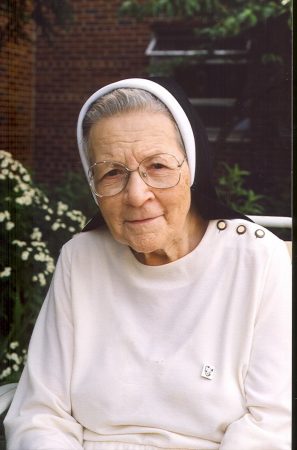 Sister
Theodine Andres
Life Story & Obituary
June 20, 1914 – October 8, 2009
"My life and activities have made me feel blessed, 'full measure, pressed down, and running over,'"
Sister Theodine wrote this at the time of her Golden Jubilee. These words aptly describe her life and mission as a Dominican Sister~Grand Rapids. Her greatest interest in life was people – teaching, healing, helping – however and whenever she could.
On June 20, 1914 twin daughters were born to Joseph and Augusta Andres. At that time two older girls had already blessed their home, and a brother and sister would later complete the Andres family. The twins were baptized on June 28, 1914 at St. Michael Church in Milwaukee and our future Dominican Sister received the name, Loraine Regina.
Loraine's father was born in Alsace, France and her mother in Beal City, Michigan. When Loraine was two years old her parents bought a farm in Beal City where the family continued to reside. After first grade she attended St. Philomena School (now St. Joseph the Worker), where she was taught by Dominican Sisters. She happily recalled that Sister Augustina Gerschewski was her first teacher there.
Loraine and her good friend Rosalie (Sister Ermina Thelen) were in the tenth grade when the three Schafer girls, (the soon to be Sisters John Baptist, Marie Alexander, and Margaret) entered the Dominican Sisters at Marywood. The Schaefer sisters missed their friends in Beal City and so an idea was hatched to encourage Loraine and Rosalie to enter the Aspirancy at Marywood to complete their senior year of high school. And so it came to pass. Entering a convent was not a new idea to Loraine's parents as her mother's sister, Sister Grace Ellen Martin, was already a Dominican Sister at Marywood and her father had a sister who was a religious in France. With parental approval both Loraine and Rosalie became aspirants in 1931.
On August 17, 1932 Loraine received the habit of St. Dominic and the name Sister Theodine of the Holy Spirit. Two years later she made her first profession of vows and her first mission assignment to St. Mary, Muskegon to teach the elementary grades. Thus began a forty-year apostolate as an elementary, junior high, and high school teacher. For half of those forty years, she was also the principal and in some situations, the convent superior.
Her years in education, in addition to St. Mary, Muskegon, were at the following places: St. Thomas, Blessed Sacrament, and St. Alphonsus, Grand Rapids; Maple Grove; Ss. Peter & Paul, Saginaw; St. Joseph, West Branch; Sacred Heart, Muskegon Heights; Our Lady of Grace, Dearborn Heights; and St. Joseph the Worker, Beal City. Sister Theodine, who was dearly loved by her students, was an excellent teacher. Part of her great success was due to her careful class preparation. As an administrator, she was kind, understanding, and forthright. She was ready to try new approaches in education and innovative programs if they improved learning. As one Sister remarked, "She ran a good school!"
In 1974 Sister Theodine changed both her residence and apostolate when she moved to Aquinata Hall. Here she worked until 1986 in different areas: nurses' aide, ward clerk, pastoral ministry, assistant administrator, and caring for the personal needs of the Sisters. As an aide she was generally assigned to the night shift.
In 1980 she began serving as director of Emmaus Center a clothing distribution outlet at St. Andrew's Cathedral. Here she was known for her kindness and humor. She was also known to brook no nonsense, however, when it came to those who would flaunt the rules to their own advantage!
When failing health came in her later years, Sister Theodine was still noted for her wonderful sense of humor and ability to engage with people. One of her companions to doctors' appointments described her has "charming the socks off the doctors and office staff."
Sister Theodine's life was a rich and beautiful one. Some of the beauty of her life is captured in this quotation from a recent autobiography, "The mystery of it all! God calling me whom He set apart for a particular dedication to Himself, that in turn I may bring the Good News of God's love to others. Through what I call faith experiences, I have become aware of the unique grace in the call to Baptism and the call He has given me in the special call to follow Jesus in this Dominican Community of Marywood in poverty, chastity, and obedience. This is not a once and for all commitment but a daily renewal in response of love to the Father's call in Jesus through the Holy Spirit. This awareness has broadened my whole vision of life and the Kingdom of God."
At the time of her Golden Jubilee in 1982 she wrote, "I praise and thank God for all the dear people who have been instrumental in enriching my life." On October 8, 2009 this good and grace filled Dominican Sister joined the grand communion of saints. May she be now at peace with all whom she loved and all who loved her.
Sister Theodine is survived by her sister Mrs. William (Agnes) Fox of Beal City, MI; sister-in-law, Monica Andres of Mt. Pleasant, MI; nieces, nephews, friends and Sisters in her Dominican community.