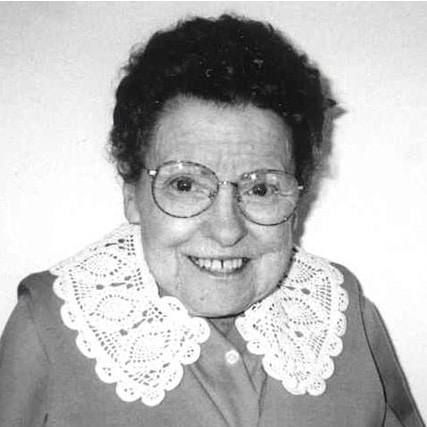 Sister
Susana Gilbert
Life Story & Obituary
November 14, 1916 – March 22, 1999
One of Sister Susana's most beloved psalms, especially when she was driving, was Psalm 91, which speaks of security under God's protection. How frequently must she have repeated at least its opening lines: "You who dwell in the shelter of the Most High, who abide in the shadow of the Almighty, say to the Lord, 'My refuge and my fortress, my God, in whom I trust.'" And now that Sister has been safely and gently called to the "shelter of the Most High" for endless time, we rejoice with her.
It was in Belen, New Mexico on November 14, 1916 that she became the first child born to Carlos and Teresa Castillo Gilbert. Only one brother was born later. Her Baptism, shortly after her birth, was at Our Lady of Belen Church and she was given the name of Susana. Her Confirmation by Archbishop T. Daeger was at the same church on July 6, 1919. Susana was a bit older than most children for her Confirmation, as infant Confirmation was then the general norm in New Mexico.
As she approached the age of six, school life began for Susana at the Loretto Academy in Santa Fe where she was taught by the Loretto Sisters. It was here that she made her First Holy Communion – a memorable occasion for Susana. When she reached Grade Five, she asked to attend the Loretto Academy in Bernalillo, also taught by the Loretto Sisters, so she could be with her cousins. For Grades Six, Seven and Eight she attended St. Mary School in Belen near her home. Here she had the Ursuline Sisters. She attended their academy in Oakland, Missouri, for Grades Nine, Ten and Eleven as an aspirant. As her senior year approached, the question was whether Susana was to return to Oakland or Santa Fe, but in 1933 an event occurred that was to altar Susana's life considerably. Our Sisters came to Belen to staff St. Mary School and Susana became friendly with them, especially with Sister Mechtilde Cordes, the Superior and Principal. As a result, Susana came to Marywood for her Senior Year as an aspirant. On September 8, 1934, she entered the Postulancy. She received the habit of St. Dominic on August 23, 1935 and retained her own name with the title of the Blessed Virgin. She made her first profession of vows to Mother Euphrasia Sullivan on August 5, 1937. She made her final vows on August 5, 1940.
Sister Susana had received excellent training as a Postulant and Second Year Novice at Aquinas College. In 1937, she embarked on her congregational ministry. Until 1976 she was a full-time music teacher, which involved: teaching piano, classroom music, glee clubs, recitals, music conferences, music clubs, piano festivals and choirs. She was a member of The National Catholic Music Education Association. Sister's own musical training had started when she was in Grade Three and for this marvelous training she
was grateful to both the Loretto and Ursuline Sisters. She continued her musical training when she arrived at Marywood in 1933. Sister Susana spent many a summer in "hot" Chicago studying music at the American Conservatory of Music and during the years frequent trips were made from her mission to Grand Rapids to take music lessons.
Numerous are the students indebted to Sister Susana for inspiring them with a love for music. Sister had the ability to share the richness of music. She was a real artist and it was a joy to be able to listen to her play piano. Her sensitivity and approachability made her very lovable. By nature she was a gentle, quiet, generous, and peace-loving person with whom it was a joy to live and work. Sister Susana was always a lady!
Because of health reasons she found it necessary to discontinue full-time teaching: she continued to use her talents in various ways. A year was spent at Fatima in food service and another year as the school secretary. From 1978-1981 she received permission to take care of her dear mother who was very ill. After her mother died, Sister remained at Belen for a year teaching school music.
Many places in Michigan and New Mexico benefited from her dedication. She served in the following places and/or missions: Sacred Heart, Mt. Pleasant; St. Joseph, Saginaw (two intervals); Hannah; St. Joseph and St. Mary, Muskegon; St. Boniface, Bay City; St. Mary Magdalen, Melvindale; St. Andrew, Grand Rapids; St. Anne, Alpena; West Branch; Our Lady of Fatima, Albuquerque and Belen, New Mexico.
In 1982, Sister Susana's residence became Marywood, where she became involved in varying activities: assisting in the Marywood Library; Organist and Liturgy Planner for Aquinata Hall and teacher for the Marywood Kindergarten. Eventually, she continued only as Organist and Liturgy Planner at Aquinata. She enriched the lives of the Sisters at Aquinata Hall.
For many years, Sister Susana suffered from poor health, but she never complained and went about her work with her usual sweet and affable disposition. In November 1992, Sister made the decision to make Aquinata Hall her permanent residence, as she needed the health care benefits Aquinata provided.
Music was a real and beautiful part of Sister Susana's life and this in turn was reflected in her deep spiritual life. She wrote in a recent biographical sketch, "Our strength and joy flow from God." Community life was most important to Sister Susana; she was most devoted to her religious congregation and to her family. At the time of her Golden Jubilee in 1985, she wrote, "I have many happy memories of living in community as a Dominican. Each appointment gave me great satisfaction in teaching piano, school music, and glee club in the various schools of Michigan and New Mexico. I thank God for the many blessings and graces given me my fifty years as a Grand Rapids Dominican."
May Sister Susana, for whom music was such a vital and integral part of life, now join the choirs of angels in one unending chorus praising God. ALLELUIA! ALLELUIA! May she rest in God's eternal love, peace, joy and beauty.
Sister Susana is survived by her Sister-in-law, Elizabeth Gilbert of Belen, New Mexico; nieces, nephews, cousins and many friends.