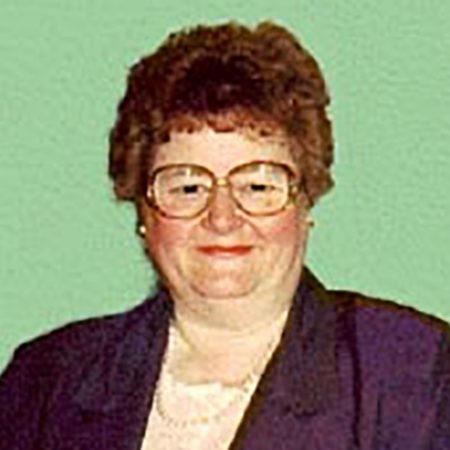 Sister
Stephanie Heintz OP
Life Story & Obituary
April 10, 1940 – March 28, 1997
"Praise Yahweh, my soul! I will praise Yahweh all my life, I will make music to my God as long as I live." Psalm 146
All her life Sister Stephanie loved music and used it to praise God and delight others. Her life was itself a concerto with recurring themes.
Prelude—The fifth of six children of Walter and Mary E. Liker Heintz, she was born in Mt. Pleasant, Michigan on April 10, 1940 and baptized Susan Kathleen. Her mother had come to the United States from Croatia in 1911. Her father, who had lived in Joliet, Illinois and Muskegon before moving to Mt. Pleasant, was an independent oil producer.
Her years of schooling at Sacred Heart Academy were packed with activity. She was elected to the National Honor Society, graduated in piano, and was active in yearbook, debate, forensics, and CCD. During her senior year she worked for an optometrist brother-in-law, keeping books and fitting glasses. Twice she traveled by car to California. Music, teaching, and travel were to intertwine through her later years.
Allegro—Influenced by Dominicans who taught her, Susan entered as a postulant at Marywood in 1958. At reception she took the name Sister Stephanie of Our Lady of Charity. After her novitiate, she continued preparation for years of teaching and made her final profession of vows to Mother Victor in 1965. From Aquinas College she received her BA (1964) with majors in English and history; and her MA in religious studies (1969). From the Grand Rapids Diocese she received certification in Religious Education. By correspondence and summer study she picked up single courses from Central Michigan University, Michigan State University, University of Detroit and Loyola University of Chicago.
From 1962 to 1972 Sister Stephanie served in elementary education in "some manner, shape, or form," as she put it. The schools included St. Ann, Alpena; Marywood; St. Joseph, Grand Rapids; Sacred Heart, Saginaw; and Blessed Sacrament, Grand Rapids. Once, at a request from a Marywood fifth grader, Mother Victor had her promoted to teach grade six. At Sacred Heart, her junior high students were a challenging mixture of Anglo and Hispanic Catholics and Afro-Americans, some Baptist and some unaffiliated. She was able to reach and teach them all and had a happy classroom.
Andante—Then for 16 years Sister Stephanie moved into religious education, beginning as Director of Religious Education at Blessed Sacrament. At Holy Spirit she was first director of Adult Religious Education—she loved her adult teaching—and then assistant director of Total Religious Education. She participated in parish work on boards and liturgy committees and in Key '74, a continent-wide interdenominational effort of door-to-door witnessing and Bible distribution. In the Marywood Congregation she served on the retreat committee as volunteer liturgist for the AIRS program for three summers and as Coordinator of Area 5 (1984-1986).
Sister Stephanie's living style changed in 1971 when she and three others shared the old white house owned by the Congregation at 1800 Fulton,. Then in 1979 she and Sister Joan Thomas agreed to live in a private home on the west side of Grand Rapids as a service to the owners. Later they moved to another residence in the area.
Agitato—A new shift in ministry occurred in 1988 when Sister Stephanie became Marywood Common Life Coordinator. It was a chaotic period at the Motherhouse, marked by renovation within the entire building. Besides adjusting to the schedule of Dominican Center at Marywood, she faced the delicate task of balancing pressure to be pastoral with respect for the autonomy of the Marywood Community. As always, she was innovative in providing activities for the House members.
Coda—In 1994, at the end of her term as Marywood Common Life Coordinator, Sister Stephanie began a sabbatical year before embarking on another ministry. But breast cancer waylaid her plans—surgery, recovery, relapse. She struggled to regain health, but in February 1997 she moved to Aquinata Hall to receive special care and support.
—PROGRAM NOTES—
On the missions "Steph" was a joy to live with. She loved being with people, sharing and laughing and regaling them with her performances and mimicking. Described as a "happy camper," she enjoyed walking, biking, fishing, swimming, and cross-country skiing. Her indoor hobbies included creative crafts, cooking, singing, and playing guitar. The last two were shared with many people—she was a charter member of the Mellow-D's and for more than a quarter of a century played and sang with them in liturgies and concerts. In November 1995 she won a trip to the Bahamas and Florida just by signing up at a craft show. The highlight was a visit to Disney World and her beloved Mickey Mouse. The next year on a whim she entered a weather contest sponsored by Advance Newspapers and TV-13. She won the top prize, two round-trip airline tickets to anywhere in the continental United States, but her illness led her on a different journey.
On the occasion of her Silver Jubilee in 1984, Sister Stephanie wrote: "To name what has meant the most to me would be to include the wonderful shared spirit of our Community in support and in prayer, in joy and in challenge. . . . My favorite quote: 'Never assume anything.'"
With all deference to Sister Stephanie, we assume that she will be making music to God all her eternal life. As she often affirmed others and made them feel welcome, we believe she is welcomed home to the heavenly community with the familiar greeting, "You are special, and I love you."
Sister Stephanie is survived by her sisters, Marie "Mimi" (Dr. Fred) Schall of Mt. Pleasant, Michigan; Dolores "DeDee" (Jack) Carroll of Houston, Texas; her brother David (Patty) Heintz of Northville, Michigan, many, many nieces/nephews; great nieces/nephews; great great nieces/nephews and friends.