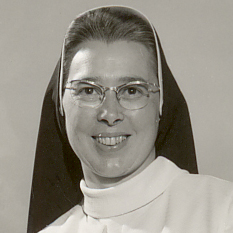 Sister
Rose Patrice O'Donnell
Life Story & Obituary
May 29, 1930 – January 7, 1982
"More important than what I have done -- I have been very happy in religious life and will always be grateful for my vocation and especially for the calling to Marywood, Grand Rapids."
Kathleen Ann O'Connell was born on May 29, 1930, in Sault St. Marie, Michigan, the third child in the family of four children of Patrick and Leona O'Donnell. Because Mr. O'Donnell was in the United States Coast Guard, the family traveled a great deal. As a result, Kathleen attended several schools including Sacred Heart Cathedral School in Duluth, Minnesota, St. Mary Magdalen School in Melvindale, Michigan, and St. Francis Xavier High School in Ecorse, Michigan. She entered the Dominican Sisters at Marywood on September 8, 1947. On March 11, 1948, Kathleen O'Donnell received the Dominican habit and the name Sister Rose Patrice of the Holy Angels.
For eighteen years Sister Rose Patrice taught the elementary grades in schools throughout Michigan, including Bay City, Beal City, Saginaw, Traverse City, South Haven, and Essexville. In 1967 Sister Rose Patrice began working in total religious education. She served in the role of religious education director in Carson City, Merrill, Suttons Bay, and in 1978, she returned to St. Joseph the Worker Parish in Beal City.
When asked to comment on significant activities prior to entering the community, and also, how she came in contact with the Grand Rapids Dominican Sisters, Sister Rose Patrice responded:
With only one credit to earn for graduation requirements, I entered the community the fall of my senior year of high school. Sister Bertrand had a special Civics class with me so I could earn my diploma before profession.
Prior to entering, I had done,a considerable bit of traveling — Dad being a sailor, our family moved from "home port to home port" with him, as he was transferred — until World War II when he went to the South Pacific and we settled in Melvindale.
In Melvindale we lived right across from the convent — a house chosen by my uncles when Dad went overseas — a place the closest to Grand Rapids Dominicans as they could find. Our Sisters had taught them on Beaver Island and they wanted their niece to get to know them! God works through wind, and uncles!
On the evening of January 7, 1982, after completing an instruction class, Sister Rose Patrice and Sister Mary Jo Beckett left Beal City for a meeting in Mt. Pleasant. The Sisters never reached their destination. Sister Rose Patrice died as the result of a car accident and Sister Mary Jo Beckett was admitted to the Mt. Pleasant Hospital with multiple injuries.
Sister Rose Patrice summed up her life and activities in our Dominican Community in a statement she wrote in 1976:
My teaching career, so far, includes eighteen years of elemen­tary education and ten years of total religious education. I very much enjoy parish religious education work and hope to continue in it.
More important than what I have done — I have been VERY HAPPY in religious life and will always be grateful for my vocation and especially for the calling to Marywood, Grand Rapids.
---
Sister Rose Patrice is survived by one sister and two brothers: Mrs. Mary Ellen LaPalme of Southgate, Michigan; Walter O'Donnell of Bay City, Michigan, and Peter O'Donnell of Stone Mountain, Georgia.