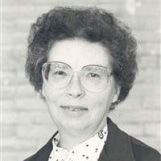 Sister
Rose Elizabeth Powers
Life Story & Obituary
December 3, 1928 – April 5, 2003
"You can depend on this: If we have died with Him, we shall also live with Him; if we hold out to the end, we shall also reign with Him." II Timothy 2: 11-12
Sister Rose Elizabeth selected this passage for her Golden Jubilee reflection. It expresses well her personal "holding out." Throughout her life she supported her beliefs to the hilt.
Born December 3, 1928 in Grand Rapids, Rosemary was the youngest girl in the family of four daughters and four sons of James and Elizabeth Gunther Powers. She was very close to her mother and so efficient that she was sometimes left in charge of the family when her mother was absent. She was something of a tomboy and began a long-time love of bicycling.
Rosemary's education was with the Grand Rapids Dominicans at St. Andrew's school and Catholic Central High School. After graduating in 1947 she worked as a stenographer until September 1950, when she entered the Congregation at Marywood. At reception she kept the first half of her baptismal name and added her mother's name, Elizabeth. She chose as her title, Sister Rose Elizabeth of the Infant Jesus.
Sister Rose Elizabeth underwent many sufferings, beginning with the accidental death of her father, a construction worker, when she was a novice. Earlier her sister Valeria had died and in later years she lost her mother and her sister Lavinia, who had become a second mother. Her faith kept her strong in face of trials.
Between 1952 and 1974 she served in schools of the Congregation as a teacher and later as a secretary. With summer study at Central Michigan University and correspondence courses from Indiana and Loyola, she completed work toward a B.A. in Business Education from Aquinas College in 1964. Five years later she received an M.A. in Latin from the University of Michigan. The decline in Latin programs after Vatican II resulted in her teaching mostly in the fields of mathematics and secretarial studies. Her teaching ministry was in schools in West Branch, Saginaw, Lake Leelanau, Mount Pleasant, Melvindale, Grand Rapids, Gaylord, and Bay City. A born teacher, she won the good will of students. In some schools she served as secretary/bookkeeper.
From 1976-1980 Sister Rose Elizabeth worked in the Marywood Office of Finance. Then for seven years she served as a secretary at St. Mary's Hospital, Grand Rapids. After a year as bookkeeper for Mayflower Congregational Church, she was employed by the City of Grand Rapids until 1996. She rose from clerk/typist to administrative secretary for Neighborhood Services. Later she was a volunteer worker for Right-to-Life and a tutor.
The changes in the church and in religious life that followed Vatican II were difficult for Sister Rose Elizabeth to accept. She remained deeply prayerful and faithful to daily Mass and Rosary, but withdrew more and more from community activities and preferred to live alone.
In her personal life she was devoted to her family, a loyal friend, and compassionate toward underdogs, going out of her way to help them. While waiting in line at a checkout counter she would strike up a conversation with a stranger. Her sense of humor was unique and often surprised those who did not know her. She was a perfectionist in everything and a watchdog of correct grammar up to the end.
Her interests included reading and sports. From her Kentucky-born mother she inherited a fondness for the Kentucky Derby and she was an ardent fan of Notre Dame athletics, especially football. She loved birds and animals and found homes for abandoned dogs. Her own dog, Bradley, was her constant companion. She boasted that he was an AAM—All-American Mutt.
In 2002 Sister Rose Elizabeth developed serious health problems. In April 2003 she moved to Aquinata Hall, where she received a loving welcome from the community and staff.
Having held out to the end, she was ready to reign with Him.
Sister Rose Elizabeth is survived by her sister Dolores Reynolds and her brothers Mel (Adrienne) Powers of Grand Rapids; John (Sakiko) Powers of Ridgecrest, California; Jerry Powers of Louisville, Kentucky; Thomas Powers of Bardstown, Kentucky; nieces, nephews, cousins, many friends and a loving Community.