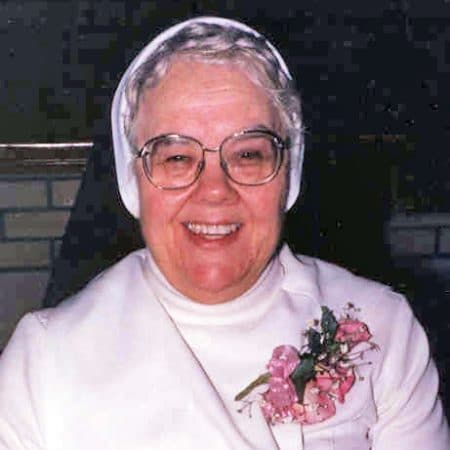 Sister
Rose Callahan
Life Story & Obituary
February 5, 1916 – June 15, 1991
Reflecting on her religious life, Sister Rose wrote, "'To give to others the fruits of our contemplation' is the ideal that attracted me to this Dominican Community in my youth and challenges me daily through participation in the Eucharistic celebration, daily recitation of the Hours, spiritual reading, and private prayer."
On the evening of May 31 Sister Rose met a new challenge — serious illness — which by June 4 necessitated hospitalization, and on June 15, 1991, the good God who had inspired her high ideals called her HOME. Her contemplation of truth and the mysteries of the faith has now been exchanged for the wondrous gift of the Light of Glory for all eternity.
In Bay City, Michigan, on February 5, 1916, Sister Rose and her twin sister were the first children born to Irish parents, Eva Parr and Leo Callahan. Each year thereafter there was an increase in the family which at the time of the mother's death in 1928 numbered thirteen children; nine girls and one boy were to reach adulthood. Sister Rose's baptism was at St. James Church in Bay City, shortly after her birth, and she was given the name Helen Marie.
Her education began at Stone School in Saginaw, and continued at St. John, Essexville and St. James, Bay City. After her mother's death the children were brought to St. John Home in Grand Rapids, and Helen Marie was enrolled as a boarder at Marywood Academy. Helen Marie loved to study. The college and graduate studies that Sister Rose pursued with enthusiasm were Latin and Greek.
Helen Marie had an early Dominican connection with our Congregation: Her aunts were Sisters Rose, Bernard, and Helen Marie Callahan, and she also had a cousin, Sister Vincent Marie Callahan, all of whom were Grand Rapids Dominicans.
Helen Marie entered our Community on September 8, 1934, as a member of a large class, some of whom had been her good friends in the Marywood aspirancy. On August 23, 1935, she was given the Dominican habit by Mother Eveline Mackey and the name of Sister Rose of the Holy Ghost. Sister Jerome Smithers and Sister Fabian MacDonald were her novice directors. Profession of Vows was made to Mother Euphrasia Sullivan on February 16, 1938.
Sister Rose was to spend thirty years of her ministry as a classroom teacher. About ten years were at the elementary level with the remaining years teaching her specialty of Latin in high school. Her classroom teaching took her to the following places: Lake Leelanau; St. Mary, Saginaw; Beaver Island; Mt. Pleasant; St. Joseph, Muskegon; Catholic Central, Grand Rapids; St. Joseph, Saginaw; and St. John, Essexville. In two of these missions she was also the administrator.
In 1968 she became involved in religious education full time at Suttons Bay. Religious education was not a new apostolate for her. Concomitant with her regular daily schedule, she had initiated programs in parishes, teaching and training adult teachers. For ten years while teaching high school she commuted each Saturday to Sparta and coordinated their CCD program.
In 1970 Sister Rose received a phone call from Bishop Joseph Breitenbeck, and she accepted the tremendous, untiring ministry to the handicapped of the Grand Rapids Diocese as director for the Apostolate for the Handicapped. Sister Rose sought out each handicapped person in the Diocese for religious instruction to enable them to receive the Sacraments. She organized and directed a core of willing volunteers.
December 2, 1987, Sister Rose was honored with a reception and luncheon at which Bishop Breitenbeck and other diocesan leaders expressed their appreciation for her work on behalf of the handicapped. She officially retired from that office in June, 1988.
In a very early autobiography Sister Rose wrote, "May God bless all those who have through charity and kindness helped me to become what I am. May they pray God to pardon me for having wasted so many graces and opportunities that have come my way." Sister was especially grateful for the support of her religious Community. At the time of her Golden Jubilee in 1985 she wrote, "I can never be grateful enough for the loving support of my Community at a time, along with the duties of my religious life, I had the responsibility of guardianship of my younger sisters and brother." Her father had passed away in 1938.
And what a supportive and close knit family Sister Rose had! Especially memorable was her seventy-fifth birthday in 1991 at Marywood when many of her family celebrated with her, according to Sister Rose, her first birthday party!
What a special welcome must have awaited Sister Rose at heaven's portals on the day of her death — she who so faithfully, creatively, and efficiently took care of Christ's "little ones". Surely the graces and opportunities which Sister Rose used were many.
May Sister Rose, who ever sought to be open to the Holy Spirit, now enjoy her new life of the spirit, safely home with God, for an endless life of peace, joy, and beauty. ALLELUIA!
Sister Rose is survived by her sisters, Mrs. Margaret Andrews of Grand Rapids; Cecelia (Mrs. Louis Bergman) of Cleveland, Texas; Mrs. Jeanette Milam of Lansing, MI; Ruth (Mrs. Robert Breen) of Grand Rapids, MI; Leah (Mrs. Albert Vosburgh) of Wyoming, MI; Therese (Mrs. Robert Olance) of DeWitt, MI; and her brother Joseph of Friendswood, Texas; and many nieces, nephews, and friends.