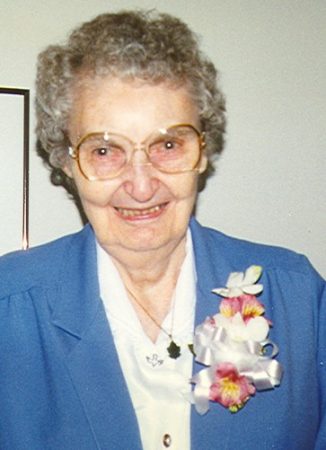 Sister
Rose Aquin McGrath
Life Story & Obituary
June 24, 1917 – December 12, 2003
"I have called you by your name; you are mine." Isaiah 43:1
Towns were, as now, far apart in the Canadian wheatlands of Saskatchewan. On June 24, 1917, Rose Delima Lambert McGrath and husband Peter welcomed their second child into the world. They named her Mary Louise, and had her baptized that very day at the mission church in Kindersley. Her mother's middle name, honoring St. Rose of Lima, became a tiny beacon light for Mary Louise, until she would claim it for herself with that of another famous Dominican and become Sister Rose Aquin of the Grand Rapids Dominicans.
The McGrath family farmed a section and a half of wheatland outside the town of Kindersley. Mary Louise with her brother, Thomas, and sister Marie, experienced a dual lifestyle of town and country each year. Their attendance at McKenzie School four miles away, plus heavy winter snows and northern cold, necessitated a move into town each school year, and back again to the country for the crop season. The little mission church of St. Joseph was made a parish with a resident pastor. Here Mary Louise made her First Communion in 1923, and was confirmed in 1926 by Archbishop Oliver Mattieu. When Father Francis J. Ogle was assigned as pastor, he arranged for Dominican Sisters from Melville to teach Catechism in the summer months. Father Ogle, was a dedicated recruiter, and the Melville Dominicans an eager welcoming committee. So began a surge of vocations to faraway Grand Rapids, Michigan, U.S.A.
Mary Louise had just completed her ninth grade, when Sister Edward Aloysius posed to her the prospect of the Aspirancy in faraway Grand Rapids. This put the wheels in motion, or so she thought. The American Consul in Regina, however, refused a passport under a new law that denied children under 16 entrance to the United States without their parents. The matter was finally referred to Washington, D.C. Mary Louise spent four months at home until a favorable reply arrived. After Christmas, she set out again, "plain clothes" and alone, but confidant. Mother Eveline's sister, Grace, was the community connection in St. Paul, Minnesota. With her last lap completed, she finally arrived at Marywood on New Year's Eve of 1933 and became another of many Canadian aspirants. Under the direct care of Sister Edith Welzel, Mary Louise participated in the academic excellence of Marywood Academy and graduated in June, 1935.
On September 6, 1935, she entered the postulancy among a class of twelve largely dominated by Canadian aspirants. Novice mistress Sister Jerome Smithers already knew her capabilities and consented to her teaching the third grade at St. Alphonsus School to which she commuted daily. She received the habit and the name Sister Rose Aquin of the Blessed Sacrament from Mother Eveline Mackey. Mother Eveline had just received word from Rome verifying that her beloved community had always been of Papal stature, not diocesan status. These last postulants marked a pinnacle in Mother's zeal for the community; they were called her Papal Postulants.
Following a year of novitiate under Sister Fabian MacDonald, Sister Rose Aquin made her First Profession to Mother Euphrasia Sullivan on August 5, 1937. She sealed it for life three years later. She had said, "Here I am, Lord… I come to do your will." God's will was teaching the little ones.
To her postulant year at St. Alphonsus, she added forty-seven years more in elementary education – three more times at St. Alphonsus, at St. Stephen's and St. Thomas in Grand Rapids; across the state at St. Joseph and St. Boniface in Bay City and at St. John's in Essexville; far north at St. Anne's of Alpena; back in the Valley at Chesaning, Our Lady and at Sacred Heart in Merrill; in the Detroit area at Our Lady of Grace in Dearborn, and at St. Mary Magdalen in Melvindale. Tucked in between, a frosty two years in 1945-47 at St. Henry's in Melville, Saskatchewan, a taste of home. Small world, and too small! Add the teaching summers in religious education in inner city parishes, dear to her heart, along with regular session Eucharistic preparations and the training of altar boys.
Humble and retiring, Sister Rose Aquin's efforts were, nonetheless, renewed for her changing classrooms and thousands of children. Strengthened by the riches of community sharing and the Eucharist, her mind and heart and happy smile spilled over daily to class after class. Her classrooms were models of consistency and purpose. Gratitude of parents and pupils marked her passage from school to school. Occasionally, a unique recognition, like the Navy's presentation of a plaque in 1983 from grateful lonesome sailors aboard the USS Tarawa.
In 1984, Sister Rose Aquin turned her talents and time to her Sisters at Marywood. The same quiet capability found several avenues of service in the Finance Office, and as assistant to the house bursar, a position she later assumed until 1993. Sisters in transition to Marywood found her gracious, gentle and generous, anticipating and advising their new needs. In 1988, she was named Second Assistant Common Life Coordinator. When Dominican Center opened, she did clerical work and hospitality there. Not much changed with the prairie girl who had found her way alone to Grand Rapids and a peninsula, white and waiting.
She was also waiting – her lamps trimmed – for her bridegroom's summons. Unperturbed in her recliner, she listened to classical music, busied her stiffening fingers with needlepoint, crocheting and crossword puzzles. A good "who-donnit" made her day. All these things rounded out her prayers for the world she watched on television. Periodically, she visited her family in Canada.
On December 12, after only a brief stay at Aquinata, Jesus gathered Sr. Rose Aquin to himself for her eternal harvest.
Sister Rose Aquin is survived by her brother Thomas McGrath of Calgary, Alberta; and her sister Marie Beatty of Saskatoon, Saskatchewan; a niece, nephews, many friends and a loving community.