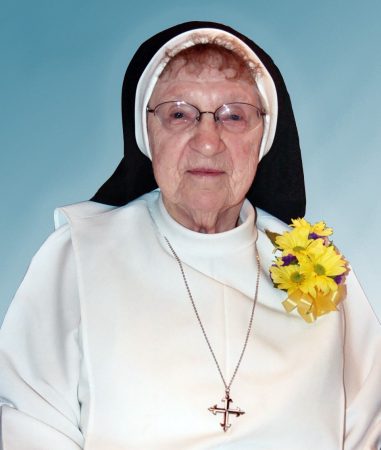 Sister
Rosalita Prusevicz
Life Story & Obituary
August 15, 1911 – December 19, 2009
"Fear not, for I have redeemed you; I have called you by name, you are mine." Isaiah 43:1
From the time Sister Rosalita met Dominican Sisters, she hoped and prayed that she would be one of them, and God answered her prayers. As a young teenager of fifteen, Sister Rosalita responded to God's call to leave home to become a sister. It was difficult for her to leave her beloved family, but she felt God was calling her. What great joy there must have been on December 19, 2009 when she heard God's final summons to come home. Surely her fruitful and dedicated years in God's service were now richly rewarded.
Sister Rosalita was born in Hooversville, Pennsylvania on August 15, 1911. She was the sixth child of a family of eleven, three boys and eight girls, born to Frank and Magdalene Vilpsuite Prusevicz, who were of Lithuanian descent. On September 8, 1911, she was baptized at St. John Cantius Church in Windber, Pennsylvania and received the name of Frances.
At seven years of age Frances began her education in the public school at Hooversville. There was no Catholic school in the area, but during the summer and on Saturdays, she received religious instruction from Sisters. More importantly, she was instructed and taught her prayers by her mother. The pastor, too, helped to prepare her for First Communion.
Her father was very concerned that his children were unable to attend a Catholic school, so there was a two-fold reason for the Prusevicz family to move to Grand Rapids, Michigan. They had relatives here and the children would be able to attend a Catholic school. They were happy to find a lovely home just two blocks from the Sisters' convent in the summer of 1922. That September Frances entered grade five at Saints Peter and Paul School, and had Dominican Sisters for teachers. She admired and loved them, and derived much pleasure from staying after school to help them.
After completing the eighth grade, she entered the Marywood Novitiate on September 8, 1926, where she had Sister Loyola Finn for her postulant directress. Mother Benedicta O'Rourke was then the prioress. On August 23, 1927, Frances received the habit of Saint Dominic and the name of Sister Rosalita of the Holy Cross. Her first profession of vows was made to Mother Eveline Mackey on August 29, 1929. She made her Final Profession on August 30, 1935.
Sister Rosalita finished high school at Marywood Academy and took several correspondence courses from Western Michigan University. She graduated from Aquinas College with a BA in education and a Master's degree in theology from Aquinas Institute of Religious Studies in 1956.
After her preparation for teaching, mission life began for Sister Rosalita. Forty-five years of her life were devoted to the teaching profession. Teaching on the elementary level was her specialty, but for a few years she also taught junior high. With a winning smile and an intriguing twinkle in her eye, she inspired and influenced many students. She is remembered as a dear, kind, excellent and thorough teacher. She never spared herself, and when she was principal in a small school, she even did the janitorial work so the school would be clean and comfortable.
She taught in the following Michigan schools: Saint Mary, Muskegon; Saint Francis, Traverse City; Saint Stephen, Saint John's Home, Saint Joseph and Saint Alphonsus, Grand Rapids; Saint Mary's, Lake Leelanau; Saint Mary's, Gaylord; Saint Anne, Alpena; Holy Rosary Academy, Bay City; and Holy Trinity, Alpine. She spent three years in Marinette, Wisconsin and one year in Penasco, New Mexico.
In 1977 she was assigned to Saint Stephen Parish, Grand Rapids, where she assisted with various duties. In 1981 the House of Studies became her residence, and in 1985, when it was no longer a Sisters' residence, she came to Marywood. At both the House of Studies and at Marywood she engaged in helpful tasks; faithfully sorting the mail was one of them. Being a gifted person, especially in crafts, she created many beautiful articles. Then, too, she enjoyed traveling, listening to music, crocheting, and reading.
Though she was never robust, she was always energetic and active. As a young Sister, it was necessary for her to spend two years in the Marywood infirmary recuperating from tuberculosis. Perhaps the time spent there made her particularly aware of the needs of the sick. Her concern and loyalty to sister friends in their illness and preparation for death were edifying.
Sister Rosalita appreciated her Dominican vocation with its family spirit, shared prayer, and the privilege of living in the house of God, participating in Mass and receiving Holy Communion. She thought of herself as Our Blessed Mother's special child as she was born, baptized, and entered the convent on the special feasts of Our Lady.
At the time of her Diamond Jubilee in 1987, Sister Rosalita wrote, "My sixty years as a sister have been happy, grace-filled, and fulfilled, despite the fact that occasionally they were tear-filled! However, never would I part with one day of it for something else." In a brief autobiography she stated, "The love of my life has been praying, teaching, traveling, reading, crocheting blankets and angels, walking and listening to good classical music. I have a great love for Our Blessed Mother and my favorite prayer is 'Dear Blessed Mother, please help me.' I hope I don't tire her out. I appreciate the care and love the Community and my family have bestowed upon me, and my daily prayer is one of gratitude. One final favor, pardon me for all my shortcomings and please pray for me."
One of Sister Rosalita's favorite quotes was, "One day within His courts is better than a thousand elsewhere." What joy must be here now — no more calendar days but infinite love, peace, and beauty with God, Our Blessed Mother, and all the Blessed for endless days and time. ALLELUIA!
Sister Rosalita is survived by her sisters, Alice, Mrs. John Rock; and Nellie, Mrs. Thomas Gelwich of Grand Rapids; nieces, nephews, friends and Sisters in her Dominican community.