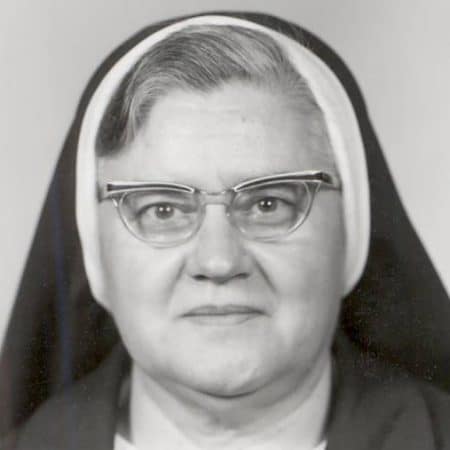 Sister
Rene Langlois
Life Story & Obituary
April 17, 1916 – August 8, 1970
"After I have gone and prepared you a place, I shall return to take you with me, so that where I am you may be too." -John 14:3
Jeanne Langlois was born in 1916 and grew up in a French settlement in South Bay City, along the Saginaw River, the oldest of a large family. During the Depression, when work was scarce and food expensive, Jeanne learned from her mother how to economize. From her father who was gentle and kindly, and from her mother who was a good planner and a generous soul, Jeanne inherited a thoughtful disposition, a sensitivity to the needs of others, and the ability to reach out to all of God's people. From her brothers, Jeanne developed the knack of fixing things and discovering how machines worked. She learned, too, how to understand boys, a gift that stood her in good stead all the years of her religious life as a teacher. She was intellectually and musically talented, and her good humor and wit endeared her to all who came into contact with her.
From the short account we have of Sister Rene, we learn a little about how she decided to become a religious:
From the first time I had seen a nun I had always resolved to be one. How, I did not know, for I had a vague notion that Sisters were born that way. The desire persisted in spite of the notion, though it was wanted as I grew older. By the time I reached high school such a life was almost entirely forgotten. To be an aviatrix was my ambition. When I spoke of it, however, I felt an odd twinge of disloyalty, so I generally compromised by placing it on an equal basis with entering religion.
Undoubtedly the break with home and neighborhood was hard; but once made, it was never reconsidered. Jeanne attended Marywood as an Aspirant, and after graduation from high school entered the postulancy in 1934.
Sister Rene began her teaching career at St. Mary's School in Saginaw by teaching music. She also taught the elementary grades in Aplena, New Mexico, Chesaning, Beaver Island, East Tawas, Taylor, and Merrill. In 1961 her talents and intellectual abilities were turned to high school, when she taught at Catholic Central in Alpena. Her last four years of  teaching were spent at Catholic Central in Grand Rapids where she taught French and Religion.
This past summer was really a preparation for meeting her Divine Spouse. Sister Rene prayed much and discussed spiritual topics freely and frequently. She accepted the many great discomforts that her physical condition occasioned. The little stay in Bay City where she chauffeured was an occasion for her to serve others in charity.
Sister Rene underwent surgery for an aneurysm at Blodgett Hospital in Grand Rapids on Friday, August 7. The surgery itself, due to unpredictable circumstances, lasted approximately five hours. Sister was then brought to the intensive care unit where she seemed to be on the road to recovery. She even spoke with those who came to see her. The following day, however, a gradual decline was noted in Sister's condition, since she was not responding as expected. No human assistance seemed to spark a note of recovery. Though Sister had received the Sacrament of the Sick before her surgery, both Father Kenneth Schichtel and Father Michael Stock, OP came to bless Sister. Peacefully, quietly, the Lord beckoned Sister Rene early Saturday evening, and Sister Rene responded.
Monday evening, August 10, the Sisters at Marywood held a Scripture Service for the repose of Sister's soul. Among those who took part in it was Father John Estephan, a Greek Orthodox priest with whom Sister had worked during the past few years. On Tuesday, a concelebrated Mass was offered for Sister. The words of the Deiss recessional hymn seemed very fitting for Sister Rene: "Sing to your God, tremendous His deeds among men."
Death is itself a sacrament of the awesome mystery of the loving God whose will is not our will, nor His ways our ways. May Sister Rene enjoy eternal light and peace.