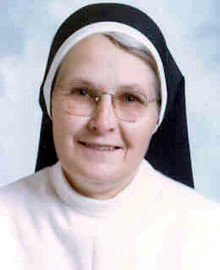 Sister
Regina Marie Bedard
Life Story & Obituary
1907 – June 13, 1991
"Anyone who loves me, will be true to my word, and my Father will love her; we will come to her." John 14:23
On June 13 1991, God came to Sister Regina Marie in a very profound and special way – death meant eternal life through Christ whose life-giving words and ever faithful love were the core of her long, beautiful, and dedicated life.
It was on the Feast of the Immaculate Conception, 1907, that Sister Regina Marie was born to Lawrence and Pamelia Bedard on a farm in Indian Reserve, a small settlement about seven miles north of Alpena, Michigan. Sister Regina Marie was the third youngest child of a family of fifteen children — eight girls and seven boys. The parents who were born in Quebec, Canada were of French descent. The Bedard home was one impregnated with a deep Christian faith and love of God. Before there was a church in the vicinity, they were privileged to have their home used for Sunday Mass.
Sister Regina Marie was baptized in St. Anne Church in Alpena on December 28, 1907, and was given the name of Marie Rose Leoma. Sister Regina Marie said that her mother wanted her well fortified with saints' names! However, Leoma was the name to which she officially responded, but her brothers who loved to tease called her "Polly". When it was time for Leoma's confirmation, Indian Reserve had a beautiful small church called St. Mary and here the Most Reverend Michael J. Gallagher confirmed her on September 15, 1917.
Leoma's (Polly's) education was at Bunker School in the area and she then remained at home to be of help. Since the work on the farm was much more attractive to Leoma than housework, she became one of her father's willing and able workers. For a brief time she did go to Alpena to assist an older sister, and that stay in Alpena was a means God used to direct her to her future vocation. Leoma had two sisters, Sister Rose Anthony and Sister Genevieve Clare, who were Grand Rapids Dominicans. Father Louis T. Bouchard, pastor at St. Anne Church, recognized a candidate to religious life and encouraged Leoma to become a Sister.
Leoma entered from St. Anne Parish on September 8, 1928, which came as a surprise to Sister Genevieve Clare who had entered the previous year. Sister Jerome Smithers, the novice mistress, asked Sister Genevieve Clare to get dinner for a new postulant. One can well imagine her great surprise when she learned the postulant was her own sister, just a year younger than herself. On August 29, 1929, Leoma received the Holy Habit of St. Dominic and the name Sister Regina Marie of St. Anne, and on September 1, 1931, she made her First Profession of Vows to Mother Eveline Mackey, the Prioress General.
Sister Regina Marie's first mission was St. Joseph Seminary as a housekeeper, and for almost fifty years this was Sister's ministry. In the course of those years she also served at Catholic Junior College; St. Stephen's and St. Alphonsus in Grand Rapids; Maple Grove; Essexville; Saginaw; Traverse City; Muskegon; Muskegon Heights; Taylor and Melvindale. She also ministered in Albuquerque, Dixon and Belen, New Mexico. She spent a year engaged in the Family Ministry.
Sister Regina Marie was a marvelous cook and Sisters who had the good fortune to live with Sister remember her delicious meals, and especially her pies and cream puffs. Her skills were not confined to the culinary arts. She was a very handy person, and could well have been nicknamed "Sister Fix It". She was an avid Tiger baseball fan.
In 1978, Sister Regina Marie came to Marywood and assisted in sewing for the needy. This sewing gave her much joy. One of her co-workers in this project was her own dear sister, Sister Rose Anthony. Sister Regina Marie herself for many years suffered from a heart condition and Aquinata Hall became her residence in May, 1986. For the most part she required minimal nursing care and in her last years her ministry became one of prayer.
The Holy Sacrifice of the Mass and the Liturgy of the Hours were the most important part of each day for Sister Regina Marie. She loved her Community and made many a Sister's day happier by her friendliness and sociability.
We thank God for Sister Regina Marie's life and her years with us as a Dominican, and now that her earthly life is totally in God's loving care we pray, "May the angels lead you into paradise, Sister Regina Marie. May the martyrs await your coming and escort you to Jerusalem, the Holy City. "
Theodore of Alpena, MI; her sisters-in-law Mrs. Louise Bedard and Mrs. Anna Aube and many Sister Regina Marie is survived by her sister, Mrs. Leah Remore of Millington, MI; her brother nieces, nephews, and friends.