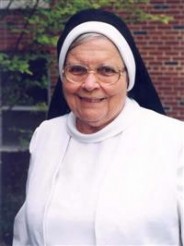 Sister
Pelagia Litkowski
Life Story & Obituary
November 6, 1911 – May 18, 2004
"Fear not, beloved, you are safe; take courage and be strong" Deuteronomy 10:19
What a wondrous day it was on May 18, 2004 for Sister Pelagia when God's final summons came. One of her favorite scripture passages was at last finalized for this woman without guile.
Florence Irene Litkowski was born in Saginaw, Michigan on November 6, 1911 to Peter and Florence (Lepczyk) Litkowski – the first born of four girls and one boy. At the age of six Florence's early education began at Gunckel School in Toledo, Ohio, where the family lived during her early childhood. She then attended Starr and Service rural schools near Saginaw. Because of the distance she could attend St. Rita School only in preparation for her First Holy Communion. Happily she was able to attend St. Joseph High School, from which she graduated in 1929. Under the guidance and instruction of our Sisters she was inspired in her youth to become a religious. When she completed her high school, however, the country was in the throes of the great depression and Florence did office work for two and a half years to assist her parents.
On February 11, 1932, the Feast of Our Lady of Lourdes, Florence entered the Marywood Congregation as a member of a large class. At her reception of the habit on August 17, 1932 she was given the name of Sister Pelagia of Our Lady of Lourdes. Her first profession was made to Mother Eveline Mackey on August 21, 1934.
After profession and for over fifty years Sister Pelagia was engaged in full-time teaching and as a librarian. Her work involved both elementary and high school teaching. Her specialty was teaching Latin: "In spite of the fact that it took many years before the Lord saw fit to make me a librarian who teaches Latin on the side (a wish that started when I was very young), I did love whatever I had to do." After terminating full-time teaching, she continued as an assistant librarian.
Not only did Sister Pelagia wait patiently to be a librarian, but also her dream to write children's books took about 25 years to be actualized. But God was with her in all her endeavors. When she finally did start writing, there was a beautiful and meaningful intent and purpose for each book she authored. Her first book, Friend to All: St. John Nepomucene Neumann, was written because of his zeal for Catholic schools and his work for the Church. Her second focused on Kateri Tekawitha: Joyful Lover with the intent of studying Native Americans. Next she wrote Margaret of Castello with applications to abortion and child abuse today. When she heard in a homily that AIDS is the leprosy of today, she wrote Father Damian, Loving Neighbor about a likely patron for those suffering from AIDS. Book number five, Two Hearts/ One Great Love, is about Frank Duff, founder of the Legion of Mary, and Edel Quinn, his envoy for the Legion in Africa. She aimed this book especially at teens and young adults in the belief that young people will keep the work of the Legion going.
Sister Pelagia had many mission assignments and wherever she served she endeared herself by her pleasantness, friendliness, and enthusiasm. She was always helpful to others and most conscientious. Her appointments included: Alpena; West Branch; St. Rita, St. Josaphat, SS. Peter and Paul, and St. Mary, Saginaw; Chesaning; Gaylord; Lake Leelanau; Hannah; Weare; Byron Center; Pewamo; Maple Grove; Belen, New Mexico; Traverse City; and Melvindale.
In the course of the years Sister Pelagia never tired of attending Library and Classical League meetings. She was a good listener who always had time for others. Her "second" apostolate, and one very important to her, was writing cheery notes to friends and acquaintances to brighten their day. Then, too, she had her hobbies: reading, making rosaries, crocheting, and walking. She had a good sense of humor and she remarked that she enjoyed laughing at her own and other people's jokes.
After spending seven years joyfully serving as volunteer librarian at St. Michael Elementary School, Brunswick/Fremont, she moved to Aquinata Hall. Her last years she called the "happy ending of her life."
Sister Pelagia loved her religious vocation and was very happy in it. At the time of her Diamond Jubilee in 1992 she recalled with gratitude the teacher in a small country school in Saginaw who initially set her thinking about religious life. "When I think of all that God has done in me, by me, and for me through all my 60 years as a member of the Grand Rapids Dominicans, one word always comes to mind: gratitude. For this I say, 'Thank you, Father, Son and Holy Spirit.'" Those who knew her realized what a prayerful woman she was and how much she loved God, our Blessed Mother, her Sisters in the Congregation, and her family and friends.
Sister loved scripture and her favorite passage was "You will show me the path of life, the fullness of joy in your presence, at your right hand happiness forever" (Psalm 16). Near the end of her life she wrote, "I am looking forward to meeting God face to face, and my loved ones, when this earthly pilgrimage is over." May heaven hold for her endless love, peace and joy with God, whom she loved and served so well and faithfully.
Sister Pelagia is survived by her sister, Beatrice Nimcheski of St Petersburg, Florida; her brother, Edwin (Archie) of Umatilla, Florida; nieces, nephews, cousins, many friends and a loving Community.