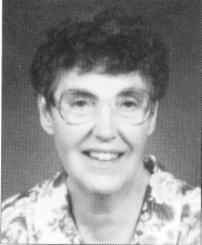 Sister
Nancy Ribble
Life Story & Obituary
June 2, 1934 – July 4, 2001
"One thing I ask of the Lord; this I seek: to dwell in the house of the Lord all the days of my life." Psalm 27:4
This favorite scripture passage reflects well the life of Sister Nancy Ribble. She was still in active ministry until she was stricken with illness that led to her death.
Born in Saginaw, June 2, 1934, Nancy was the first of four children of Marvin and Sally Novak Ribble. She described her family as "faith-filled, even if my dad didn't become a Catholic until 1965." Almost every weekend the family went fishing, swimming, hiking, picking wild berries and/or picnicking.
At the age of six Nancy started school at Sacred Heart under the guidance of Grand Rapids Dominicans. World War II was on and gas was rationed, so she and her father walked the three miles to school in time for him to walk on and check in at work at 8:00. "My Dad really became a hero in my eyes during these years." At the end of the first grade she made her First Communion and felt in her heart the desire to become a Sister.
Nancy was absent the day of registration for high school and both Catholic high schools were filled when she tried to apply. Sister Alicia suggested that she go to Marywood as an aspirant. Her parents agreed and after a brief lonely period her years in the aspirancy were "four of the happiest years of my life." After her postulancy she entered the novitiate as Sister Scholastica, a name she kept until 1968, giving as one reason for resuming her baptismal name the difficulty children had pronouncing her religious one.
After first profession on June 2, 1954 Sister Scholastica began 13 years as an elementary school teacher and choir director at Holy Trinity, Alpine; St. Mary, Hannah; St. Mary, Charlevoix; and Our Lady of Fatima, Albuquerque. Meanwhile, she completed work for a B.A. in English and music from Aquinas College and a M.A. in education from Central Michigan University. She also studied three summers in the Aquinas theology and scripture program. Next she spent another 13 years as a school music teacher at SS. Peter & Paul, Saginaw; and Our Lady of Grace, Dearborn Heights. After that she turned to parish work as liturgist (St. Bernard, Alpena); music minister (Assumption, Bridgeport); liturgist (Cheboygan Catholic Community); pastoral associate (Immaculate Heart of Mary, East Tawas); and Parish minister (St. Mary, Charlevoix).
Sister Nancy was guitarist for a charismatic prayer group and in the summer of 1976 drove with a companion for a 30-day prayer experience at the Benedictine Monastery in Pecos, New Mexico. On the return by the northern route they visited many of the national landmarks. When she was stationed in Bridgeport she became involved with the Peace Movement. She also served on a committee for a Ministry Day to assess the liturgical needs of the Vicariate. At that time, too, a type of heart irregularity necessitated a pacemaker. In Tawas City she "jumped right in" to co-ordinate the Religious Education Program; get an RCIA process started; prepare students from two parishes for Confirmation; and organize a choir that had been dormant for 20 years.
Beneath all this energetic activity, Sister Nancy was a gentle, quiet, patient person who never got flustered. She was intelligent, creative, responsible, and a joy to live with. Her hobbies and interests included needle-point, making candles, sewing stuffed animals, reading, walking, biking, and baking.
Summing up an autobiographical sketch, she wrote: "I thank God for the opportunities that were given me and continue to stretch me. I thank God for the Sisters who encourage and support me. I thank God for the people whom I serve who show me how to grow, serve and be involved." Those with whom she lived and those whom she served thank God that her desire to dwell in the house of the Lord was so beautifully fulfilled.
Sister Nancy's last weeks reflect her dedication to family and ministry. She had spent Memorial Day weekend with her mother in Saginaw and returned to complete the year's ministry in Charlevoix but illness struck . She was hospitalized and never recovered. On Independence Day she was freed from suffering and went to the eternal house of the Lord.
Sister Nancy is survived by her mother Mrs. Sally Ribble of Saginaw, MI; her sister Louise (James) Yeska of Freeland, MI; her brother Lee (Barbara) of Merrill, MI and sister-in-law Patricia Ribble of Hemlock, MI, nieces, nephews, friends and a loving community.