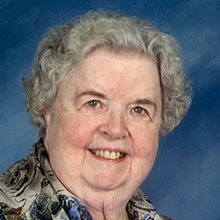 Sister
Mary Sullivan OP
Life Story & Obituary
October 29, 1925 – February 12, 2005
"Dominican life today calls us to an understanding of ordinary daily life as the arena of the Spiritual." So wrote Sister Mary Sullivan at the time of her Golden Jubilee in 1995.
Her own life in the Congregation exemplifies this insight.
Mary was born in Grand Rapids, October 29, 1925 to John Westbrook Sullivan and Helen Vida DeGraw Sullivan. Her father, originally from Keene, NH, had come to Battle Creek, MI as Chief Engineer for Michigan Bell Telephone Company. There he met and married Helen, who was a telephone operator. Mary had an older sister, Helen, and a younger brother, John. The family had moved to Grand Rapids before Mary's birth.
For the first ten years of her education Mary attended St. Francis Xavier School. She went to Catholic Central High for her junior and senior years and was impressed by the Grand Rapids Dominicans who taught there. For two years after graduating she worked in the millinery department of the Boston Store.
On April 14, 1944 Mary entered the Dominican Congregation and was received as a novice January 23, 1945. Mother Euphrasia Sullivan (formerly Mary Elizabeth Sullivan) gave her the name Euphrosine, which she endured until after Vatican II. (Before returning to her baptismal name she consulted Mother Euphrasia, who gave her approval.) During novitiate years she and her classmates embraced the Dominican ideals expressed in glorious phrases: "Veritas," "Laudare, Benedicere, Praedicare," and "Contemplare et Contemplata Aliis Tradere." They also performed in serious and humorous playlets on every conceivable occasion.
Sister Euphrosine's first assignment, in 1947, was to Saginaw, where she taught religion at Mary's School, Carrollton in the morning and at Zilwaukee in the afternoon. After that she taught on the elementary level in Saginaw, Dearborn, Maple Grove, Albuquerque, Penasco, and Ranchos de Taos. Meanwhile she completed her undergraduate work through Aquinas College and St. Joseph College in Albuquerque. In 1960 she was assigned for six "wonderful years" to high school teaching on Beaver Island. She gained a certificate from the Aquinas Institute of Theology in 1965 and also worked toward a master's in secondary education at Central Michigan University. These years gave Mary stories for years to come.
In the 1960's the vision of religious life expanded and called Sisters to "a spirituality that includes the relationship between the Church and the World." Sister Mary's ministry changed in 1966 when she was elected to the General Council of the Congregation. During her six-year term and for two years, after she was Formation Director, helping new members through the often-confusing changes brought about after Vatican II. She also served as the Midwest Region Secretary of the Sister Formation Conference from 1968 to 1973. She was Chairperson of the Organizational Committee for the Diocesan Council of Religious and was one of the original members of Grand Rapids Area Center for Ecumenism (GRACE).
After two years at Boston Theological Institute, studying for an MA in Theology, she cared for her semi-invalid mother in Willow Grove, PA and took courses at LaSalle College, Philadelphia. She was a gracious hostess and tour guide of the city to visitors.
In 1978, Bishop Paul V. Donovan of Kalamazoo appointed Sister Mary as the new Director of Pastoral Programs in the diocese. Her overall responsibilities were to assist in promoting and encouraging the practice of shared responsibility at all levels of church life. She developed the Diocesan Pastoral Council with a member from every parish in the diocese, which was recognized as one of the best in the country. She was instrumental in the Diocesan Goals process and evangelization efforts. One challenge she met head-on was restoring the diocesan offices after a tornado May 13, 1980.
After 17 years of service for the diocese, Sister Mary planned her retirement for July 1, 1996. In April, however, she fractured two leg bones and conducted business by cell phone from Aquinata Hall. After recovering she returned to a part-time position as coordinator of planning for the 25th anniversary of the diocese in 1996. Then after officially retiring in 1997 she remained in the Kalamazoo area performing volunteer ministries.
During much of her life after 1974 Mary lived away from others in the Congregation, but she always maintained associations through work on various committees and projects, such as the Retreat Committee and Continuum of Life Committee. She helped plan support, including a retreat, for those who were caregivers. As a member of the Marywood Health Center Steering Committee, she was faithful in driving 60 miles to the frequent meetings, where her suggestions were always for what was for the good of the Sisters.
Tall and elegant, Mary had the ability to "lift you up." She was interested in everybody, just, understanding, and compassionate. Her love for all was returned by all. Her hobbies and interests included reading, walking, movies, making rosaries, visiting with friends, painting and, recently, making icons. She enjoyed cooking and driving and admitted that she was good in both. She traveled throughout the United States, to Canada and Mexico and with Sister Ann Frederick Heiskell to Italy and Ireland.
On February 12, 2005 our dear Mary heard the voice of her Savior say, "Well done, good and faithful servant! Come home!" and Mary was enfolded under the cloak of our Blessed Mother where all the Dominican Saints gather in heaven.
Sr. Mary is survived by her brother John Sullivan, Jr. of Kingsford, MI nieces, nephews, many friends and a loving Community.