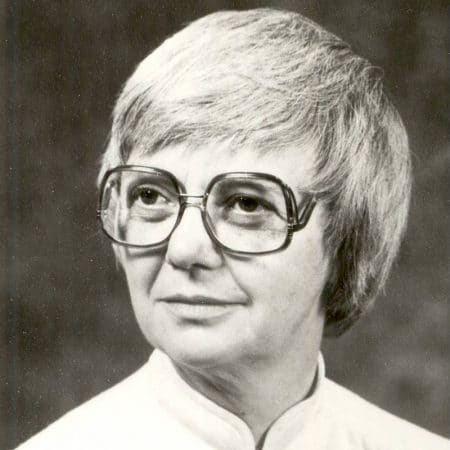 Sister
Mary Anne Keating
Life Story & Obituary
March 30, 1927  – June 1, 1988
On June 1, 1988 Sister Anne Keating of Our Lady of Confidence completed her profession promise that she would be obedient until death. She gave to her dying the same confidence and enthusiasm that she gave to every work, every "obedience" of her lifetime.
Anne's birthday, March 30, 1927, was also her baptismal day, for she was only two and one-half pounds at her birth. Christened Sally Anne, she was permitted to leave the hospital when she was almost four months old. Her good parents, John and Helen O'Grady Keating, and her brother Jack joyously welcomed her.
Sally Anne's early years of schooling were spent at the neighborhood school, Coit Elementary. When the Keatings became members of St. Thomas Parish, Sally Anne attended the parish school for grades five through eight. For the first two years of high school she attended Ottawa Hills, then transferred to Marywood Academy for her junior and senior years. She was particularly impressed by Marywood's well-rounded program and the many extra-curricular activities available for the students there. The "Marywood person" who most impressed her was Sister Aline Needham, then principal of the Academy and one of the congregation's finest history teachers. it was she who engendered in Sally Anne an interest in and love for history and current events.
A Marywood graduate in 1945, what was to become the last year of World War II, Sally Anne considered joining the Navy Nursing Corps. However, a Sister's funeral in the Marywood Chapel, the influence of her beloved pastor, Monsignor Raymond Sweeney, and her senior retreat caused her to enlist instead with the Grand Rapids Dominican Sisters.
Sally Anne Keating came to Marywood on September 8, 1945 and began her years of Dominican life under the direction of Sisters Lenora Gallagher and Frances Ann Tatreau. On March 14, 1946 she received the habit of the congregation and a shortened form of her own baptismal name. The title of Our Lady of Confidence given to Sister Anne, who continued to be known to many of us as Sally Anne in even the most formal days, was a special gift. It is a devotion that runs deep in our congregational life and in many Sisters' personal spirituality. It was a title of Our Lady beloved by Anne's teacher and friend, Sister Aline. It is also symbolic of Anne's centrality to our Dominican life.
Anne entered into the life and mission of the congregation with great energy and heart. Her first mission was to St. Joseph Parish in Muskegon where Sister Victor Flannery was superior and principal. Within a year Sister Victor had became Prioress and called upon Anne's obedient readiness to take on many and varied tasks. It was a fine beginning and prepared Anne for the ten years following when she was assigned elementary and junior high classes, sometimes with double grades, sometimes with fifty students in a classroom. Usually the youngest on the mission, she became local chauffeur and general factotum. She was invariably busy and invariably confident. Yet, she had a wonderful capacity for enjoyment. Anne loved life and people, long-distanced driving and adventure, good books and lively conversations.
In 1957, she was introduced to high school teaching at SS. Peter and Paul Parish in Saginaw, then three years later became principal of St. Mary Magdalen Elementary School in Melvindale. She was also superior of the local house. The Melvindale ministry terminated in 1962 when Anne, obedience once more to congregational leadership, was assigned to complete doctoral studies in history and education at The Catholic University of America in Washington, D.C.
During that period, Anne followed the "Curriculum of the World" as closely as that of the University. She spent every free moment at congressional debates, public affairs activities, and at public monuments. It was one of her deepest experiences to be among the grieving community at the funeral of John F. Kennedy. There was an especially poignant photograph of Anne standing among the mourners at Arlington included in a Life Magazine of the time.
Anne began her long association with Aquinas College in 1965, first as as instructor in the Departments of History and Education; then in 1968 as Academic Dean, later Academic Vice President, and in 1975 as Director of Alumni. Of these years Dr. Hruby, then President of Aquinas College, wrote: "With unfailing good will and loyalty, she served two presidents, the faculty, the students, and her fellow administrators at Aquinas during a time when the institution was going through a rapid change. That she never lost her sense of humor or, more importantly, her sense of charity, is a tribute to her as a Christian educator."
In 1980, Anne began her ministry at Sacred Heart Rehabilitation Center in Memphis, Michigan, first as participant, then as activities director and counselor, and always as ministering Sister. She completed her work there in the summer of 1987 due to the recurrence of cancer and the demands of the required chemotherapy.
Central to Anne's life and work has been a profound and sustaining interest in people. Her lifelong devotion to her parents, aunts and cousins, her deep love of her family attest to this. The love and interest she extended to every group and every person she served are lasting remembrances of her profession unto death.
Even in her last days, Anne was kind enough to inquire of others' families and concerns. She was indeed confident, loving, available, obedient, and in death she was blessed with God's eternal presence and happiness.